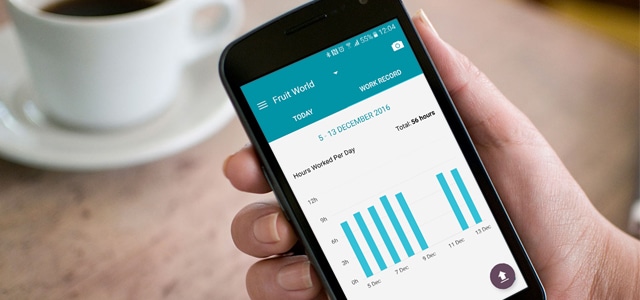 To assist employers and employees in Australia, the government has just launched a new application « Record My Hours ». Indeed, sometimes employers fail to keep employee's records of hours. This lack of records makes it difficult for an employee to address concerns about underpayments. Therefore the Fair Work has developed an application to makes it quick and easy for employees to record their worked hours, plus other details about their job.
« Record My Hours » Application
The Australian government, has always recommend employees to manually record their hours. With this application, it get easier to do so for all workers around Australia.
Because of businesses breaking the law to try and get a competitive advantage, workers and especially foreign ones are sometimes underpaid or disadvantaged. To prevent such situations, the government, through the FairWork, has developed this application to assist workers and companies to keep track of their rights and duties.
The application already raised criticisms from the National Farmers Federation who has called for it to be immediately withdrawn. National Farmers' Federation chief executive, Tony Mahar, said he was concerned the app was "pitting workers again their bosses" and complained the industry had not been consulted during the development of the app.
How does the application work?
First of all, you will need to download it from the Apple Store or Google Play depending on your mobile phone.
Once downloaded, you can enter the details of your job, such as the name of your employer, address, ABN, your contract type (full time / casual) etc.
« Record My Hours » uses your phone's location and 'geofencing' technology and automatically record when you start and finish work, based on your location.
The information recorded are stored on the application but can also be retrieved instantly if an issue about pay arises. Workers can export the data via email, share it with their employer or even with the Fair Work for any question about their rights.
Unfortunately, for the automatic recording of hours, you will need to have mobile or Wi-Fi coverage. So this functionality won't work when there is no coverage or for people who travel a lot for work. The app allows you to manually record your hours to cater for this.
Other functionality of the application includes:
adding rosters to your calendar
receive notification reminders about upcoming shifts
take photos of information like pay slips
back-up information collected to iCloud or Dropbox
record information about piecework arrangements.
Who is it for?
This application aims to assist small companies which cannot invest in electronic systems recording their employees hours.
For employees, the application aims particularly to help foreign workers who are unsure about their entitlements and are not confortable with english. It aims to deal with the exploitation of young and migrant workers.
[information]For working holiday makers, this application can help you prouve your regional work requirement in order to apply for a second year. Indeed, this application can also assit you to show you have completed 88 days or 3 months of specified work in regional Australia.[/information]
Download « Record My Hours »
You can download this application for free on Itunes or Google Play stores. The application is available in 12 languages.
For people who have tried it, please let us know your thoughts 🙂
Source : www.fairwork.gov.au