Finding the perfect and cheap flights to Australia can be a real headache. Whether traveling to Australia, exploring the country, or traveling from Australia to other countries, the questions one faces when it comes to finding the best flights are always the same. Where and when to buy your plane ticket to Australia, with what airline and at what price … We searched the web to find the best deals and tips. Booking your flight can become a mission of a few hours or even days. In order to save you time and money, this article aims to answer your questions. Here are our recommendations and tips for traveling in the best conditions and how to find cheap flights to Australia.
Plane Ticket To Australia: International Flights
Several factors affect the price of your ticket. Whether you come from France, Belgium, Switzerland or Canada, coming to Australia is often a journey between 14,000 and 18,000 km depending on your city of arrival. It is therefore not easy to speak of "cheap" flights given the distance to travel to Australia, but you can still find airline tickets at attractive rates.
What is the minimum budget?
On the one hand, keep in mind that Australia is a big country. For example, the flight time between Sydney and Perth is about 5 hours. Thus, the choice of your city of arrival is likely to play an important role with regard to the price of your ticket. On the other hand, factors common to all destinations will influence the rates. These can be the chosen airline, the booking period, the time of flying, the duration, the number of stopovers, etc. To get an idea of the fares for Australia, a one-way trip costs at least 700 €, and count about 1100 € minimum for a round trip ticket.
NB: With the Covid 19 pandemic, Australia had closed its borders. The reopening of the country started in November 2021, so tickets are still more expensive today than we have experienced in the past. Indeed, airlines that had moved their planes to other destinations are now reassigning these same planes to Europe, US, Asia -> Australia flights. More flights should therefore be available, which will also lead to lower prices, to reach prices close to the pre-crisis level.
Where to find airline tickets?
You can book your plane ticket through a physical travel agency near you. However, the preferred way of booking today is online. It is usually online that you will find the best rates. You have three main options to buy your plane ticket and find offers at the best prices.
Specialised Travel Agencies
Online travel agencies can offer many advantages and propose very competitive rates. Some agencies have even created tickets specific for Working Holiday Visas. Thus, in addition to negotiated rates, they offer special flight tickets known as 'Open Tickets' to maintain flexibility. With this ticket, you can change your dates and your city of departure or return, usually 1 to 2 times, free of charge.
Price Comparison Websites
Price comparing sites allow you to have an overall view of the prices of airline tickets on your dates of choice. It's also a way to see what companies seem to offer flights within your budget.
Since these comparison websites have become very popular, there is a number of them out there: Liligo, Opodo and many others.
Among them, Skyscanner is probably the most popular today. This comparator gathers the best airline offers available at the time of searching, and also those negotiated by intermediaries. It's a fast and efficient way to find the cheapest flight on the internet. When you go through a flight comparison website, keep in mind that certain fees will be added to the posted price. These fees are not added until you pay for the booking. We recommend using them if you want to find cheap flights to Australia.
Airline Company Websites
It would be logical to think that the prices on the official sites of the airlines are more interesting. Unfortunately, this is often not the case. However, sometimes they have exclusive promotions that can make prices very attractive. It is therefore worth it to check out the websites of airline companies before buying your ticket. You never know!
When to buy your plane ticket?
We often wonder when to book a plane ticket. Should you book it months in advance? At the last minute? A particular day in the week, at a specific time? At night? … Despite many studies and assumptions, the optimal way to get the best price is still not so clear. However, when in doubt it is better to apply certain methods. You will have all the practical information regarding avoiding school holidays in Australia, the seasons, and some tips.
International Airlines options
When you are about to take a long-haul flight of about twenty hours you are presented with many options when it comes to choosing an airline company. Each person will have different choosing criteria. Some will find the price to be the most important while rather pay a bit extra for some additional comfort. Fortunately, there are many different kinds of companies to choose from! Below you will find the best way to buy cheap flights to Australia.
Budget Airlines
Low-cost carriers include China Eastern Airlines, Hainan Airlines and Air China which allow you to travel at competitive rates. By going through comparators, like JetCost for example, you can find flights from Australia to Europe for approximately 900 €. However, take into account that low budget companies often offer you a minimum service and are not very flexible.
Popular Choices
Companies such as Qatar Airways, Etihad, Emirates, or Singapore Airlines are now among the most popular airlines. In addition to competitive rates, their equipment and services are of very good quality. Thanks to their great price-quality ratio they can compete with other more traditional companies and often rank as the top companies.
Traditional airline companies
Companies such as Air France, British Airways, KLM, Cathay Pacific and many others are safe but often on the upper end when it comes to prices. The quality of service is decent, the equipment too, although it be a bit outdated and the rates are generally similar to the Airlines mentions as Popular Choices.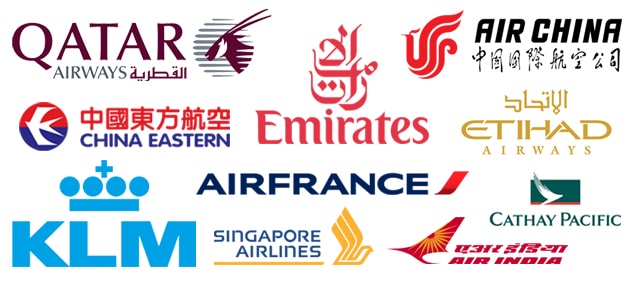 Domestic Flights in Australia
To travel within Australia, the plane is often the fastest and most economical solution. Australia is such a big country that moving from one city to another is fast in car days. Due to these long distances, the plane is to Australia, which the train is to France. For this purpose, the main companies serving the various cities of Australia are Jetstar, Virgin Australia, and Qantas.
Where to buy your plane ticket?
Domestic flights are a lot cheaper than your long-haul flight. This makes sense, as they are shorter and therefore cheaper. On the other hand, the distances within Australia should not be underestimated, for example, 4000 km separates Sydney and Perth. Comparators remain an interesting way to find the cheapest air tickets. You can visit the sites like Skyscanner, I want that flight, Webjet, or Flight Center.
As with international flights, you can also visit the airline sites. Knowing that only a few companies provide domestic flights in Australia. It is easy to see if promotions are available or not.
Finally, you should know that booking your domestic flights at the same time as your international flight may get you discounted rates.
When to buy your plane ticket?
Some factors influence the price of tickets such as the seasons, school holidays, etc. For example, when winter arrives, backpackers staying in the South of Australia tend to move towards the north of the country. Thus, at this time of the year, fares to Cairns will probably be higher than air tickets to Melbourne, regardless of distance. If you intend to book during such periods it is best to do it as soon as possible.
Which airports to choose for your domestic flights?
As in any country, airports with the largest volume of flights are located near major cities. As a result, prices will be better when traveling to or from cities like Sydney and Melbourne. However, you may be near a smaller airport or your destination may be a small city. You can research whether it is more economical to travel from or to a big city and complete your journey by another means of transport. Alternatively, you can check if deals for local flights to the smaller airport that is your destination.
There is not really a good answer, it depends mainly on your trip and your situation (do you have a car or not, do you have access to public transport or not …). So before booking your flight, it may be interesting to compare the different options available to you to find the most economical. Obviously, large airports allow greater flexibility with frequent departures. Small airports may save you time.
Flights and plane tickets from Australia
After a long road trip through Australia during which you discovered many new things and met tons of people, it might be difficult to return directly to your home country. Why not enjoy being on the other side of the world a bit more and visit some other countries on the way back? From Australia, you are 'close' to Southeast Asia, Bali, Fiji, Vanuatu, New Zealand, New Caledonia… The advantage of being already on this side of the planet is that you have the opportunity to go there on a much smaller budget than from your home country!
Traveling in the very best conditions
These companies will do everything to make your trip as pleasant as possible so time passes quickly. When it comes to entertainment the seats are equipped with individual TV screens with an increasingly wide selection of movies, TV series, music, games, etc … The seats are usually wider have a bit more leg room compared to the budget Airlines. Extras such as kits with blankets, socks, night mask are also provided for greater comfort. In addition, meals and snacks punctuate your trip taking up a good part of the flight time.
On your side, you can also make your trip more enjoyable. Bring a travel cushion, earplugs and don't forget to add your favorite music to your phone or Mp3-player. Do not forget your headphones, even though the majority of companies provide them. Finally, if you have trouble sleeping on the plane, try to leave at night. Fatigue will eventually take over and time will pass faster.
Making the most of your flight…
Know that problems with the ears or teeth can cause uncomfortable pressure and pain in the plane. If you seem to have any sensitivity at these levels, it is better to get a check-up before your departure. Know that in case of sensitivity of your inner ear, anti-pressure caps can be bought in pharmacies and work well. If you have blood circulation problems, consider putting compression stockings for the flight. If there is a history of phlebitis in your family, you may be prone to pulmonary embolism. It is therefore advisable to consult your doctor before leaving.
TRAVELLER ADVICE
Finally, choosing your flight times correctly may help you adapt more easily to jet lag. Avoid arriving in Australia in the morning. To keep pace, it is best to wait until the evening to sleep, so you will have to wait all day if you arrive early. And the time can be very long. We hope this article helped you to find some cheap flights to Australia.
Updated 7/2/22
Related Articles: