Finding cheap flights to Australia can be a real headache. Whether you're travelling Down Under from overseas, flying internally or looking for a flight out of the country, the questions you'll ask yourself are always the same. Where and when should you buy your ticket, what airline should you go with, and how much should you expect to spend? In order to save you as much time and money as possible, we've put together this article with all the best deals and tips, so you can travel in comfort without breaking the bank.
Plane Ticket To Australia: International Flights
Several different factors affect the price of plane tickets. Whether you're travelling from the UK, the US or Canada, flying to Australia is often a journey of between 14,000 and 18,000km, depending on your city of arrival. "Cheap" flights aren't easy to come by, given the distance to travel to Australia, but you can still find airline tickets at attractive rates.
What is the minimum budget for a flight?
Bear in mind that Australia is a very big country. The flight time between Sydney and Perth, for example, is about five hours. Your choice of destination is likely to play an important role when it comes to the price of your ticket. On the other hand, factors common to all destinations will also influence the rates. These include your chosen airline, the booking period, the flight time, the duration of the flight, the number of stopovers, etc. To get an idea of airline fares for Australia, a one-way trip will cost at least £600, and a round trip ticket will be at least £950.
Where to buy airline tickets?
You can book your flight through a physical travel agency, or do it online. Booking online is usually cheaper. There are three main ways you can buy your plane ticket and find offers at the best prices.
Specialised Travel Agencies
Online travel agencies offer many advantages and very competitive rates. Some agencies have even created tickets specifically for Working Holiday Visa makers. In addition to cheaper rates, they offer special flight tickets known as 'Open Tickets' to give you more flexibility. With these tickets, you can change your dates and your city of departure or return, usually 1 to 2 times, free of charge.
Price Comparison Websites
Price comparison sites allow you to get an overall idea of the prices of airline tickets on your dates of choice, as well as showing you which airlines offer flights within your budget. These comparison websites have become very popular and include Liligo, Opodo and many others.
Flight price comparison websites are a fast, efficient way to find cheap flights, but as there are so many of them on the market, it is not always easy to know where to find the best offers. Even though all of these websites offer flight tickets at attractive prices, be aware that there are differences between them. For example, using Expedia to find a cheap flight ticket might not be the best option, because websites like Expedia are owned by airlines (or at least work with them). The offers you get in their search engine are therefore very likely to be in the best interests of the airlines.
The first thing to do is to compare several flight search websites. Some of them might exclude offers from low-cost carrier airlines (e.g. Ryanair, AirAsia). If you are looking for a good price without caring much about comfort or service quality, make sure you visit comparison websites that include low-cost flights.
To sum it up, the best flight comparison websites are the ones that don't have any affiliation with airlines and list flights from low-cost carrier airlines. These are paid through advertising and not through commission for bookings. Among them, we recommend Skyscanner and Momondo.com. Before making your booking, refresh the page to make sure that no new, cheaper offers have come up in the meantime.
When you go through a flight comparison website, keep in mind that certain fees will be added to the posted price. These fees are not added until you pay for the booking.
Good to know 💡
If you plan to travel many months in the future, be aware that airlines will not allow you to book a flight more than 11 months in advance. In this case, select a return date within this given period. Then when making your booking, choose an open ticket, so you can change your return date later.
Airline Company Websites
You might think you'll get a better deal if you book directly through an airline's website. Unfortunately, this is often not the case. However, sometimes airlines have exclusive offers that can make their prices very attractive. It is therefore worth checking the prices on an airline's website before booking your ticket elsewhere. You never know!
You might have heard that websites of airlines and travel agencies use cookies to track your browsing history on their sites. Some companies use this information to increase the price of a flight if you repeatedly check the same one within a few hours or a day. To avoid this problem, you can either decide to use a private browsing mode (incognito mode) during your search and/or delete cookies from your browser.
When to buy your plane ticket?
We often wonder when is best to book a plane ticket. Should you book months in advance? At the last minute? On a particular day of the week, or at a specific time? At night? Despite many different studies being done around this, the best time to book a ticket is still unclear.
However, when in doubt it is better to follow certain guidelines. Further on in this article you will find practical information regarding avoiding school holidays in Australia, and the best time of year to fly.
International Airlines
When it comes to finding cheap flights to Australia, you have a wide selection of different airlines to choose from. Each person will have their own selection criteria. Some people want to pay the lowest price possible, while others are happy to pay extra for some additional comfort.
Budget Airlines
Low-cost carriers include China Eastern Airlines, Hainan Airlines and Air China, which allow you to travel at competitive rates. By going through price comparison websites, like JetCost for example, you can find flights from Australia to Europe for approximately £800 (if you book early). However, take into account that low budget companies often offer you a minimum service and are not very flexible when it comes to changing flights etc.
Popular Choices
Companies such as Qatar Airways, Etihad, Emirates, or Singapore Airlines are now among the most popular airlines. In addition to offering competitive rates, their equipment and services are of very good quality. Thanks to their great price-quality ratio, they can compete with other more traditional companies.
Traditional airline companies
Companies such as Air France, British Airways, KLM, Cathay Pacific and many others are safe bets, but often on the upper end of the scale when it comes to prices. The quality of their service and equipment is decent, although it be a bit outdated. Their rates are similar to Qatar Airways, Etihad, Emirates and Singapore Airlines.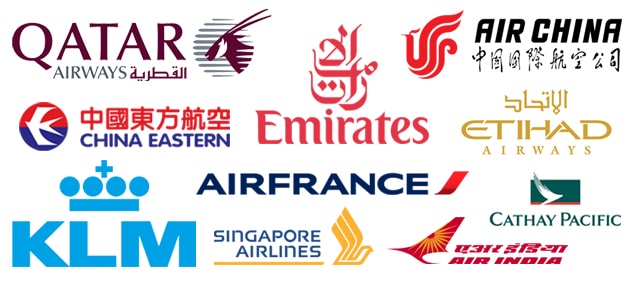 Domestic Flights within Australia
Flying is often the fastest and cheapest way to get around Australia, as driving the long distances between cities can take days. The main companies serving the various cities of Australia are Jetstar, Virgin Australia, and Qantas.
Where to buy your plane ticket?
Domestic flights are obviously a lot cheaper than long-haul flights. On the other hand, the distances between cities in Australia should not be underestimated – for example, 4000 km separates Sydney and Perth. Flight comparison websites are probably the best way to find the cheapest air tickets. Try sites like Skyscanner, I want that flight, Webjet, or Flight Center.
As with international flights, you can also visit the airline websites to check the prices. Given that only a few companies provide domestic flights in Australia, it is easy to see if promotions are available or not.
Finally, you should know that booking your domestic flights at the same time as your international flight may get you discounted rates.
When to buy your plane ticket?
Some factors influence the price of tickets, such as the seasons, school holidays, etc. For example, when winter arrives, backpackers staying in the South of Australia tend to move towards the north of the country. Thus, at this time of the year, fares to Cairns will probably be higher than air tickets to Melbourne, regardless of distance. If you intend to book during such periods, it is best to do it as soon as possible.
If you want to save money, it's best to be flexible. Some websites, such as Skyscanner, have tools that let you see the cheapest flights over the course of a whole month. Just click the "Whole Month" search option in the "Depart" box and choose the date with the cheapest offer. If you have more flexibility, you can even search for the cheapest month to travel in the year.
Which airports to choose for your domestic flights?
As in any country, airports with the largest volume of flights are located near major cities. As a result, prices will be better when traveling to or from cities like Sydney and Melbourne. However, you may be near a smaller airport or your destination may be a small city. You can research whether it is more economical to travel from or to a big city and complete your journey by another means of transport. Alternatively, you can check if deals for local flights to the smaller airport that is your destination.
There is not really a good answer, it depends mainly on your trip and your situation (do you have a car or not, do you have access to public transport or not …). So before booking your flight, it may be interesting to compare the different options available to you to find the most economical. Obviously, large airports allow greater flexibility with frequent departures. Small airports may save you time.
Flights and plane tickets from Australia
After a long road trip through Australia during which you've discovered many new things and met tons of people, it might be difficult to go straight back to your home country. Why not make the most of being on other side of the world and visit some other countries on the way home? In Australia, you are 'close' to Southeast Asia, Bali, Fiji, Vanuatu, New Zealand, New Caledonia, and can fly there for much less than you would pay if you were going from the other side of the world.
As far as airlines are concerned, generally speaking you will find those that operate domestic flights in Australia. Among them, there are the low-cost airlines (Virgin & Jetstar), but also local airlines specific to your chosen destination. The big change after travelling from Europe is that this time you can have direct flights, no more stopovers!
More tips to save money on your flights
Choose stopovers
If you're not pressed for time, you can search for flights that have stopovers. Even though your journey will take longer, your flight tickets will be cheaper, sometimes by hundreds.
Be flexible
Here's a little hint if you are flexible with the dates on which you want to fly. Some websites such as Skyscanner use tools that let you see the cheapest flights for a whole month. Just click the "Whole Month" search option in the "Depart" box and choose the date with the cheapest offer. If you have more flexibility, you can even search for the cheapest month to travel of the year.
Avoid hidden airline fees
Take a close look at fees for luggage, meals, and seats, to avoid hidden airline fees. Some airlines (low-cost carriers in particular) seem to offer great deals on flight tickets at first glance – then in the process of making your booking you discover lots of extra charges for bags, seat reservation and so on.
Since these flights often end up costing more overall, you are sometimes better off buying a ticket that is slightly more expensive, but includes luggage and meals.
Look for special deals
Some websites regularly offer flight tickets at low prices. The only condition is that you need to be flexible. These flight deals are usually set, so you can't make any changes to the destination or dates. Take it or leave it! If you don't have a detailed plan for your travels, a special deal could be your best bet. You find them on Airfarewatchdog.com or Holidaypirates.com.
Join a loyalty program
Airline loyalty programs can be a great way to get cheaper flights or free upgrades. No matter how often you fly, they are completely free and you definitely benefit from joining them. Every time you fly, you earn "points", which you can use with your next reservation. If you decide to join the program of a national airline, find out what alliance it is member of. This way, you earn points for booking flights with any airline belonging to this alliance. There are currently three main alliances in the world: OneWorld, SkyTeam, and Star Alliance. Qatar Airways, for example, is part of the OneWorld alliance. In other words, by joining a loyalty program with an alliance, you travel with the most recognised airlines and you get great deals.
Traveling in the very best conditions
Many airlines will do everything they can to make your trip as pleasant as possible and help the time pass quickly. When it comes to entertainment, seats are usually equipped with individual TV screens with an increasingly wide selection of movies, TV series, music, games, etc. The seats are usually wider and have a bit more leg room compared to the budget airlines. Extras such as kits with blankets, socks, eye masks etc are also provided for greater comfort. In addition, meals and snacks help to break up the trip.
Pack useful
There are also things you can do to make your trip more enjoyable. Bring a travel pillow and earplugs, and don't forget to add your favourite music to your phone before you get on the plane. Don't forget your headphones, even though most companies will provide them. Make sure you bring your phone charger in your carry-on (plug and USB, as you can plug it in during the flight, as well as during stopovers). Finally, if you have trouble sleeping on planes, try to leave in the evening. Tiredness will eventually take over and the time will pass faster. Also remember to wear comfortable clothes and a jumper, as it is often chilly on flights.
Making the most of your flight
Any problems with your ears or teeth could cause uncomfortable pressure and pain on plane journeys. If you're worried about this, it's best to get a check-up before your flight. If you have inner ear issues, anti-pressure caps can be bought in pharmacies and work well. If you have blood circulation problems, consider getting some compression stockings for the flight. If there is a history of phlebitis in your family, you may be prone to pulmonary embolism. It is advised that you consult your doctor before your departure.
Good to know 💡
Choosing your flight times wisely may help you adapt to jet lag more easily. Avoid arriving in Australia in the morning, if you can. To keep pace, it is best to wait until the evening to sleep, so you will have to wait all day if you arrive early!