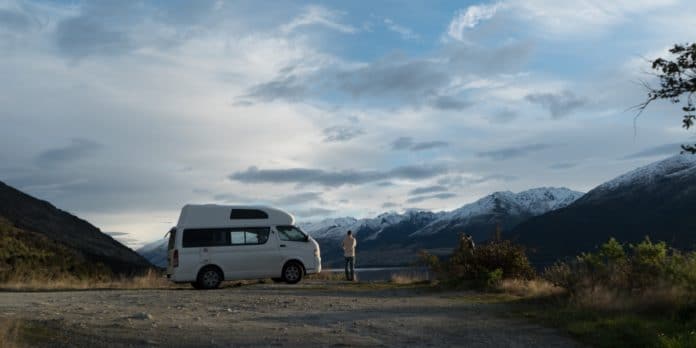 Are you dreaming of travelling and exploring the spectacular sights of New Zealand in a campervan? But fear the expensive rental rates? If so, in this article we share our hot tips and hints on how to find a cheaper campervan hire option in New Zealand.
Campervan rental New Zealand: How to pay less
The ultimate way to receive decent discounts and deals on campervan rentals is to visit specialised agents. Working with more than 50 rental companies, MotorHome Republic is the leading agent in Australia & New Zealand.

How does MotorHome Republic work?
As an agent, MotorHome Republic offers discounted rates from various rental companies. Campervan rental companies use agents like MotorHome Republic to rent out as many campervans as possible, so with the competitive rates of each company, you will already be saving money. On average a supplier rents about 30% of their vehicles to direct customers, leaving the remaining 70% to agents like MotorHome Republic.
Campervan hire New Zealand: How to find a cheap camper
In order to receive a great deal for a campervan rental in New Zealand you must understand how the rental companies establish their pricing structure. Below are some helpful hints to get you started:
The type of vehicle: The newer the vehicle and the better it is equipped, the more you have to pay. If you want a vehicle that is fully self-sufficient with a shower, toilet and kitchen built in, you will be paying a lot more than a basic campervan setup. Occasionally it is more cost effective to rent a basic campervan and pay $30 – 45 NZD per night for campsites.  
Seasons: The peak travel season in New Zealand is from November – February as well as school holidays and long weekends. During these periods' prices increase and instead of paying $30 NZD per day during the low season you will be paying up to $100 NZD for the exact same vehicle. 
Rental Duration:The longer you rent a camper, the cheaper the daily rate becomes. Usually suppliers set different levels; +7days, +14days, +21days, +30days. 
The availability of vehicles: Like airline tickets, tariffs increase related to their availability. When there's only a few left, prices rise.
Departure and arrival: In New Zealand there are two main cities: Auckland and Christchurch. In Auckland and Christchurch, you'll find lots of campervan rental companies with cheaper prices than anywhere else in New Zealand. We recommend to not rent your camper in towns like Queenstown, Picton and Dunedin as their rates are relatively higher. If you want to do a one-way road trip between Christchurch and Auckland keep in mind that it's cheaper to rent a van in Christchurch due to most of the tourists arriving in Auckland. Also note that companies charge extra fees for one-way rentals.
Ferry: With some rental companies the use of ferries is allowed. This can be more convenient and sometimes is even cheaper. Check prices on Interislander: www.interislander.co.nz
Booking in advance: The earlier you book the cheaper it is.
The type of insurance:It is important to book your vehicle with a full cover insurance. The price that is displayed on the website only includes a standard third-party insurance which is free and compulsory. If you don't want to risk losing your deposit (between $2500 NZD and $7500 NZD) you must get a full cover insurance. Prices for full cover insurance vary depending on the supplier, type of vehicle (size/age etc.) and duration of rental. Visit the Rentalcover website for great insurance deals. 
The equipment: The campervan rental price generally does not include extra equipment such as GPS, table, chairs, cooking equipment etc. Therefore, you will have an additional charge for any extra items you want to add to you booking.
Campervan hire in New Zealand: Compare prices
With MotorHome Republic you can compare prices from many different vehicles & suppliers in Australia and New Zealand. It's free of charge and you can book the vehicle online:
Related Articles:
Updated on the 1st of July 2019. First published on the 20th of September 2018