One of the most asked questions from backpackers setting off on a Working Holiday Visa to Australia is – which city should I choose for my arrival? Of course, each city has its advantages and disadvantages, so it's not always the easiest decision to make. Here are the main criteria to take into account in order to make the right choice!
Requirements to enter Australia in 2023
There are no new conditions to meet to enter Australia in 2023. The rules are the same as before the pandemic, namely:
Have a valid visa
Have a valid passport
Complete an Incoming Passenger Card
Note: The Incoming Passenger Card will be given to you on the plane.
Main cities in Australia
The choice of your city of arrival in Australia is first and foremost a matter of taste! Some people dream of discovering the iconic Sydney, others Melbourne etc. Each city has its own unique qualities. Some are more famous than others, some are more expensive… so it is important to ask yourself the right questions before you depart for Australia.
Good to know
If you want to begin your stay in Australia by discovering more exotic regions, then start your trip on the west coast or in the north of Australia.
For those who don't feel comfortable with camping, start on the East Coast. You will have access to more services/comfort (showers, toilets, supermarkets, etc.) and will experience less isolation.
We asked the Australia Backpacker's Guide community about their choice of arrival city. Here are the results:
Sydney (NSW)
For many travellers, Sydney appears to be the most "logical" city of arrival. It is the most famous (and most touristy) city in Australia. You will meet many different people there and be able to take advantage of all its attractions!

The capital of the state of New South Wales, Sydney is exciting and enjoys great weather. It has many beaches nearby, including the famous Bondi Beach. The city is also full of cool bars and restaurants and boasts unique events and festivals. It is a good choice for those who want to stay in a city, or those who want to buy a vehicle to go on a road trip. You will find lots of deals on cars and vans here (depending on your date of arrival).
Pros
Work
Cost of living
Climate
Popular attractions (Opera House, Harbour Bridge, famous beaches..)

Dynamic city with convenient public transport

Lots of parks and beaches

Surf culture

Night life
Economic centre of Australia

Lots of work opportunities but more competition

Salaries are a bit higher than in other cities
Score : 5/5

Housing: The most expensive city to live in in Australia, but it is possible to find affordable house shares. (A house share with 4 people is at least $300 a week).

Public Transport : Expensive, expect to pay $4 per train journey.

For more information see: Accommodation in Sydney



The weather in Sydney is temperate with mild winters and warm summers :
During Summer (Dec – Feb) average temperatures range from 18° to 26°. Average humidity spikes to 65%. Water temperature ranges from 21° and 24°.

In Autumn (March – May) average temperatures range from 14° and 22°.

During winter (June – August) average temperatures drop between 8° and 17°. Sydney's rainfall is generally highest in June.

In Spring (Sept – Nov) Average daily temperatures range from 11° to 23°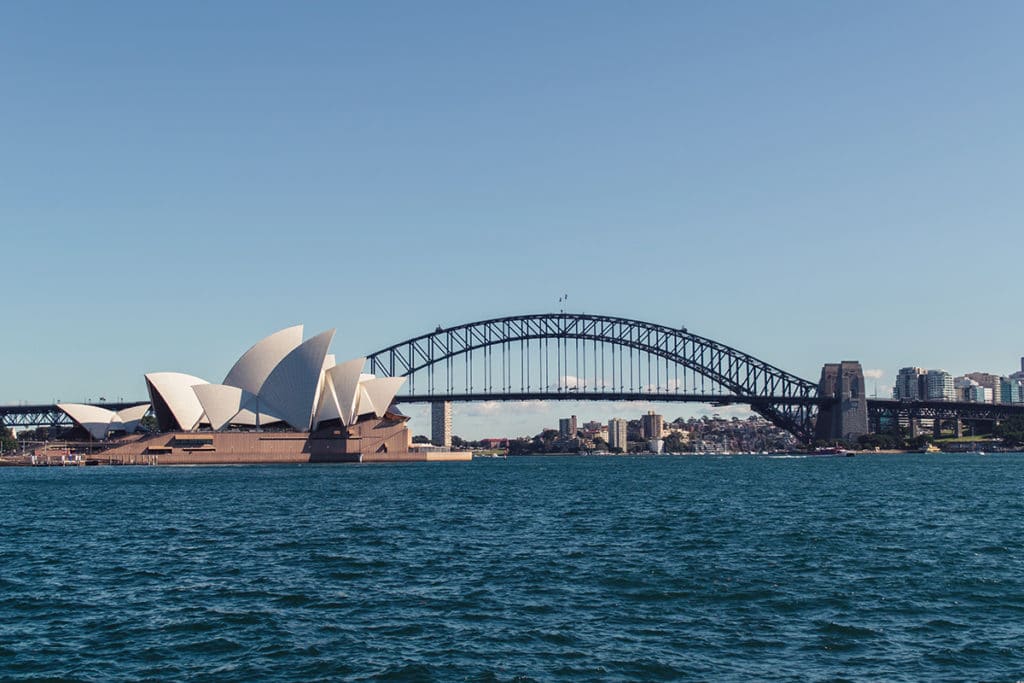 Melbourne (VIC)
Melbourne is the second largest city in Australia. The capital of the state of Victoria, it attracts many Europeans for its street art, its many bars and restaurants and its mixture of architectural styles.
Melbourne is a cosmopolitan city with more than 5 million inhabitants. It's a good choice if you arrive in the middle of summer in Australia or if you want to start working on the farms. Indeed, the city is surrounded by wine regions hiring travellers during the harvest.
Pros
Work
Cost of living
Climate
Second city in the country

European culture vibes

Numerous cultural events all year long

Beautiful city with architectural diversity

Cosmopolitan population

Amazing street art

Night life

Good cycling infrastructure makes it easy to get around
Lots of work opportunities but more competition

Lots of work in hospitality and tourism (especially in summer). Start your job search a month in advance.
Score : 4.5/5

A bit cheaper than Sydney

Housing is quite expensive but you can find affordable house shares. Expect to pay about $300 for a house share with 4 people.
Melbourne is well known for its changeable weather conditions.:
During Summer (Dec – Feb) Temperatures range between 14° and 25°. Tops temperatures are in January and Feb.

In autumn (March – May) The weather is cooler with average temperatures ranging from 10°and 20°.

In winter (June – August) Temperatures range between6°-14°. Heavy rain is rare at this time of year but the weather is cold and cloudy.

In Spring (Sept – Nov) Average temperatures range from 10° and 19°. This season is known as the most variable of the year, it can be sunny for an hour and cold and windy in no time. October is the wettest month with at least 10 rainy days.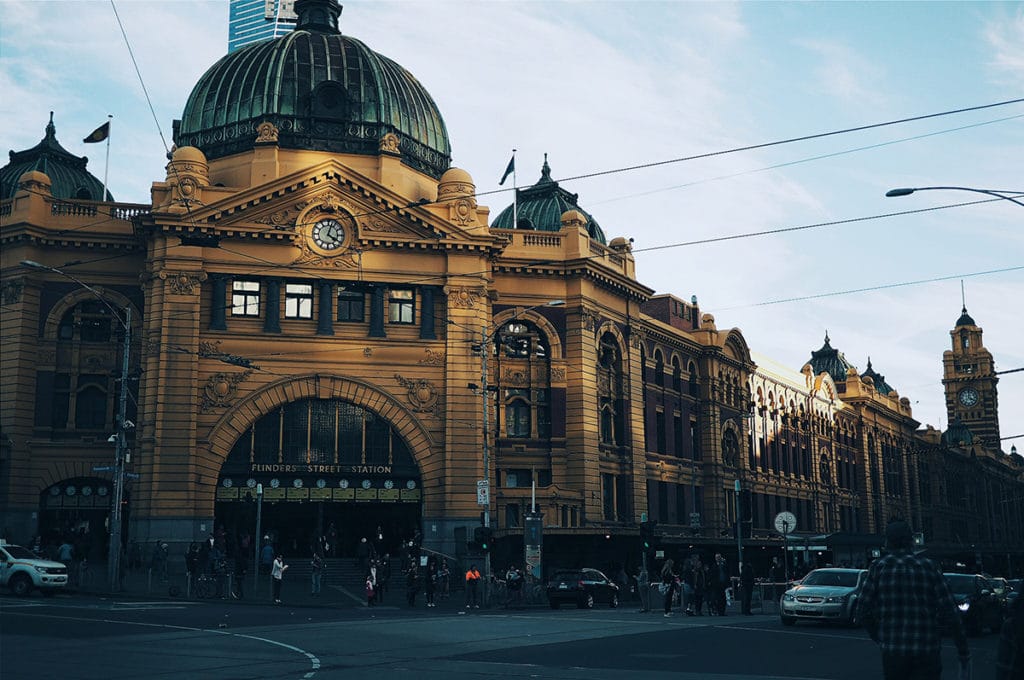 Brisbane (QLD)
Brisbane is the capital of the state of Queensland. It is very sunny (300 days a year!) and is located a stone's throw from the Gold Coast, a place renowned for its bars and nightclubs for partying.

Brisbane is a city on a more human scale and has many advantages. It can be a good starting point for a road trip in Australia (check the seasons) or even work in the city and discover the surrounding regions (Great Barrier Reef, Fraser Island, etc.).
Pros
Work
Cost of living
Climate
Small city

Nice CBD with shops and restaurants

Nice beaches close to the centre

Nice weather all year round

Perfect starting point to visit the West Coast
Less competition for jobs than in Sydney and Melbourne

Growing city with lots of opportunities in the construction industry

Surrounding areas eligible to renew your WHV

Close to farms
Score : 4/5

Cost of living more affordable than Melbourne and Sydney

Housing: Cost approx $250/week for shared accommodation
During Summer (Dec – Feb) The weather is hot and dry with very little rainfall. Average temperatures range from 17°-30°.

In Autumn (March – May) Average temperatures range between 13° and 26°

In Winter (June – August) temperatures are ranging from 8°-19°. The weather is cold and wet.

During Spring (Sept – Nov) days are warm and sunny.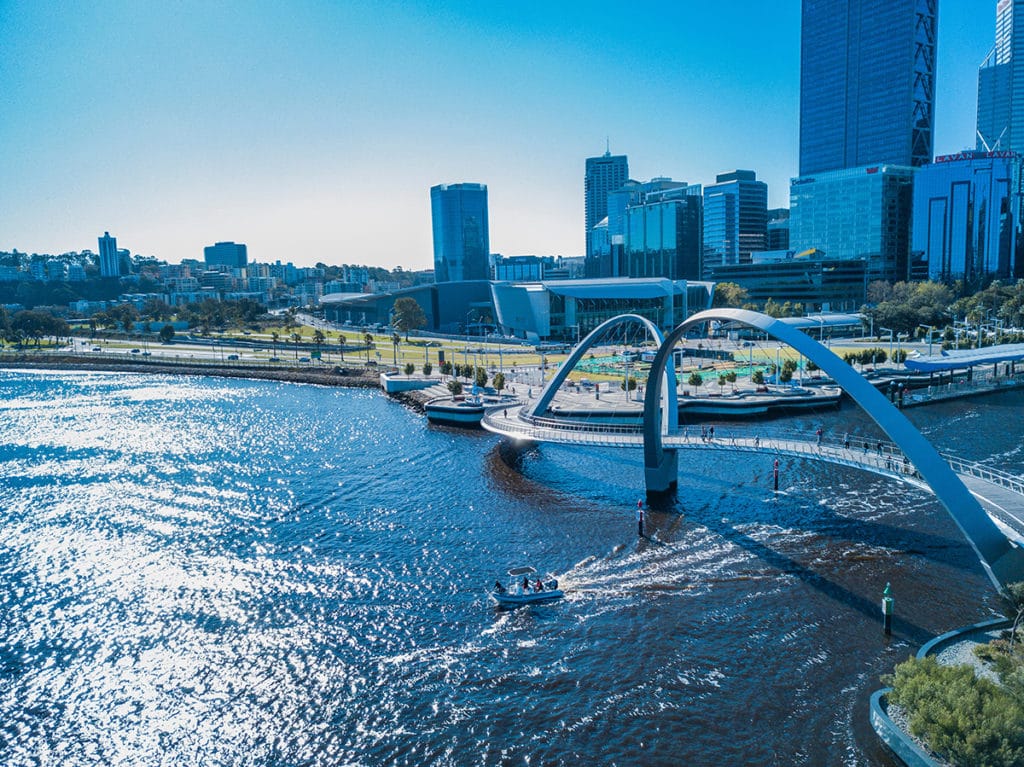 Adelaide (SA)
Adelaide is a quiet little city that doesn't get a lot of backpackers. A small city in comparison to some others, it is the capital of the state of South Australia. It can be a good choice of arrival city if you want to work in the city or on the surrounding farms (Adelaide Hills, for example). It is also a good choice for carrying out all your administrative procedures, your vehicle purchase, etc.
Pros
Work
Cost of living
Climate
Small and welcoming city

Numerous festivals

Wineries and lors of farms in the area
Easy to find a job

Salaries are lower than in other cities

Work available on surrounding farms
Score : 3.5/5

Cost of living is lower than in other big cities

Housing is also more affordable. Expect to pay about $220 a week for shared accommodation.
Adelaide has mild winters and a warm summers.:
In summer (Dec – Feb) average temperatures range from 16°- 29° The city enjoys the lowest humidity of any Australian city.

In Autumn (March – May) the weather is nice with average temperatures between 12°- 23°.

In Winter (June – August) average temperatures drop to between 8°-16°. June is the wettest month.

In Spring (Sept – Nov) average temperatures range between 12°-22°
Cairns (QLD)
Cairns is located in the far northeast of Australia, in the state of Queensland. It is a small tropical city and the main access point to the Great Barrier Reef. An international airport allows you to arrive in Cairns from abroad, however you will find fewer flights to this destination.
Cairns can be an ideal arrival city for those looking for sunshine and a quick change of scenery! Remember to check the climate carefully because the city experiences a rainy season, so avoid arriving during the Australian summer.
Pros
Work
Cost of living
Climate
Perfect gateway to the Great Barrier Reef

Tropical area

Excursions and national parks to discover
High demand for manpower for high season

Lots of opportunities in tourism and hospitality
Score : 3.5/5
Housing : Affordable compare to other cities.
Cairns experiences hot summer and mild winters :
In Summer (Dec – Feb) temperatures range between 24°-31°. The wet season begins building up in December.

In Autumn (March – May) it is still warm and temperatures range between 21°- 29°.

Winter (June – August) brings cooler temperatures and lower humidity, it is the best season to visit the area.

In Springs (Sept – Nov) average temperatures range from 20°-29°. This is the end of the dry season and humidity starts to build with the onset of the wet season from December.
Darwin
Darwin is a city located in the Northern Territory in Australia. It is the capital and the largest city in the region. Founded in 1869, the city takes its name from Charles Darwin, a famous naturalist and biologist who studied Australia's biodiversity during his voyage aboard the ship Beagle.
Darwin is a cosmopolitan and multicultural city, with a diverse population including Australians, Europeans, Asians and other ethnic groups. The city has grown rapidly in recent years, largely due to its role as a hub for the region's mining and gas industry.
Like Cairns, Darwin can be an ideal arrival city for those looking for sunshine. Check the weather before you go as the city experiences a wet season, so avoid arriving during the Australian summer.
Pros
Work
Cost of living
Climate
A city on a smaller scale, perfect for a smooth arrival

Tropical region

Lots of activities and national parks in the area
High demand for workers during the busy season (June-September)

Lots of jobs in the hospitality and tourism industries
Score : 4/5
Housing : Less expensive than other large cities in Australia. Budget around $180 a week for a room in a houseshare.
Darwin has a dry season from May to September. It is hot to very hot, but dry.
The wet season is from October to April. The heat is quite oppressive. You will be assaulted by the rain and humidity every day!
Choose your city of arrival depending on the seasons in Australia
Australia is a huge country, and the climate varies hugely from one region to another. The first thing to take into account is the season in which you will arrive in Australia. Remember that in Australia the seasons are reversed compared to the northern hemisphere!
December to February: Summer
Summer in Australia is the time to visit the southern states of the country (NSW, VIC, SA, TAS and the south of WA). Generally speaking, it gets very hot, temperatures ranging from 25 to 40 degrees (celsius), sometimes even higher than that! In Sydney, the weather can vary, as the intense heat waves can cause rain and thunderstorms. But it is normally very nice and warm. Melbourne has a somewhat unusual climate. The daytime can be very hot and then heavy showers can fall, bringing the temperature down by 10°. You should always bring a sweater or windbreaker with you if you're in Melbourne!
March to May: Autumn
During autumn, you can move around more or less the entire country. In the southern half of the country, temperatures are mild (20-25°C). In the northern half, it will be the end of the wet season. It will therefore still be hot and humid. There is also still a risk of flooding, so be vigilant!
June to August: Winter
During winter, the ideal region to visit is the Top End, the most northern part of Australia (Northern Territory and the north of Queensland). That's when the dry season starts, and it doesn't get as hot (it can still be about 30 to 35 degrees though!).
The southern part of the country can get pretty cold, resulting in snow in Victoria's mountains! In Sydney or Melbourne, winter brings moderate temperatures, ranging from 10 degrees in the morning to 18 degrees during the day. Generally, winter is pretty sunny and temperatures feel hotter than they are.
September to November: Spring
Spring in Australia brings a bit of everything. You have to be extra vigilant at this time in the north, as wet season officially starts in October and it starts to get very hot and humid in that part of the country. This season is ideal for discovering the south without having to suffer extremely hot temperatures and huge crowds of tourists.
⚠️ School holidays in Australia ⚠️
Good to know: School holidays in Australia start in mid-December and finish at the end of January, so that is when there are enormous amounts of tourists as well as higher hotel and camping prices. If you're renting a vehicle, prices will also be higher during this period.
Your trip – What places do you want to see?
You can also pick your city of arrival based on your itinerary in Australia. It is therefore important to create a travel plan while taking the climate and fruit picking seasons into account. Even if you don't end up following it exactly, it will allow you to evaluate your progress compared to your initial plans, which will eventually help you with readjusting your route or travel.
A word of warning – don't underestimate the distances within Australia! Don't count like this: 100km = 1 hour of driving. You are here to enjoy the landscape and the culture, not to hurry through your trip as fast as possible! It's not a race 😉. Sometimes it's better to sacrifice seeing one part of the country to really make the most of the rest.
If you are here for a year and you plan to tour the entire country, divide Australia into four parts. Give yourself three months per quarter – that will be sufficient time to explore the area. Don't forget the working part of the experience; consider when (maybe even where) you want to earn a couple more dollars to fill up your travel piggy bank and remember that you will be staying at the same place for at least one or two months. Thus, it is difficult to find a really good and trustworthy route.
Prices for flight tickets
Prices for flight tickets to Australia vary from season to season and depend on which city you're landing in. In the north, for example, high season (= more expensive flights) is during Australian winter. In the south the main season is around and during the Christmas holidays. Your departure date can thus help you make decision on where exactly you want to fly to. If you find a great deal for a flight to Melbourne, for example, that might also help you with your choice. As a reminder, expect to pay at least €1,200 for a flight to Sydney (AR). Ticket prices are currently high, so book ahead if you can.
Read more: Cheap flights to Australia
What are your plans once you arrive?
Stay in town
For those who wish to settle for a few weeks or months in a major Australian city, we recommend that you take a good look at the advantages and disadvantage of each of them. People who prefer a more urban setting will naturally gravitate towards Sydney, Melbourne, Brisbane or Perth. Depending on the sector in which you want to work, certain cities will be more favorable. Also think about the cost of living and the quality of life that each of these cities offers. If you are a beach lover or surfing fan for example, Brisbane and Cairns probably aren't the best places for you to live.
Find a job quickly
If you want a fruit picking job, it is essential to check the harvest calendar in order to arrive at the right place at the right time. It is also recommended to arrive two weeks before the start of the harvest in order to carry out all the necessary admin, find a vehicle and start applying to farms.
If you want to work in a city, you can arrive in the one of your choice. There will always be jobs available. We advise you to avoid Sydney or Brisbane during the high season as there is a lot of competition (not to mention Australian students who are on vacation). But these big cities are also the ones that offer the most opportunities. Cities like Adelaide or Perth can be a good idea to start! There will be many job offers and often these cities are forgotten about by backpackers (especially Adelaide).
Go on a road trip
Would you prefer to buy or rent a vehicle to travel Australia? If you choose to buy, vans will be more expensive if you arrive in Sydney during high season (between October and January). The rule of supply and demand always applies. There are a lot of potential buyers, so the prices are higher! On the other hand, if you arrive in June, you could find yourself a great deal! On the other hand, if you arrive in a smaller city or out of season, your choices will be more limited.
If you want to rent a vehicle, then think about doing it in advance. That way you can benefit from better rates and have more choice as to the type of vehicles etc.