Australia is a huge country, and going on a road trip is without a doubt the best way to explore it! Going on an adventure in your own vehicle is the dream for many people, and it might seem straightforward. But a successful road trip is above all an organised road trip! To make the most of your trip, it is important to prepare before leaving: plan your route, estimate the necessary budget, plan the equipment you will need for traveling, camping, etc. Here are some tips to make your road trip in Australia one of the best memories of your life!
Best road trip itineraries in Australia
Before planning a road trip in Australia, you have to ask yourself where you want to go. Indeed, depending on your city of arrival, the type of vehicle you are going to buy or rent and your budget, the routes will not necessarily be the same. Here are the different possible itineraries for a road trip in Australia:
East Coast of Australia
Australia's most popular route! An East Coast road trip will take you through the famous cities of Sydney and Brisbane. You will be able to visit incredible places such as Fraser Island, the Whitsunday Islands and the Great Barrier Reef.
🕑 Allow about 3 weeks to do Sydney – Cairns.
Australia's West Coast
This is a magnificent road trip, much wilder than the East Coast. On the West Coast some of the drives are a bit long, but the experience is definitely worth it! You can discover stunning national parks and deserts, as well as the Ningaloo Reef (the smaller coral reef on the west coast). Shark Bay and Broome are also two amazing spots not to be missed!
🕑 Allow 3-4 weeks from Perth to Darwin
Australia's South Coast
This coast connects the city of Melbourne (Victoria) to Perth (Western Australia). You will pass by the famous Great Ocean Road and cross the Nullarbor desert. The south coast boasts a rich variety of landscapes and wildlife. In the South West, magnificent white sand beaches and immense forests await you! Visit in summer if you can (from September to February) because the temperatures are cold in winter (especially at night).
🕑 Allow 2-3 weeks from Melbourne to Perth
Central Australia
An unforgettable experience in the heart of Australia. Here you will cross desert areas and immerse yourself in Aboriginal culture. Departing from Adelaide, you will pass through Coober Pedy (a cave mining town) before reaching the famous Uluru. You will then discover Kings Canyon and Alice Springs in central Australia. Further north are the national parks of Kakadu and Litchfield with incredible wildlife (birds, crocodiles, snakes…). You can also discover tropical forests and breathtaking gorges! Be careful between November and February – the rainy season in the North can lead to heavy rainfall and cyclones that can block certain access roads.
🕑 Allow 2-4 weeks from Adelaide to Darwin.
Tasmania
The island of Tasmania is located south of Melbourne and is one of our favorite spots. Here you will find huge forests and sublime beaches and you may be lucky enough to come across a Tasmanian Devil! Your road trip will be punctuated by magnificent walks and hikes in the many national parks of the island, such as the Freycinet, the Cradle Mountains and Franklin-Gordon National Park. Avoid winter if you don't like the cold (May to July) because here it can snow!
🕑 Allow 1 week for part of the island, up to 3 weeks to cover the whole island.
When to go on a road trip in Australia?
In order to choose the best time to travel to Australia, it is important to take into account different factors, such as the climate of each region you wish to visit, your budget and whether you intend to work there. Here is some advice to guide you.
Choose the best season to travel
The climate in Australia is predominantly warm, which is partly why it's such a popular spot for travellers. However, it's not nice and sunny everywhere, all the time! Australia is such a huge country that it is impossible to generalise about the seasons, temperatures, precipitation, etc. There are also six different types of climate on Australian territory: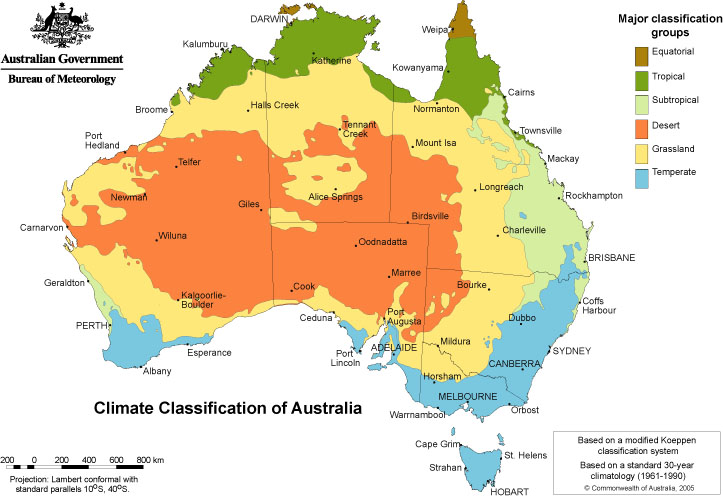 Australia's summer is from December to February, autumn from March to May, winter from June to August and spring from September to November. The two main contrasts are the winter in the South and the rainy season in the North. If you don't like very hot temperatures then you should also probably avoid the desert in the height of summer.
You should also take into account the tourist season. If you travel during the summer, you will most likely enjoy great weather but tourist destinations will be more crowded and prices will be higher (rental, accommodation, excursions, etc.).
| | | | |
| --- | --- | --- | --- |
| SUMMER | AUTUMN | WINTER | SPRING |
| Dec / Jan / Feb | Mar / Apr / May | Jun / Jul / Aug | Sep / Oct / Nov |
In the North of Australia (Northern Territory, North Queensland and Western Australia), rainy season is between November and March. It gets very hot and humid. Temperatures range between 30°C and 50°C, with lots of rain. It is not recommended to explore Northern Australia during the wet season, as there's a risk of cyclones, floods and lots of mosquitos.
In the South of Australia, don't forget that winter can be very cool. Temperatures can fall between 5 and 15 degrees. In some areas there is even snow, with minus temperatures at night (around Canberra, Australian Alps etc.)
If you plan to work in Australia
It's also important to be aware of the seasons if you plan to work in Australia. If you want to find a fruit picking job to finance your road trip, you'll need to know about the harvest seasons.
Check out our harvest calendar to get a good overview of fruit picking seasons in Australia. It shows you what fruit and vegetables are in season and where to go – state by state.
However, this is not an exact science, but more of an indication: the harvests depend heavily on weather and climate, and can therefore vary from year to year.
Check out our fruit picking map to get access to over 500 farm contacts across Australia.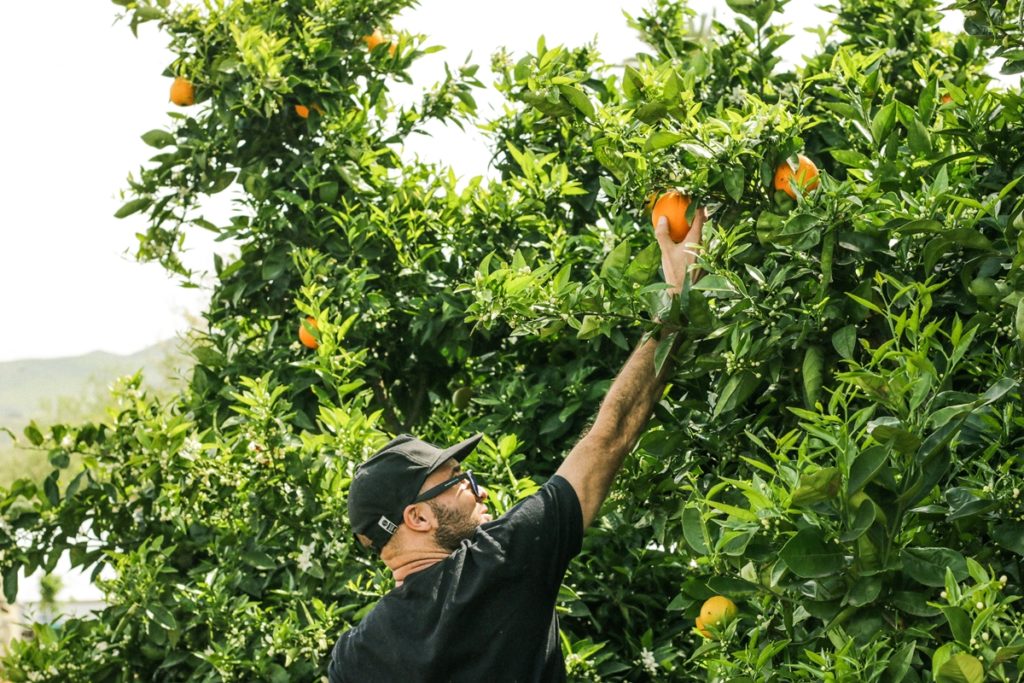 Prepare your Road Trip
Choose your vehicle (van or 4WD?)
If you own a vehicle or plan to purchase or rent one, it will partially determine your route. To summarise :
If you only want to visit the East Coast (for example do Sydney -> Cairns) or even discover the South (Great Ocean Road, Nullarbor, Tasmania, etc.) while staying on the main roads then a van (or a car/station wagon) will be ideal for your road trip.
If you want to do Western Australia, Central, Northern Queensland or even the Northern Territory, and the Outback then a 4WD is probably better. This will give you much more freedom and will allow you access to more sites.
The main tourist sites across the country are accessible via car, but some more isolated places can only be explored with 4WD. Keep in mind that you can usually join a tour to explore more inaccessible regions in Australia.
Choose your city of arrival and your destination
Your itinerary will depend on your city of arrival. You can also check out our article "Choose your city of Arrival in Australia" if you have not yet made your choice.
Once you have decided where to start your adventure in Australia and how long you want to travel, you can then choose your itinerary, keeping the seasons in mind. On the other hand, if you already know which places you want to see it makes more sense to check the seasons and then book your flights.
Figure out your route
Australia is a very large country… it is 32 times the size of the UK in terms of area. It is very important that you set a fairly accurate route to determine the length of your road trip, but also for organisational reasons. This will allow you have a clear plan, and help to make sure you don't miss any highlights on the road.
If, by contrast, you only have a set amount of time for your road trip, plan around that instead. For example, if you have 3 weeks ahead of you, then you have enough time to discover the East coast or the West coast from Perth to Broome. If you only have 2 or 3 days and are based in Melbourne, head to the Great Ocean Road or the Grampians. Leaving from Sydney, you can explore the Blue Mountains or the south towards Jervis Bay.
Figure out the stages of your road trip
Again, you will need to determine the stops on your journey. Remember to check the seasons and the harvests if you will need to find work fairly quickly. Depending on your budget, you will also need to figure out how long you can travel without working.
One of the other points to take into account when it comes to planning your itinerary is the places you absolutely need to see. For example, if you want to go to the Red Centre, you should visit outside of the summer months (November – February), when it is stiflingly hot. If you want to explore the Great Barrier Reef, the best time to go is in September.
How to do a road trip in Australia?
With your own vehicle
Australia is a road tripper's paradise. Everything seems to be designed to discover the country by road! If you are staying in the country for several months or more, it's a good idea to buy your own vehicle. You'll have more freedom and will make money back when you sell it on at the end of your trip. Depending on your plans and your budget, you can opt for a car, a station wagon or a van for your trip. Remember to check the registration – registration rules vary between states.
Choose your vehicle
Choosing the right vehicle is essential for a successful road trip. Who wants to drive for hours in an uncomfortable car in the scorching sun without air conditioning? No-one! So, it's important to know your stuff in advance. Ask yourself the right questions about what type of vehicle is right for you:
a car with a roof tent for the more adventurous
a motorhome with all the utilities for those who want comfort (toilets, showers)
a van, smaller but well organised
a campervan for a little more space and equipment
More information: Buying a vehicle in Australia
Renting a vehicle
For a road trip lasting a few weeks or less, renting a car or campervan is a good option. Likewise if you plan to explore part of the country and then settle in a city or vice versa. We advise you to use a comparison tool to find the best available rates. Motorhome Republic offers many models for a good price.
Book in advance to choose and find your ideal vehicle because rentals go quickly, especially in high season.
Join an organised tour
If you are travelling in Australia for a short period of time, given the vastness of the island, you might want to opt for an organised tour. This could be to discover one part of the country – for example, Melbourne and the surrounding areas with the Great Ocean Road. An organised tour can also be a great way to explore several areas of the country more quickly.
You can explore Australia's Red Centre in just a few days with a tour rather than crossing all over the country to get there by car. For excursions and tours by boat or plane, you can find agencies on-site.
Use public transport
If you don't have your own vehicle or don't want to rent one, you can use the various means of public transport in the country.
Plane
Travelling by plane is a quick and efficient way to travel Australia. The major cities of the country are very well served and offer cheap flights. Many companies offer domestic flights, including Jetstar, Virgin and Qantas.
Bus
You can also opt for the bus. Several companies such as Greyhound and Premier Motor Service connect the major cities. For instance, you can go from Melbourne to Sydney for $50 with Premier. It's a good way to get around if you're not short on time – the bus journeys are long. The coaches are comfortable and you will have access to free Wi-Fi during the trip. You can opt for a single route ticket or buy a package which allows unlimited travel on the East Coast for 3 weeks or a month, for example.
Train
Another means of public transport in Australia is the train. There are several famous train lines which connect the main points of interest on the coasts, as well as the centre of the country, with a connection between Adelaide and Darwin. Some lines have specific names, such as The Indian-Pacific (Sydney to Perth), The Ghan (Adelaide to Darwin via Alice Springs), The Queenslander (Brisbane to Cairns), and The Overlander (Adelaide to Melbourne). You can buy a single ticket or opt for a pass that will allow you to travel with stops on the way.
Carpooling
Carpooling is very common in Australia. It's an economical way to travel while sharing with other travellers. You can find a "lift" on different specialised sites or on Facebook groups where many travellers offer places in their car or others who seek it. You will have to share the costs (gas, food as the case may be) and the fun!
What budget do you need for a road trip?
Expenditure items
The budget for a road trip in Australia can be substantial. It is therefore very important to assess the costs involved. The cost of living is relatively high in Australia and fuel will make up a big part of your budget. You must then take into account the cost of your vehicle (purchase or rental), food, campsites, activities and miscellaneous costs …
With a few tips, it is possible to travel with very little money (especially if you work during your road trip). For more information and tips for saving money on road trips, do not hesitate to download our free guide – Australia Backpackers Guide.
Road Trip budget calculator
Wondering how much it will cost you to travel Australia? Check out our budget calculator.
What affects a road trip budget?
Seasons
Travelling with the seasons will affect your expenses. Be aware that everything is more expensive during school holidays – accommodation, vehicle rental prices, excursions, transport, etc. You will need to set your budget based on when you travel. Note that the high season in Australia runs from November to February.
Duration
One of the first criteria that will determine your road trip budget will be its duration. It goes without saying that the more time you spend on the road, the higher your budget will be. This is especially true if you hire a vehicle to get around. So remember to estimate your expenses based on how long you will spend travelling.
Number of travellers
This is another big factor, as your expenses will vary depending on the size of your group and the ages and needs of the group members. If you are travelling with your own vehicle, consider carpooling. This will lower your costs, allow you to meet new people and reduce your carbon footprint in the process!
Activities
Depending on the activities you have planned, your budget will be larger or smaller. You can choose to go on some short excursions or join organised tours. For excursions to tourist sites, budget at least $200 per person (or more) depending on the type of activity. For other activities, budget about $20 for a cinema ticket, $40 for entry to an animal park, $25 for paddleboard rental, etc. You can also plan free activities such as beaches, museums, bbq, free events in cities etc.
Level of comfort and convenience
Again, this is unique to everyone. Your budget will be different depending on your lifestyle! If you want maximum comfort and are renting a vehicle, opt for a campsite equipped with a shower and toilet. If you aren't too bothered about comfort, a mini van or a station wagon will save you money. You can also opt for the car and rooftop tent option, it will save you money but may be better suited for short road trips.
Examples of budgets
With your own vehicle
First, note the cost of buying your vehicle. The price will be different depending on the type of vehicle (4WD; van; car), its age and condition and the location and season of purchase.
A converted car / station wagon costs between $3500 and $6000
A camper van costs between $5500 and $9000
For a converted 4WD, budget between $7,000 and $10,000.
In addition to this, you will need to add the cost of fuel and vehicle maintenance ($600 per month). Travelling by vehicle, whether by van or car, will save you on accommodation costs. You can sleep in your vehicle or pitch your tent. Add a food budget ($125 per week) and you can budget around $1,500 per month for two people.
Renting a vehicle
The price of renting a campervan or motorhome in Australia varies according to many criteria (season, length of your stay, reservation in advance). Insurance is a significant cost in the rental budget (add around $30 / day). For a "classic" campervan for 2 people (without insurance), budget:
In low season: budget between $60 and $80 per day
In high season: between $80 – $110 per day
Add fuel ($500 on average) and food costs ($125 per week for two people).
With an organised tour
There are many agencies that offer organised tours. However, these offers are generally expensive because they include airfare, hotels, excursions and agency services etc. You can choose to go through an agency to organise your road trip. For example, for a tour organised in the red centre, budget around $700 per person for 4 days and 3 nights. Moreover, you also need to add the costs for your plane tickets.
Self-organised tours
Know that it is quite possible to organise your tour yourself. Sights in Australia are accessible by road. You can go to the vast majority of national parks via paved roads or even reach the Red Centre of the country with a conventional vehicle. Certain places, or certain parts of national parks are however only accessible with a 4WD (Purnululu, certain parts of Karijini for example).
For excursions and tours by boat or plane, you can find agencies on-site. The prices of the excursions vary according to the locations and period of the year etc. For the Whitsunday Islands, allow $250 for a day trip.
What equipment do you need for a road trip?
A road trip allows you to travel in total freedom. However, it is important to have all the necessary equipment for a successful adventure!
Phone plans
Choosing a good plan for your mobile phone is essential for a road trip. Indeed, outside the big cities and in very rural areas, not all operators receive service, which can be dangerous. Telstra offers the best coverage across Australia, including the Outback.
Navigation equipment
One of the first points to take into account before your road trip is navigation! If you're following main roads, you shouldn't get lost, but things get trickier when you start to explore more regional areas. You will have your phone's GPS, but it's best not to rely solely on it in case you lose signal. There are different tools that will help you orient yourself in this huge country:
Road maps
GPS – especially for people who don't like to use paper maps
"Camp8" camping guide which lists all the free camping areas
WikiCamps app or similar (see below)
Camping equipment
Chairs and camping table
Kitchen utensils (pans, pots, plates, cutlery…)
Waterproof Tupperware boxes to store your food
Gas cooker and gas bottle / refill
Icebox (if you don't have a fridge)
Rope and tarp (can be used as a blind)
Dishwashing liquid, sponges, tea towels
A good knife or small hatchet to cut wood
Flashlight (a head torch can be very handy to keep your hands free)
Some big bottles of water (20L)
One or two cans of gasoline depending on the capacity of your tank and your itinerary.
Food supplies
You should always have plenty of food and water in case you get stuck somewhere for several days. It can also be a good idea for saving money if you're travelling to an isolated area, because the food will generally be more expensive there. Preserves are very useful during road trips because they can resist heat, cold temperatures, water etc. So remember to bring non-perishable food.
Sleep
Tent (if you won't be sleeping in your vehicle)
Mattress and pillows (inflatable or foam)
Blankets or sleeping bags. It can be cold at night, so make sure you have a good sleeping bag.
Hot water bottle (for the cold nights or if you travel south in the winter)
Hygiene
During your road trip in Australia, you probably won't be able to bring all the toiletries you would use at home. Here are a few necessities that should cover you:
Soap
Shampoo (and dry shampoo)
Toothpaste
Toilet paper
Liquid laundry detergent
Shower towel
Solar shower (15-20$)
Bucket to wash your clothes by hand
First aid kit
Bring a first aid kit to treat small wounds or bites on your trip. Include mosquito repellent, dressings, disinfectant, plasters, compresses, painkillers, medication for stomach aches, vomiting, and everything you might need. You should be able to buy anything you've forgotten at pharmacies on the road, so don't overload yourself, but make sure you have the basics.
Vehicle maintenance
Maintaining your vehicle is essential in order to avoid any unpleasant surprises during your trip. If you rent a vehicle you shouldn't have to worry about this. Otherwise, here are the main accessories you should have:
Oil and Coolant
A full jack
A toolbox
Windshield washer fluid
A cloth / gloves
Useful apps
A handful of apps installed on your phone in advance will make your trip much smoother – unless you are a fan of paper road maps and compasses! Here are some essential apps that you can download:
WikiCamps: This app is an interactive map that gives you an overview of all the campsites, toilets, showers, information centres, points of interest, etc. It costs $7.99 on the App Store. (There's also a free version of this app called Campermate, but it's not as thorough.)
Maps.Me: This is the perfect app for geotagging on a map and finding your way around, even on a trail. You can use the app as a GPS and even mark it with points of interest, stops, etc. The app also works offline, which comes in handy when you don't have signal. To top it off, it's free!
Fuel Map: To find gas stations and compare prices, don't hesitate to download this free app. Gas prices can vary a lot between stations so this can save you a decent amount of money!
Hobbies
Remember to bring games or sports equipment to entertain you on the road, like a surfboard, a ball, a frisbee, cards or a board game. You may wish to bring a snorkel if you want to check out some corals/fish. But don't over-burden yourself with things that are easy to rent on location.
What would a trip be without music? When you go on a road trip, your choice of music is almost as important as your choice of vehicle, especially if you have to go on very long journeys! Make different playlists with different styles of music, to keep everyone happy and mix things up so you don't get bored.
Download them on your devices in advance so you can still play them even if you don't have signal. Do the same for movies.
Van life in Australia
During a road trip, all our daily habits are different. When traveling in isolated area, finding showers or toilets can be a challenge.
To make your road trip more enjoyable, it is important to equip yourself with everything mentioned above. This is the minimum to meet your needs. Remember that if you have access to the internet, you will not be totally on your own. You can ask for advice or contact other backpackers and travellers on Facebook groups.
At popular destinations, you will have fewer difficulties. Tourist information centres, campsites, caravan parks and even shops will provide showers and toilets. Compared to Europe, these services are of high quality and the equipment is well maintained.
Your daily life will be hectic and full of new challenges. Your major enemies will be insects (especially in the West and Red Centre), mice and extreme weather (burning sun and cold rain).
The more you progress in your road trip, the more you will encounter new challenges, but you will also find new techniques to avoid and resolve them. You're sure to learn a lot, become more resourceful and make memories for life.
Where to sleep in a van in Australia?
You will not be able to sleep anywhere you want in Australia, even with your van. Car parks will have signs prohibiting staying overnight, and in large cities and busy areas you risk getting slapped with a fine.
However, the country is huge and everything is designed for travellers. You will have no trouble finding places to sleep (excluding in major cities). Camping is part of Australian culture, and you'll find countless campsites, rest areas, and more. The comfort of these places varies a lot. Some areas offer showers and toilets, others have nothing or just dry toilets.
There are specialised guides that list all the free or cheap camp spots in the country (Camps Australia Wide) as well as mobile apps (Wikicamps). If you are traveling by car or unequipped van, you can stop at caravan parks or campsites to shower, do your laundry, etc.
How to reduce your ecological footprint on a road trip?
Hygiene: simple, effective, and organic
#1 Prepare your toiletry bag
Travelling in an ecological way is reflected from the moment of packing for your road trip. We don't necessarily think about it, but the content of our toiletry bag is as important as recycling. This is why we invite you to pay attention to the impact of the hygiene products that you decide to take with you.
Here are some ecological alternatives for your road trip:
Bamboo toothbrush (let's avoid plastic)
Natural toothpaste such as licorice stick (very practical for brushing teeth) or lozenge (available from Lush)
Limit makeup and choose the most natural (obviously, we let you choose the most suitable brand)
Natural soap (to replace shower gel)
Solid shampoo (easy to store, you can use it for months without worry)
#2 Doing your laundry on a road trip
The composition of washing powders includes many chemicals. Here too, we can act. Just favour herbal soap. What alternatives do we have in mind? Soapberries, or Ecostore, there are many products on the market. Obviously, there are other soaps just as beneficial as these last two. This means taking the time to wash your things by hand. You will save money and make a good gesture for the environment by consuming less water, electricity and harmful products. Nice, right?
But that's not all, we have 2 more tips! If you are travelling in a group, consider doing your laundry together. And in general, let's limit our laundry. Cleaning only the clothes that need it is a good start on the path to ecology.
#3 The menstrual period on a road trip
A simple and ecological solution is currently a hit: the menstrual cup (or cup). It avoids the purchase of tampons or sanitary napkins, which unfortunately we cannot recycle.
And for those who are not comfortable with this idea, no panic! Another solution is possible: menstrual pants. It protects you for approximately 12 hours (being all different, the duration of protection may vary). You just need to clean it, preferably with cold water, and then presto! Here we go again…
#4 Take solar showers
You just need to buy a solar shower to be able to wash anywhere, whether camping or hiking. Of course, you will always need a source of water. These portable showers are easy to install, and you just have to enjoy. As you can see, this solution takes advantage of the sun's rays rather than running factories. So go for the solar shower!
Eat: in joy and ecology
#1 Buy local
In Australia, you will have the chance to enjoy many fresh products available by the road sides. Here, trust is essential. Vegetables and fruit crowded outside and a simple cashier to pay. A great way to support local communities and reduce the carbon footprint. In stores, we invite you to look at the local items offered. Easy!
#2 Eat more vegetables
Eating healthy and responsibly also involves reducing your consumption of meat in favour of plant-based dishes. In front of the veggie burgers, the Greek cheese muesli, the tomato omelettes and the leek fondues. In short, it is not the ideas that are missing.
Yes, it's much more serious than you might think. Obviously, no need to become vegan overnight. For example, it is enough to limit yourself to one meat dish per day (and for the more daring, once every two days) to gain "energy points". In any case, congratulations to those who try the experience!
#3 Choosing the right kitchen utensils
To reduce your ecological footprint, choose durable, that is to say, good-quality cookware for your road trip. And for better conservation of your shopping, do not hesitate to invest in storage boxes to keep your food away from temperatures and animals. You will avoid unnecessary waste and expense.
If you need disposable cutlery, opt for palm leaf cutlery. The essential tool if you want to be able to invite friends to eat without having to clutter heavy metal cutlery. We recommend the Australian brand Palmora.
In the same spirit, we advise you to favour reusable water bottles (if possible with filter) in order to avoid the purchase of plastic bottles.
#4 shopping in a sustainable way
Before you get into the big bath of Coles and Woolworths, we give you an easy and effective technique to set up to avoid mess.
Professional backpackers already practice it: plan their meals for the next few days and make a shopping list. Easy, mate! So you will be sure to know what you really need. Also, don't forget to bring reusable bags.
Advice for the road
Australia has very specific traffic regulations and signage. First of all, traffic is on the left side of the road. This also means overtaking on the left, taking the roundabouts in the other direction, but giving priority on the right. Not necessarily easy.
Motorways do not have a central island and the speed limit for these roads is 100km/h. Near major cities, some roads have tolls. There are no barriers that limit access, so payment is made online.
On the road, you also risk encountering floods (in the rainy season), livestock crossing, and wild animals…Depending on your vehicle, some roads will not be passable. In any case, be careful and don't drive at night to avoid collisions with wild animals.
Practical information for your road trip
You will find (cold) showers and toilets on most beaches. Inland, prepare bottles of water for cleaning up. You can also opt for a solar shower. Showers are also sometimes available at gas stations or at tourist offices for $2.
A pack of baby wipes will also allow you to freshen up on days when you don't have access to running water.
You can buy a " power inverter ", a system that plugs into the cigarette lighter and allows you to recharge (even large equipment such as a computer) while driving.
If you stop at campsites, you will have access to electricity . Also watch for electrical outlets you come across in public toilets, McDonald's or the city library.
Your gas cooker will not allow you to prepare large meals, and preserving food can be complicated during a road trip. Instead, opt for dry products such as pasta, rice and preserves. You can use spices to add flavor to your dishes.
If you don't have a fridge in your vehicle, use a cooler. You can find ice packs at all gas stations.
Updated on 21/06/2023