Going on a road trip is the dream of many people. Australia is a huge country and going on a road trip is without a doubt the best way to discover it. Going on an adventure independently with your own vehicle may seem simple. But think again, a successful road trip is above all an organized road trip! To make the most of your trip, it is important to prepare before leaving: plan your route, estimate the necessary budget, plan the equipment you will need for traveling, camping, etc. Here are some tips to make your road trip in Australia the best memory of your life!
Travelling in Australia in 2022
If you are reading this article, you are certainly preparing your road trip to Australia! If you are not already in the country, know that you must meet certain conditions to be able to enter:
Have a

valid visa
Have a valid passport
You do not need to prove your vaccination status (since 6th July 2022)
Complete an Incoming Passenger Card (once in the plane).
If you are already in Australia, don't worry about internal borders! All states and territories are opened to each other, so you can move freely around the country!
Best Road Trip Itineraries
The most important thing before planning a road trip, it is to know where you're going to do it. In fact, depending on your destination, the choice of the vehicle, the budget, and the equipment, your itinerary will not be necessarily the same. However, most people already know where they want to travel to. Here are some of the different possible itineraries for a road trip in Australia:
East Coast of Australia
Australia's most popular route! An East Coast road trip will take you through the famous cities of Sydney and Brisbane. You will be able to visit incredible and touristic places such as Fraser Island, Whitsunday Islands and the Great Barrier Reef.
🕑 Allow about 3 weeks to do Sydney – Cairns.
West Coast of Australia
A magnificent road trip, much wilder than the East Coast. On the West Coast some journeys are a bit long, but the experience is really worth it! You can explore spectacular national parks, arid and even desert lands, but also the Ningaloo Reef (far more accessible than the Great Barrier Reef.). Shark Bay and Broome are also 2 magnificent spots not to be missed!
🕑 Allow 3-4 weeks from Perth to Darwin
Australia's South Coast
This coast connects Melbourne (Victoria) to Perth (Western Australia). You will drive through the famous Great Ocean Road and cross the Nullarbor. A coast extremely rich in its diversity of landscapes and fauna. In the South West, magnificent white sand beaches and immense forests await you! Prefer summer (from September to February) to visit this part of the country because the temperatures are cold in winter (especially at night).
🕑 Allow 2-3 weeks from Melbourne to Perth
The Red Centre
An unforgettable experience in the heart of Australia. You will cross desert areas and immerse yourself in Aboriginal culture. Leaving from Adelaide, you will pass through Coober Pedy (The Opal capital of the world) before reaching the famous Uluru. You will then explore Kings Canyon and Alice Springs in central Australia. Further north are the National Parks of Kakadu and Litchfield with incredible wildlife (birds, crocodiles, snakes…). But you will also see tropical forests and breathtaking gorges! Keep in mind that between November and February the wet season in the North of the country can lead to heavy rainfall and cyclones that can block roads and parks, etc.
🕑 Allow 2-4 weeks from Adelaide to Darwin.
Tasmania
Tasmania is located south of Melbourne and is one of our favorites. You will find immense forests, beautiful beaches and you may be lucky enough to come across the Tasmanian Devil! Your road trip will be punctuated by magnificent walks and hikes in the many national parks of the island such as Freycinet, Cradle Mountains and Franklin-Gordon National Park. If you can, avoid winter (May to July) to visit Tasmania as it can be really cold there!
🕑 Plan 1 week for part of the island, up to 3 weeks to cover the whole island.
When to go on a road trip in Australia
In order to choose the best time to travel to Australia, it is important to take into account different factors. The climate of each region you wish to visit, your budget and whether you intend to work there. Here are some clues to guide you.
Travel with the Seasons
The climate in Australia is predominantly warm. Yet it's not nice and sunny everywhere and all the time! Have a look at this picture. It shows the six different climate classifications in Australia: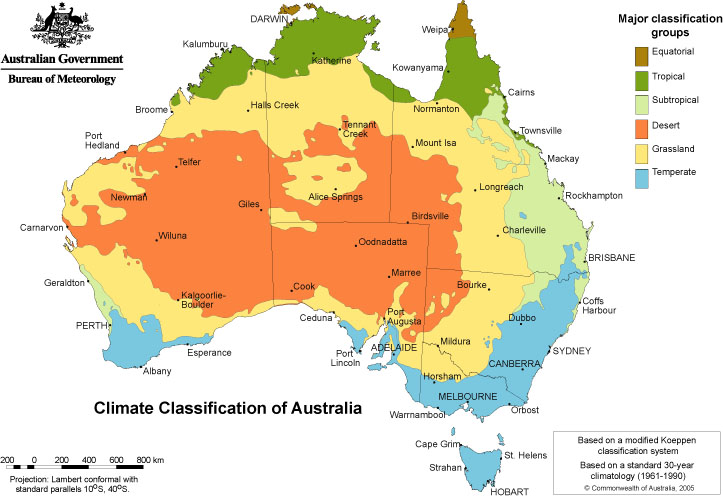 Australian's summer is from December to February, autumn from March to May, winter from June to August and spring from September to November. The two main contrasts are the winter in the South and the rainy season in the North. If you don't like hot temperatures then it is also recommended avoiding the desert in the summer.
Also take into account the tourist season. If you travel during the summer, you will certainly benefit from superb weather but you will also meet a lot of tourists and prices will be higher (rental, accommodation, excursions, etc.).
| | | | |
| --- | --- | --- | --- |
| SUMMER | AUTUMN | WINTER | SPRING |
| Dec / Jan / Feb | Mar / Apr / May | Jun / Jul / Aug | Sep / Oct / Nov |
Weather in the North of Australia: (Northern Territory, North Queensland and Western Australia). Between November and March it's rainy season in the North of Australia. It gets very hot and it's very humid. The temperature range is between 30 °C and 50°C with lots of rain. On top of that it is not recommended exploring Northern Australia during the wet season as there's a risk of cyclones, floods and many mosquitos.
Weather in the South of Australia: In the South of Australia winter can be very cool. Temperatures can fall between 5 and 15 degrees. In some areas snow fall is common and it can get really cold at night (around Canberra, Australian Alps etc.)
If you plan to work
If you want to find a fruit picking job in order to finance your road trip around Australia, it is important that you have the harvest seasons in mind.
Check out our harvest calendar to get a good overview of fruit picking seasons in Australia. It shows you what's in season and where to go – state by state.
However, this is not an exact science, but rather an indication: the harvests depend heavily on weather and climate, and may, therefore, vary from year to year.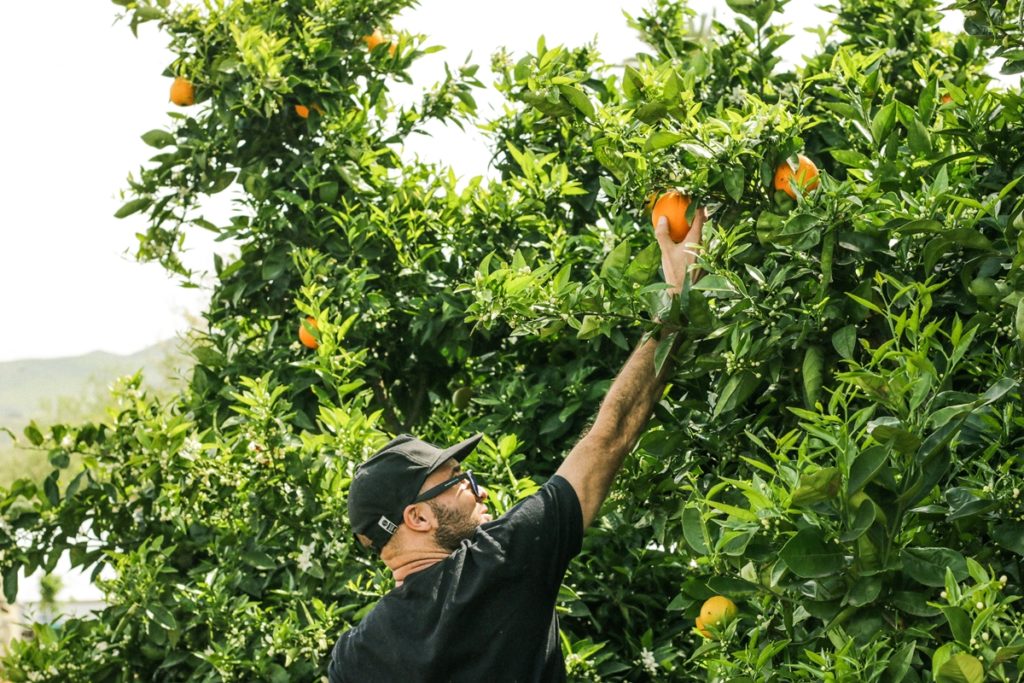 See also our fruit picking map with more than 500 contacts of farms throughout the country.
Prepare your Road Trip
Choose your vehicle (van or 4WD?)
If you own a vehicle or plan to purchase or rent one, it will partially determine your route. To summarize :
If you only want to visit the East Coast (for example do Sydney -> Cairns) or even discover the South (Great Ocean Road, Nullarbor, Tasmania, etc.) while staying on the main roads then a van (or a car / station wagon) will be ideal for your road trip.
If you want to do Western Australia, Central, Northern Queensland or even the Northern Territory, and the Outback then a 4WD is probably better. This will give you much more freedom and will allow you access to more sites.
As you will have understood, the main tourist sites of the country are accessible via sealed roads and therefore with a conventional vehicle. The fact remains that some more isolated places can only be explored with 4WD. Keep in mind that it will always be possible to join a tour to discover the most inaccessible regions of Australia.
Choose your city of arrival and your destination
Your itinerary depends on your arrival city. You can also check out our article "Choose your city of Arrival in Australia" if you have not yet made your choice. Once you have decided where to start your adventure in Australia and for how long you want to travel you can then choose a route with having the seasons in mind. However, if you already know which places to see it makes more sense to check the seasons and then book your flights.
Define the route
Australia is a very large country… it is 32 times the size of the UK in terms of area. It is very important that you set a route more or less accurate to determine the length of your road trip, but also for organisational matters. This will allow you to be more clear in your project and know every day when you need to go. In addition to that, you will allow yourself not to miss out on the essential places.
In order to create your own itinerary, do not hesitate to draw inspiration from numerous articles on blogs or on the internet or even buy a travel guide. Don't forget to write down your itinerary or print it out. A phone is very practical but it can quickly break down and it would still be silly to find yourself lost in nature without knowing which direction to go!
For more info: download our free guide.
Define the stages of your road trip
Again, you will need to determine the steps of your journey. Remember to check the seasons and the crops if you want to work fairly quickly. As well, depending on your budget, you will need to define how long you can travel without working, what time you will need to absolutely find a job to replenish the coffers etc
One of the other points to take into account when it determines its route is the places that one absolutely wants to see. For example, if you want to go in the Red Centre, it will need to be there outside of the summer months (November – February), where it is too hot. Or if you want to explore the Great Barrier Reef, we need to be there around September is the best month to visit this area of the country.
The 5 ways to make a road trip in Australia
With your vehicle
Australia is the country of road trips by excellence. Everything seems to be designed to discover the country by road! If you are staying for several months in the country, it is advisable to buy your own vehicle. This will provide you with the freedom, in addition, a guarantee you recover a bit of money at the time of resale. Depending on your desires and your budget, you can opt for a car, a station wagon or a van for your trip. Remember to check the registration, the registration rules are different from one state to the other.
Renting a vehicle
For a road trip of a few weeks or a short duration, car rental is a good option. So, if you plan to discover a part of the country and then settle in the city or vice versa, renting a car or a campervan will probably be the best option. We advise you to use a comparison tool to find the best available rates. Motorhome Republic offers many models for a good price.
Book it in advance to choose and find your ideal vehicle because rentals go quickly, especially in high season.
Choose your vehicle
Choosing the right vehicle is important for a successful road trip. Who wants to drive for hours in a car that is uncomfortable under the blazing sun without air conditioning? Nobody obviously! For this, it is important to be well informed in advance. First, ask yourself the right questions about the type of vehicle that suits you best:

• a car with a roof tent for the more adventurous
• a motorhome, with all the utilities for those who want the comfort (toilets, showers)
• a van, smaller but well-organised
• a campervan for a bit more space and equipment.

For more information: Choosing and buying a vehicle in Australia
With an organized tour
If you are travelling in the country for a short period of time and given the vastness of the island, you can opt for an organised tour. This can be, for example, to discover a part of the country, for example, Melbourne and the surrounding areas with the Great Ocean Road. An organised tour can also be a great way to explore several areas of the country more quickly.
You can discover the Red Centre of the country in just a few days doing a tour rather than crossing all over the country to get there by car. For excursions and tours by boat, plane, you can find agencies on-site (in English).
Public transport
If you don't have your own vehicle or don't want to rent one, you can use the various means of public transport in the country.
By plane
Indeed, the plane remains an efficient and fast solution to move around the country. The major cities of the country are very well served and offer cheap flights to get around the country. Most companies are offering internal flights, there are Jetstar, Virgin and Qantas.
By bus
You can also opt for the bus. Several companies such as Greyhound or Premier Motor Service connects the major cities of the country. For instance, you can go from Melbourne to Sydney for $50 with the First. It's still a good way to get around if you have time because the bus rides are long! The coaches are comfortable and you will have access to free Wi-Fi during the trip. You can opt for a single route or take a package which will allow you for example to link Sydney to Cairns, stopping as many times as you want on the trip !
By train
Finally, one of the other means of public transport in Australia is the train. There are several famous main lines which connect the main points of interest of the coasts as well as the centre of the country with a connection between Adelaide and Darwin. Some lines have specific names, such as The Indian-Pacific (Sydney to Perth), The Ghan (Adelaide to Darwin via Alice Springs), The Queenslander (Brisbane to Cairns), or The Overlander (Adelaide to Melbourne). You can buy a single ticket or opt for a Pass that will allow you to travel with stops on the way.
Carpooling
Carpooling is very common in Australia. It's an economical way to travel while sharing with other travellers. You can find a"lift" on different specialised sites or on Facebook groups where many travellers offer places in their car or others who seek it. You will have to share the costs (gas, food as the case may be) and the fun!
What budget do you need for a road trip?
Expenditure items
The budget for a road trip in Australia can be substantial. It is therefore very important to assess the costs involved. The cost of living is relatively high in Australia and gas will be a big part of your budget. We must then take into account the cost of the vehicle (purchase or rental), then food, campsites, activities and miscellaneous costs …
With a few tips, it is possible to travel with very little money (especially if you work during your road trip). For more information, on tips for saving money on road trips, do not hesitate to download our free Australia guide – Australia Backpackers Guide.
Budget Road Trip Calculator
Wondering how much it actually costs to travel to Australia? Check out our budget calculator
What influences a road trip budget?
Seasons
Indeed, travelling with the seasons will influence your expenses. Be aware that everything is more expensive during school holidays. In fact, accommodation, vehicle rental prices, excursions, transport, etc.
So you will need to set your budget based on when you travel. Note that the high season in Australia runs from November to February.
Duration
One of the first criteria that will determine your road trip budget will be the duration of it. The more time you spend on the road, the more the budget will swell … it makes sense. This is especially true if you hire a vehicle to get around. So remember to estimate your expenses according to the time you will spend in the country.
Number of travellers
Also, a big determinant to your expenses. These will not be the same if you are two or four! Similarly, depending on the age of the travellers, the needs and expenses when travelling with children are different from those of adults. If you are travelling with your own vehicle, consider carpooling. This will lower your costs, meet people and in addition, it is ecological!
Activities
Depending on the activities you have planned, your budget will be more or less important. You can choose to make short excursions here and there or even organised tours. For excursions to tourist places, count a minimum of $180 per person or more depending on the type of activity. For other activities, count around $20 for a cinema seat, $35 for entry into an animal park, $25 for a paddle board rental, etc. You can also plan free activities such as beaches, museums, barbecue, free events in the cities, etc.
Level of comfort and pleasure
Again, this is unique to everyone. Your budget will be different depending on your lifestyle! If you want maximum comfort and rent a vehicle, opt for a campsite equipped with shower and toilet. If you want less comfort, a mini van or a station wagon will save you money. You can also opt for the car + tent option, it is economical but may be better for short road trips.
Examples of budgets
With your vehicle
First, count the purchase of the vehicle. The price will be different depending on the type of vehicle (4 × 4; van; car), its age and condition and the place and period of purchase.
A converted car / station wagon costs between $2,500 and $4,000.
A fitted van costs between $4,500 and $8,000
For a 4×4 fitted vehicle, count between $5000 and $9000.
More info: Buying and choose a vehicle in Australia.
In addition to this, you will need to add the cost of fuel and vehicle maintenance ($600 per month). Travelling by vehicle, whether by van or car, will save you on accommodation costs. You can sleep in your vehicle or pitch your tent. Add to that a food budget ($125 per week) and you can count around $1,500 per month for two people.
Renting a vehicle
The price of renting a Campervan or Motorhome in Australia varies according to many criteria (season, length of your stay, reservation in advance). Insurance is a significant cost in the rental budget (add around $25 / day). For a "classic" camper for 2 people (without insurance), count:
In low season: count between $20 and $30 per day
In high season: between $70 – $90 per day
Count on average $75 per day ($50 for the vehicle + $25 for insurance). The average Budget for 1-month rental is $2250. Add gas ($400) and food costs ($125 per week for 2). You should therefore spend around $3100 per month for two people.
With an organised tour
There are many agencies that offer organised tours. However, these offers are generally expensive because they include airfare, hotels, excursions and agency services etc. You can choose to go through an agency to organise your road trip. For example, for a tour organised in the red centre, count around $500 per person for 4 days and 3 nights. Moreover, you also need to add the costs for your plane tickets.
Self-organised tours
Know that it is quite possible to organise your tour yourself. Sights in Australia are accessible by road. You can go to the vast majority of national parks via paved roads or even reach the red centre of the country with a conventional vehicle. For excursions and tours by boat or plane, you can find agencies on-site. The prices of the excursions vary according to the places and period of the year etc. For the Whitsunday Islands, allow $200 for a day trip.
Equipment for a road trip
A road trip is to travel in total freedom and autonomy. However, it is important to have the necessary equipment to make this road trip your best memory.
Phone plans
Choosing a good plan for your mobile phone is essential during a road trip. Indeed, outside the big cities or in the middle of nature, not all operators receive service. It can quickly be dangerous if you have to reach someone urgently. For Australia, the best operator that covers almost the entire network is Telstra.
Orientation
One of the first points to take into account is the orientation! So certainly if you follow the main roads, you should not get lost but if we sink into the land, this point can become more important. You will still have your phone's GPS, but you still need to have a network. There are different tools that will help you orient yourself in this huge country:
Road map
GPS – especially for people who don't use paper maps.
"Camp8" camping guide which lists all the free camping areas
WikiCamps app or similar (see below)
Camping (equipment camping / preparations)
Chairs and camping table
Kitchen utensils (pans, pots, plates, cutlery…)
waterproof Tupperware boxes to store your food
Gas cooker & gas bottle / refill
Icebox (if no refrigerator)
Rope and tarp (can be used as a blind)
Dishwashing liquid, Sponges, tea towels
A good knife or small hatchet to cut wood
Flashlight (a head torch can be very handy to keep your hands free)
One or two bottles of water (20L)
One or two cans of gasoline depending on the capacity of your tank and your itinerary.
Food supplies
Always have plenty of food and water in case you get stuck somewhere for several days. It can also be economical if you travel to an isolated area because the food will necessarily be more expensive. Preserves are very useful during road trips and resist hot, cold, water etc. So remember to store non-perishable food. You will thank us!
Sleep
Prepare what you will need to sleep on the Road Trip:
Tent (if you do not sleep in your vehicle)
Mattress + Pillows (inflatable or foam)
Blankets or sleeping bags. It can be cold at night, so make sure you have a good sleeping bag.
Hot water bottle (for the cold nights or if you travel south in the winter)
Hygiene
During your Road Trip in Australia, you will likely not have all the necessary comforts but there are many small tips and tricks to avoid. For hygiene in daily life, the following tips may be helpful:
Soap
Shampoo (+dry shampoo)
Toothpaste
Toilet paper
Liquid laundry detergent
Shower towel
Solar shower (15-20$)
Bucket to wash your clothes by hand
First aid kit
Provide a first aid kit to treat small wounds or bites. Inside: mosquito repellents, dressings, disinfectant, strips, compresses… painkillers, medication for stomach aches, vomiting, and everything you usually need. Be aware that you can buy everything in pharmacies once arrived, so do not load your bag of drugs, except in case of specific treatment.
Vehicle maintenance
Maintaining your vehicle is essential so as not to have any unpleasant surprises during your trip. Again if you rent a vehicle this point will not worry you. For the others, here are the main accessories to have:
Oil and Coolant
A full jack
A toolbox
Windshield washer fluid
A cloth / gloves
Useful Phone Apps
A handful of apps installed on your phone will greatly simplify your road trip, unless you are a fan of paper road maps and compasses. Here are some essential applications that you can download:
WikiCamps: This application is an interactive map where you will have an overview of all the campsites, toilets, showers, information center, points of interest, etc. It costs: $7.99 on the App Store. You also have a free version of this application which is Campermate but which is less complete.
Maps.Me: It's the perfect app for geotagging on a map and finding your way around even on a trail. You can use this app as a GPS and even annotate the app with points of interest, stops, etc. The app also works offline, which comes in handy when you don't have a network. To top it off, it's free!
Fuel Map: To find gas stations and compare prices, don't hesitate to download this free app. This is very convenient because often gasoline prices differ a lot between different stations and this can sometimes save you small sums.
Hobbies
Also remember to bring games or sports equipment as you wish. A surfboard, balls, frisbees, card games… everything that will keep you busy on the beach or in the campervan! If you are curious about fish and corals, add a mask and a snorkel to do some snorkelling! But do not burden yourself with what you can find there!
What would a trip be without music? When you go on a road trip around the world, the choice of music is almost as important as the choice of vehicle, especially if you have to make very long journeys! Do not hesitate to make different playlists with several musical styles to be sure that this is suitable for everyone but also not to get bored! Download them beforehand on your devices in order to avoid unpleasant surprises if you never have a network during the road trip. For movies, it's the same, plan to download them before leaving.
Van life in Australia
During a road trip, all our daily habits are changed. When traveling in isolated area, finding showers or toilets can be a challenge.
To make your road trip more enjoyable, it is important to equip yourself with the equipment mentioned above. This is the minimum to meet your needs. If you have access to the internet, you will not be totally abandoned. You can ask for advice or contact the other backpackers and tourists on Facebook groups.
For popular destinations, you will have fewer difficulties. Tourist info, campsites, caravan parks or even shops provide showers and toilets. Compared to Europe, these services are of high quality and the equipment is well maintained.
Your daily life will be hectic and you will face some difficulties. In all cases, your enemies will be insects (especially in the West and Center region), mice, the weather (burning sun and cold rain).
The more you progress in your road trip, the more you will encounter new challenges, but you will also find new techniques to avoid and solve them. It's a great lesson in life that will make you more resourceful and you will certainly keep good memories of it.
Where to sleep in a van in Australia
The country is huge and everything is prepared for travellers. Indeed, you will have no difficulty finding places to sleep (excluding large cities). Camping is part of Australian culture, and you will find countless camping sites, rest areas, etc. The comfort of these places is very variable. You will find some areas with showers and toilets, others with nothing or others with dry toilets.
There are specialised guides which list all the free or inexpensive camp spots in the country (Camps Australia Wide) or even mobile apps (Wikicamps). If you travel by car or van that is not equipped, you can stop in the caravan parks or at campsites to shower and to do your laundry etc.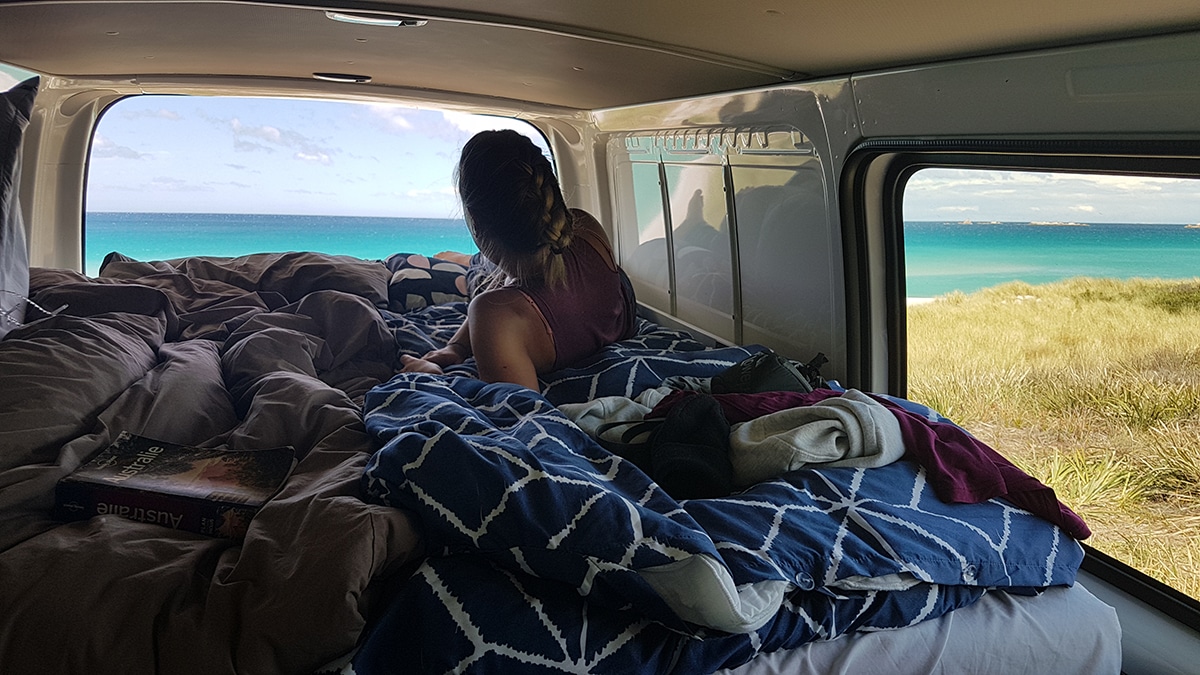 For more information: Where to camp in Australia
Road Trip Advice
Remember that in Australia, you drive on the left! It also means passing left , taking the roundabouts the other way around, but priority right always. Not necessarily simple …
You will find (cold) showers and toilets on most beaches. Inland, prepare bottles of water for cleaning up. You can also opt for a solar shower. Showers are also sometimes available at gas stations or at tourist offices for $2.
The baby wipes also allow you to keep a little hygiene for the days when you will not have access to a water point.
You can buy a " power inverter ", a system that plugs into the cigarette lighter and allows you to recharge (even large equipment such as a computer) while driving.
If you stop at campsites, you will have access to electricity . Also watch for electrical outlets you come across in public toilets, McDonald's or the city library.
You won't be able to sleep everywhere , even with your campervan. The car parks are reporting bans. In big cities and relatively busy places, you face a fine.
Your gas cooker will not allow you to prepare large meals, and preserving food can be complicated during a road trip. Instead, opt for dry products such as pasta, rice and preserves. You can use spices to add flavor to your dishes.
If you don't have a fridge in your vehicle, use a cooler. You can find ice packs at all gas stations.
Updated on 14/06/2022