A road trip across Australia is by far the best way to explore this beautiful country. To make the most out of this trip it is important to do some road trip preparation for your Australia adventure: plan your route, estimate your budget, get the right equipment and find a travel mate to share your adventure with. Read on to find some useful advice on how to prepare your road trip to avoid unpleasant surprises…
Your Road Trip Itinerary
Travel with the seasons
The climate in Australia is predominantly warm. Yet it's not nice and sunny everywhere and all the time! Have a look at this picture. It shows the six different climate classifications in Australia: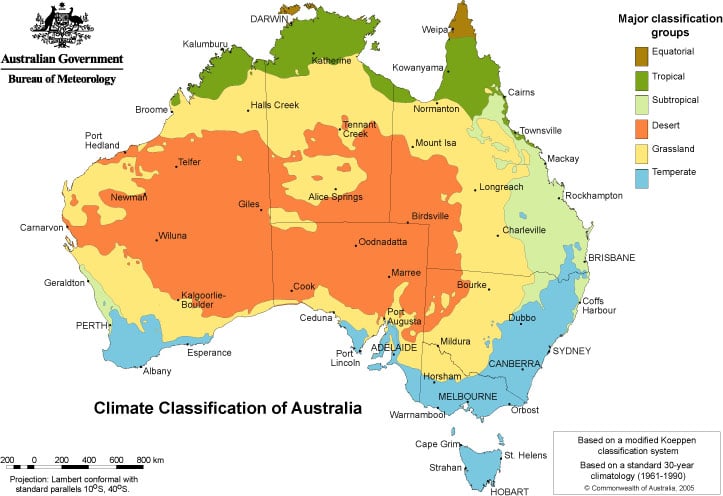 Australian's summer is from December to February, autumn from March to May, winter from June to August and spring from September to November. The two main contrasts are the winter in the South and the rainy season in the North. If you don't like hot temperatures then it is also recommended avoiding the desert in the summer.
| | | | |
| --- | --- | --- | --- |
| SUMMER | AUTUMN | WINTER | SPRING |
| Dec / Jan / Feb | Mar / Apr / May | Jun / Jul / Aug | Sep / Oct / Nov |
Weather in the North of Australia: (Northern Territory, North Queensland and Western Australia)
Between November and March it's rainy season in the North of Australia. It gets very hot and it's very humid. The temperature range is between 30 °C and 50°C with lots of rain. On top of that it is not recommended exploring Northern Australia during the wet season as there's a risk of cyclones, floods and many mosquitos.
Weather in the South of Australia:
In the South of Australia winter can be very cool. Temperatures can fall between 5 and 15 degrees. In some areas snow fall is common and it can get really cold at night (around Canberra, Australian Alps etc.)
Fruit picking seasons in Australia
If you want to find a fruit picking job in order to finance your road trip around Australia, it is important that you have the harvest seasons in mind.
Check out our harvest calendar to get a good overview about fruit picking seasons in Australia. It shows you what's in season and where to go – state by state.
Your city of arrival
Your itinerary depends on your arrival city. Once you have decided where to start your adventure in Australia and for how long you want to travel you can then choose a route with having the seasons in mind.
However, if you already know which places to see it makes more sense to check the seasons and then book your flights.
Here's an example of our road trip (16 months)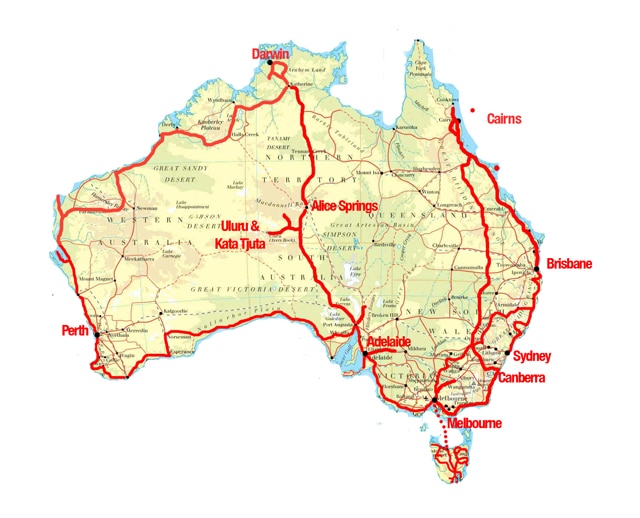 Find more information about our road trip in Australia.
Road Trip Budget in Australia
Australia is one of the most expensive countries in the world. Nevertheless, affordable road trips are possible. Therefore, it is important to plan your budget in advance. If you're planning a road trip in Australia you have to calculate the costs of the vehicle (rent or buy), food, camping, activities and various expenses.
With some tricks you don't have to save that much money for your road trip in Australia (especially when you're working while being on the road).
For more tips to save money on your road trip get in touch with Australia Backpackers Guide or check out this article: Road trip in Australia – Budget
Road Trip Equipment
If you choose to rent a campervan in Australia it will have to be well-equipped. If you buy one there's a chance it already contains equipment (e.g. when you bought it from another backpacker). However, previous owners may not always have had the same needs than yours. Some people also prefer to buy an empty van to choose their own equipment.
Equipment overview for your road trip
Find a travel mate for your Road Trip
Living and traveling with another person in a small vehicle can be quite challenging. Therefore, it is important that you make sure that your travel mate has the same lifestyle and the same expectations as you. If you love hiking and your travel mates hates every kind of action it can be really frustrating for both of you. Also, make sure to compare your budget to make sure you can afford the same things.
In terms of your travel mate's character: Ask yourself whether you're able to live 24/7 with this person.
Ways to find a travel mate in Australia
Australia is the perfect country to start your travels alone. Once you're in Australia it is really easy to find people that like to travel with you: communal areas in hostels for example or websites like gumtree and many Facebook groups make it easier than ever to find your perfect travel mate.
It is quite common in Australia that people travel together that just met. So NO WORRIES…
For more information about your road trip in Australia check out these article: