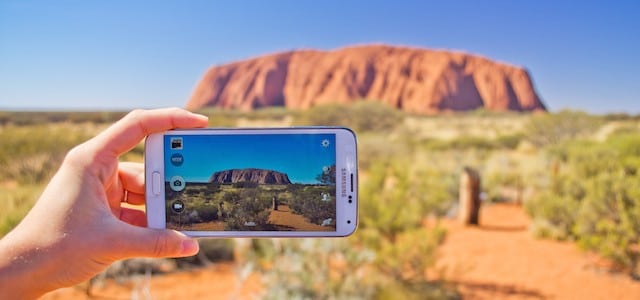 When leaving your home country to come to Australia, one of the first things you might want to figure out before your arrival is to make sure you get an Australian SIM card. But which package should you choose? Which provider? This article will give you an overview of your options when it comes to phones in Australia, so you can choose the most suitable one for yourself.
Having a SIM card in Australia is inevitable if you want to stay in contact with your friends, but also when it comes to organizing your new life Down Under: looking for a job, calling your bank, when creating your TFN or renting an apartment.
Like in many other countries, the mobile phone market is dominated by a small number of providers, three major ones to be exact.
Phone providers in Australia
The number one choice when it comes to providers is Telstra, due to its coverage in almost every corner of Australia. No other network provides you with cell service in as many places as Telstra does.
Its number one competitor is Optus, which covers a very big part of Australia as well, though it does have some faulty areas in Tasmania and the Red Center (Fun fact, when you get off the ship in Tasmania, you are offered a $2 Telstra SIM card, you will rapidly understand why…).
The third provider is Vodafone, which partially uses Optus' network, although Optus obviously doesn't offer all its coverage to Vodafone.
Virgin mobile, also using Optus' network, might be considered as the 4th best provider on the market.
Next to these four providers, there are also a couple of companies called "Resellers", which use the networks of the three main providers with some restrictions and offer some other packages for lower prices (Aldi Mobile), depending what you will be using your phone for (Dodo, Yatango, Vaya, Hello Mobile, Bendigo Bank Mobile, Cmobile…).
Down below, you will see a tree presenting the 3 main operators, and their affiliated "Resellers" including Virgin. This information is important, since the resellers benefit from the network of their parent operator, however limited (less coverage, slower internet network). It will therefore be more advantageous in terms of network coverage to opt for a Telstra reseller than for a Vodafone reseller.

Prepaid cards: The most common choice among travelers
Prepaid cards are the most common choice among backpackers, as they don't ask you to sign a contract and you pay for what you use/need. The down side is that a recharge only lasts for 30 days, thus it is important to only recharge your package whenever you really need it.
All the cited providers have similar offers. SIM cards cost $2 and after buying one, you can choose from one of the packages. Generally speaking you will be fine with a $30 recharge in order to fulfill your needs (a couple of calls and text messages, checking your emails, social media…).
As the number of offers is very large, we would recommend comparing them before making a final decision, so you can find the most convenient option. For those of you who plan to travel throughout Australia, Telstra will be the best option (followed by Optus, then Virgin), as they provide the best national coverage. Just remember, not even with Telstra do you have a stable connection in the most abandoned regions of Australia.
Here are some examples of prepaid options at Telstra: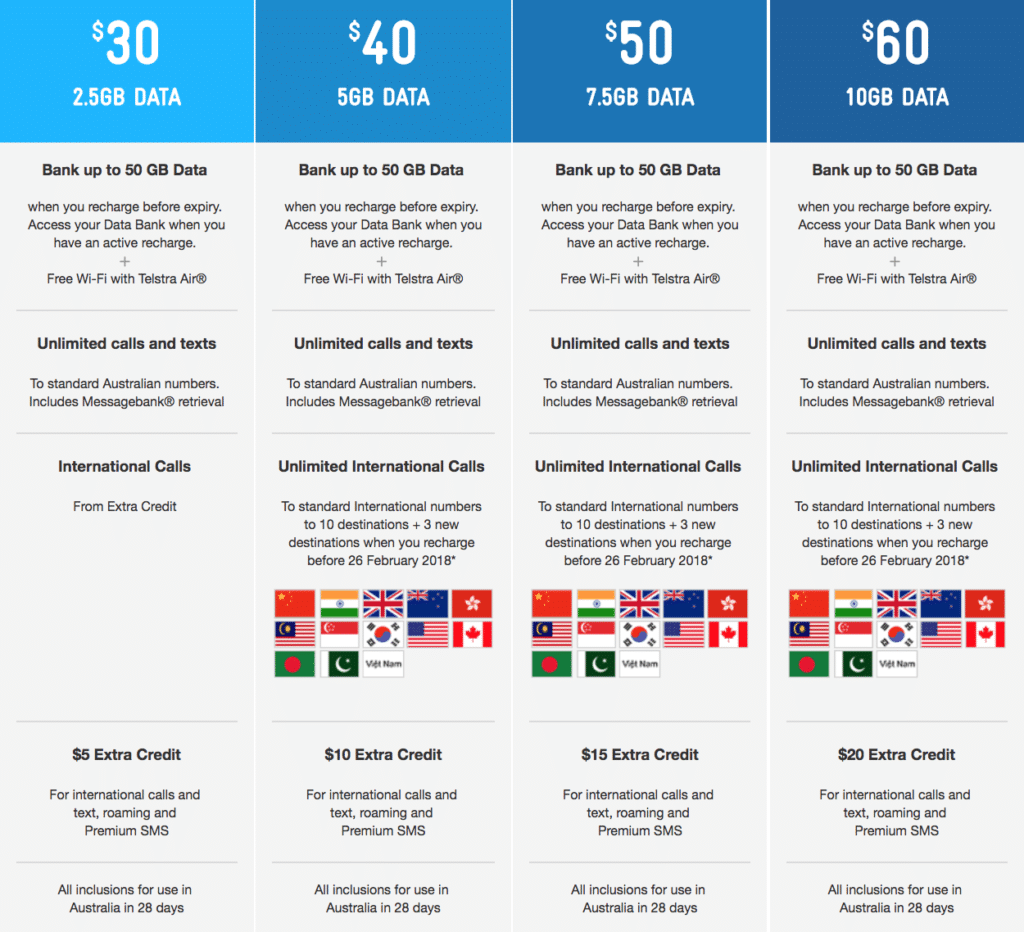 Phone contracts: 5 questions to ask yourself
Before binding yourself, you will have to carefully analyze your needs, your budget and the restrictions that come with a phone contract. Here are 5 questions that might help you make the right decision:
How long do you plan on staying in Australia?
If your answer to this question is anything less than 12 months, it will be very impractical to choose a contract. You might want to choose a package without a contract, namely a prepaid card. If you are staying for longer than 12 months, you can consider a contract, but those packages are more expensive and restricting.
How much are you willing to spend on your phone on a monthly basis?
If your answer to this question is anything less than $20, your only option will be one of the Resellers, though Virgin offers a package for $20 (which doesn't provide you with a lot).
Between %20 and $35 you can find interesting packages with a bit of everything, obviously with different possibilities depending on your wishes,
For more than $40 you will be able to profit from a great amount of data, unlimited calls and text messages in Australia and sometimes even a couple of hours to use for international calls at Optus and Vodafone (the same package would cost you $50 at Telstra).
Do you wish to have Internet access every day?
Unlimited data in Australia is not available to Backpackers budgets, but if you are a real internet addict, some contracts for $40 offer up to 9GB of monthly data.
An alternative is the daily package at Optus, which I will explain in more detail a bit later in this article.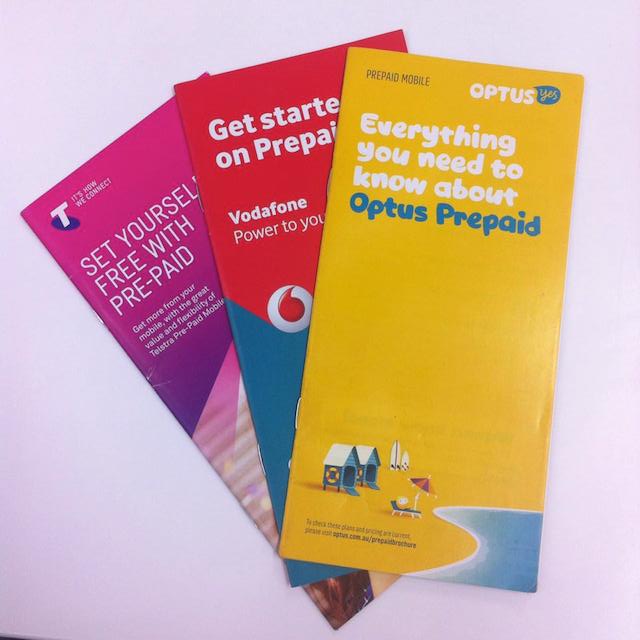 Do you plan on calling back on a regular basis?
If you have chosen a package with a lot of data, Skype, Viber or Whatsapp will be your new friends. A couple of packages also offer a certain credit that allows you to call to landlines and international mobiles from Australia. The prices vary between the providers, depending on the connection fees on each call.
With the package from Optus, for example, (everything unlimited, 3,5GB of data), you will be able to use up to 3 hours' worth of calls per month for international calls (5 cent per minute, no connection fees).
Are you going to be staying in a city or do you plan on discovering less inhabited parts of Australia?
If you plan on staying in a city for the majority of your time, all providers can be used as the connection and cell service will be great and you can find free Wifi hotspots anywhere. You will not have to opt for packages with too much data or Telstra's full package. Instead you can use the smaller packages!
If you plan on doing a big road trip, a couple of weeks in the desert, Cape York, Tasmania and all the less inhabited areas, you will at least need to get an Optus coverage, which will not always be ideal, or, the best option, a Telstra coverage, which is the only provider to cover 98% of the country.
As soon as you have answered all five of these questions, you will have to compare various offers. In order to do that, you have the option of going from one provider to the next in a mall and writing down the different packages and their prices before comparing them.
Of course, the much faster option is visiting comparing website, filtering your wishes and within a couple of seconds you will know which package is the best for you! The best website for this is Whistle Out, which permits you to choose what network you want to be using (Telstra + resellers, Optus + resellers, Vodafone + resellers).
The cheapest packages
Unlimited calls and texts
For a package with unlimited calls and texts, you will benefit from the cheapest price at Yatango Mobile (Optus coverage), which is $23,90for 30 days, without bond and without data included in the contract (0,05$ for 1MB).
2GB of data (and over)
For a package with at least 2 GB of data, or a daily use of social networks and internet, the cheapest option will be at Amaysim (Optus coverage), recently voted best customer service on mobile telephony in Australia. With a $ 20 offer, you will have 2.5 GB of internet, 500 minutes of calling in Australia and unlimited SMS / MMS, to be used over a period of 28 days, without bond.
However, to call and send SMS internationally, you must add credit (price depending on the country chosen). To avoid this and / or reduce costs, you can use Skype, Viber and WhatsApp to communicate with your friends and family via the internet.
The cheapest packages on the market
If you want to access the cheapest package for one month and without bond for your trip to Australia, it will be the best option for you to look at resellers, since Hello Mobile and Aldi Mobile both propose a package for 30 days under $ 10. Don't expect anything great for this tiny price, you pay by the minute for calls (from 15 to 20 cents), the number of text messages (same price!) and to the data.
Out of all these offers, Aldi Mobile stands out, because this reseller is the only one with Telstra coverage, and the package offers free calls and texts to other Aldi Mobile customers. It's up to you to convince your backpackers to choose Aldi to never pay for your calls and texts!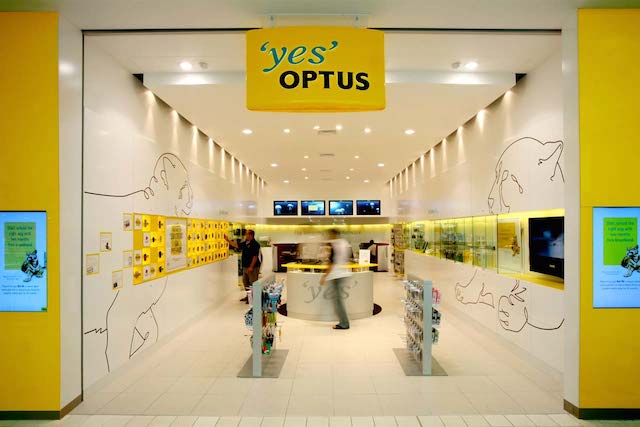 Good deal: "pay as you go" packages, valid between 6 months and 1 year
If all the listed prices up to this point seem exaggerated to you, it might be good to know that there are also some good deals in Australia. Packages that allow you not to spend too much, with some key advantages in comparison to prepaid packages.
Basically, some providers seem to have understood that certain customers don't need use up whatever is included in their package within one single month and that prolonging the length of use over a larger time span would be more appropriate. Thus, Optus as well as Virgin, Vodafone, Telstra and Aldi mobile offer to charge our card with a certain amount of money, which you can use freely for calls, text messages and data throughout 6 to 12 months.
But the best deal is with Optus, as they use a similar method: you buy $10 to $100 of credit to use within 6 months. $1 or $2 are debited from your credit, depending on the offer you have chosen, as soon as you receive a call, a text message or use the internet (do not forget to switch off your data if you do not want to be charged by push notifications). So, the day you need to make calls or use the internet, you will have until midnight to make use of your daily offer. The offer for $2 a day, for example, offers 500MB of data usage, as well as unlimited calls and texts in Australia.
This is a great offer from Optus, under the condition that you are very careful and aware of turning off your data when you are not using it. So, if you activate your package two days per week to answer the most important calls, texts and emails, you will only be paying $4 per week, which will only add up to $16 per month. And you will have access to a total of 4GB, unlimited calls and texts (the days your package is active). When you are in areas where you don't have cell service, those "lost days" will not be costing you anything. If you take a monthly offer, you will sometimes even lose entire weeks, during which you don't have cell service and cannot make use of your package. Obviously, you would only have a small number of days to use all your texts, calls and data, which is in principle the same as the Optus offer, just a lot more expensive.
Conclusion
In conclusion, before choosing your phone package for Australia, ask yourself the five essential questions that will make you understand your needs. Really think about getting small packages and packages for 6-12 months, because the phone in Australia will mainly be there to help you to look for a job, you will have too much to see and do! Always remember to ask if the package includes a credit bonus for international calls, and ask for the price per minute for these international calls (do not be fooled by the "$ 500 international bonus" when the price the minute is actually incredibly high).
Finally, make use of the competition between the providers and don't hesitate to ask about special offers.
Written by Claudia and Jeremy