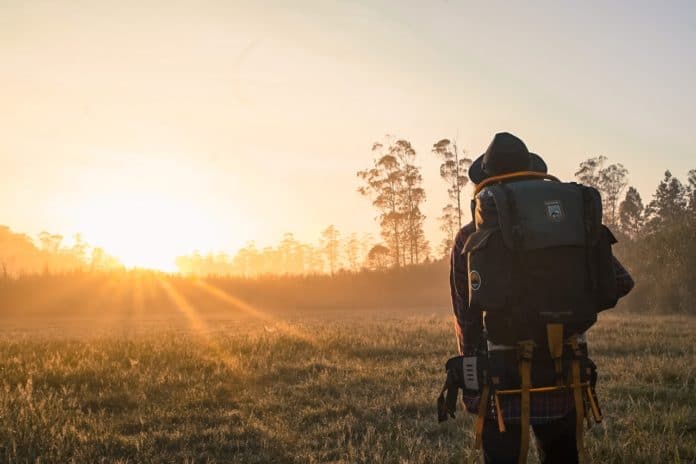 Are you almost ready to leave for Australia? Will you be travelling on a Working Holiday Visa? Are you wondering what to take? It's normal, we all ask ourselves the same question. Here you can find some information on how to prepare yourself and to make sure you don't forget anything.
Backpack or suitcase?
When you are traveling you always wonder what type of luggage to take? Should I go for a big backpack or a suitcase ? What size etc?
If you decide to do a road trip in Australia, either by van, 4WD or car, it's strongly recommended to take a backpack. It will be much less annoying in the vehicle. You can find all sizes and brands on sportsdirect.com (online or shops). It is better to visit a shop than buying online. Make sure you try on the bag and feel confortable before buying it.
If you're leaving to be an au pair, to do an internship or to study, or if you intend to work in cities for a while, you would definitely be more sedentary, living in an apartment, in a big city. If that's the case and you prefer a suitcase over a backpack for when you are moving around, that would be up to you. But if you are renting a room in an apartment, once again your backpack would probably be easier to store than your suitcase.
We have asked backpackers on our Facebook page to cast their vote and on 106 participants, 84% brought a backpack, 16% brought a suitcase. Again, it really depends on how you are going to travel…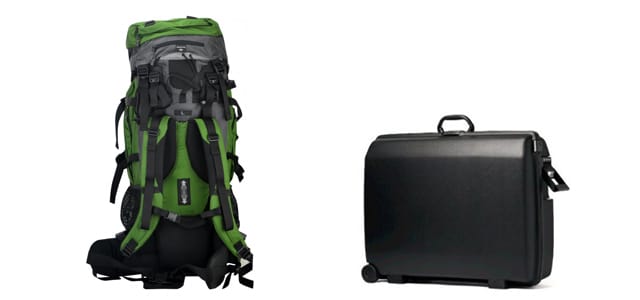 What kind of bag?
We recommend taking a big backpack, 50 to 70 L, depending on what you need and a smaller bag for your personnel affairs. There are backpacks for men and backpacks for women (the straps are placed differently).
For the big backpack: Make sure you balance your bag right. Nothing more annoying than a bag that is heavier on one side. And make sure you have easy access to the stuff that you use the most!
For the small backpack: Think about bringing your wallet, photocopies of your license, visa, passports, etc. (In case you lose your luggage/cabin bag)
Packing your bag
Tip #1 – Travel light
Once we land, we all say the same thing: I've brought too much! Especially when you set off on a road trip, you change clothes less often than in the city.
Make three categories: 1) Things you need – 2) Things you don't need – 3) Maybe's…
Try and take all the things from the first category and see what room you have left.
Don't forget that airline companies only give you a limited weight allowance. Generally you get 20 kg for bags registered as cabin luggage (max. 2 per person) Some companies allow you up to 30 kg or else you can pay a supplement to get 10 kg extra. Your hand luggage can generally be up to 7 kg.
Remember you can always buy what you need once arrived… clothes, beauty products etc etc…
Tip #2 – Bring a bit of everything
Sure the weather is nicer than in Europe, but beware, in the South of Australia it can get pretty cold during winter time. Sometimes below 0 degrees Celsius. So take 2 or 3 jumpers, a jacket and some trousers.. You're not going to Hawaii!!
For those that want to stay in the city, clothing standards are quite similar to ours. Australians dress up when they go out but it's less common to be refused entry to a club for not wearing a button down shirt.
Tip #3 – Don't bring fancy stuff
Of course you can bring some nice things for your nights out. But again, it all depends on the trip you are planning.
It's important to bring at least one sports/outdoor outfit. Especially if you're planning to do Fruit picking, you should have a pair of trainers, long pants and a long sleeve T-shirt. Know that this outfit will get damaged! If you don't want to bring those in, remember that you can always buy old clothes from Op shops or cheap ones from big brands such as BigW or Kmart.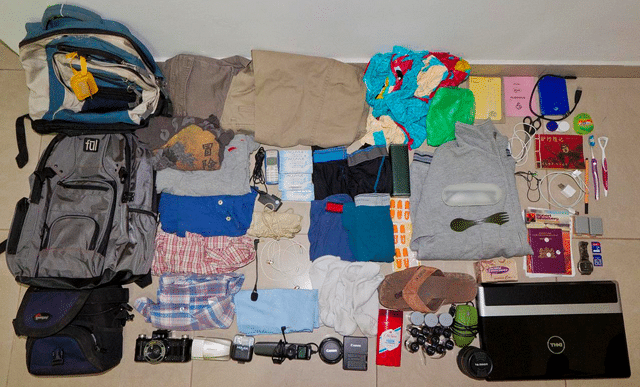 Australia backpacking list
Here a list to give you an idea of what you will need to back before landing Down Under!
Clothing
5 short sleeve shirts/vests
+ 1 or 2 long sleeve shirts
A raincoat or jacket
2 warm tops like a sweater or hoodie
A pair of jeans
1 pair of used slacks
2 or 3 pairs of shorts
1 pair of trousers/dress skirt
1 pair of pyjamas
6 pairs of socks
6 pairs of underpants
a bathing suit
Toilet and Pharmacy kit
Tooth brush and tooth paste
Small mirror
A nail clipper + tweezers
Deodorant/Perfume
Shower gel/shampoo you can buy after arriving
Disinfectant
Aspirin
Anti diarrhoea medication
Any prescription medication (with the prescription)
Condoms/the pill
1 tube of sun cream
Shoes
A pair of flip flops (Thongs in Australia)
1 or 2 pairs of used trainers
1 pair of dress shoes
Accessories
Sunglasses
1 belt
1 cap/hat
1 or 2 locks
A photo camera with a memory card
External hard drive
Laptop or tablet
Phone (unlocked) + charger
Adapter (easy to find over there)
Small backpack for hikes and small trips
Updated on 11/10/2019 – Initially published 04/02/18