– Update 27 September 2018 – From 1st November 2018, Canadian citizens up to and including, 35 years of age will be eligible to apply for a Work and Holiday visa (subclass 417) . The age of 30 years remains the maximum for all other Working Holiday countries. This is encouraging and could be the first step towards an increase of the age limit to 35 for all partner countries!

– Update 2 July 2017 – The proposed draft of increasing the Working Holiday age limit to 35 has been repealed as of today. For now, the age of eligibility is still 30. We are waiting for the Australian government to provide more information. We keep you updated!

After the backpacker tax saga and the tax increase on superannuation, here are finally some good news for people wanting to work and travel in Australia (417 & 462 Visas). The Australian government has confirmed on 27 June that the age of eligibility for Working Holiday Visa Makers should increase from 30 to 35 years from 1 July 2017! We are still waiting for the approval of partner countries for the application of this agreement.
Age limit changes for the Australian Working Holiday visa
This is great news for travellers over 30 years old! Indeed, the age eligibility for applying for an Australian Working Holiday Visa should expand to 35 years from 1 July 2017! Until now, the age limit was set at 30 years and the visa requirement for the 30-35 year-old has been debated for a long time. The Australian immigration website hasn't updated their content yet, still showing the following message:

But according to an official document gathering all Australian legislation, this new law should apply from 1 July 2017. However, please note that we are still waiting for the approvals of partner countries (such as UK, Ireland, Germany, France etc) to amend the bilateral Working Holiday Maker agreement to expanding the eligibility age to 35.
If this is confirmed, people currently on a Working Holiday Visa in Australia (subclass 417 or 462) and over 30 years old, will be eligible to apply for a second year visa (by completing 88 days of eligible work in regional areas).
The Federal Register of Legislation confirms this new law and its application as of 1 July 2017. We encourage you to read the regulations and more specifically Schedule 9-Changes to age limits For working holiday maker visas.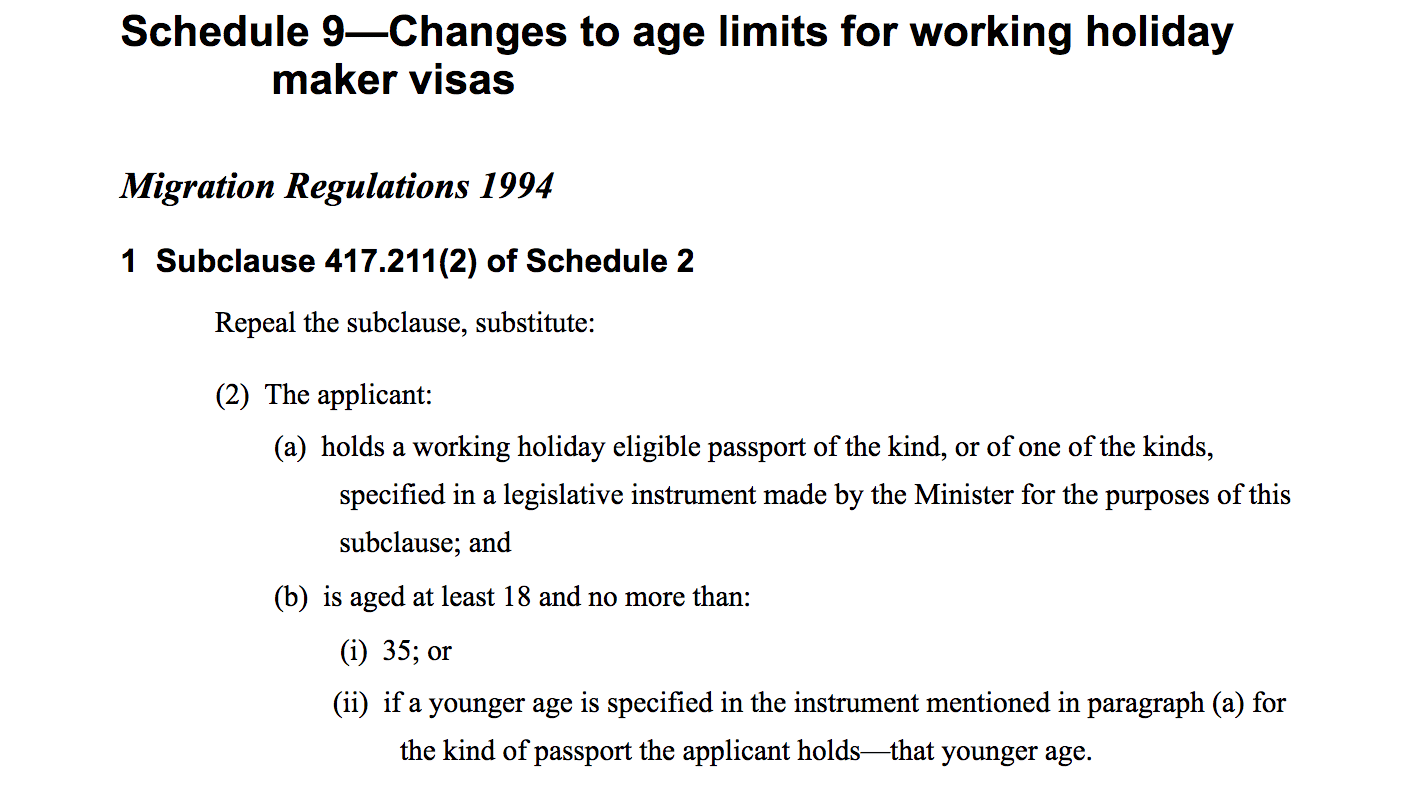 This information should be confirmed and further explained in the coming days.
We are now waiting for the immigration website to update their content. We will keep you informed in the next few days, so stay tuned!