If you are on a mission to explore Adelaide, you can choose between several means of transport: bus, train, tram, bicycle or car. Adelaide's public transport system can take you to the main sights of the city centre, sometimes even for free. However, it's best to rent a car if you want to see all that Adelaide and its surroundings has to offer.

Requirements for driving and renting a car in Adelaide
In order to rent and drive a car in Adelaide, and in Australia in general, you need a valid driver's license and an international license. The easiest way to get the international driver's license is to apply for it in your hometown before coming to Australia. This method is simple, free and fast. However, if you don't have an international driver's license, you will need to have your driver's license translated by an official NAATI accredited translator.
GOOD TO KNOW: In Australia, police officers have no tolerance for alcohol and backpackers. You are not allowed to drink alcohol if you are driving. Otherwise, you can lose your driver's license and pay a heavy fine.
Comparison website for car rentals
To rent a car in Adelaide, it is best to use a price comparison website. This way, you'll definitely find a good deal for your carrental!
Hiring a car in Adelaide
In Adelaide as well as in other Australian cities, several agencies share the rental car market. This competition ensures high quality services at a reasonable price.
The main car rental companies are:
Europcar
Thrifty
Hertz
AVIS
Jucy
Budget
Access
Most of these agencies are located at the airport, which makes your arrival easier. But there are also some in the town centre of Adelaide.
Rental prices
In Adelaide, you pay about $ 50 to $ 60 per day for a rental car. If you rent a car for several days, the daily rate will drop. So, if you rent a car for an entire week, you pay less than $ 30 a day. Also, last minute rates are lower, assuming there are still cars available.
GOOD TO KNOW: Some companies refuse to rent vehicles to young drivers under 21. Others allow it, but for a higher price.
How to get a cheap car in Adelaide
– Book the car at least one month in advance
– Use an online price comparison website
– Go to agencies near the airport. There offer the best prices
– Rent a car for several days to get discounts
– Consider all rental conditions (number of kilometres, petrol price, insurance etc.)
– Share the costs with other backpackers (a second driver is sometimes even included in the rental price)
Visit Adelaide and surroundings
Adelaide
Based on population, Adelaide is considered a city. It is much easier to drive around Adelaide than it is in Melbourne or Sydney. Even at peak times you rarely get into a traffic jam! Parking in the city centre is sometimes expensive, but there is also free parking (from 15 minutes to 3 hours). Before 9 o'clock and after 19 o'clock, on Saturday afternoons as well as on Sundays and public holidays, parking is often free of charge, which makes driving sometimes cheaper than using public transport. At day time during the week, you can park for free on the South Terrace and take the free tram to the city centre.
Adelaide Region
LESS THAN AN HOUR FROM ADELAIDE
Beaches
Adelaide is a coastal city in South Australia, so you don't miss the beaches in the region. By car, you can get to Semaphore, Henley Beach or Glenelg in 30 minutes. White sand, gentle waves, long esplanades, sunset over the sea … Postcard pictures for unforgettable memories.
The hills
Adelaide is not just known for the city centre. The hills, situated 30 to 45 minutes from the city, are also very popular among tourists. Treat yourself to a lunch and go for a walk in Handhorf, a particularly charming town with German influences. Admire the panoramic views of Mount Lofty and have a cup of coffee at Stirling.
LESS THAN TWO HOURS FROM ADELAIDE
Fleurieu Peninsula
If you plan to go surfing near Adelaide, drive to Victor Harbour and Port Elliott (about 1 hr. 10 min.). From there, you regularly see dolphins just a few meters from the beach. Go for a stroll and carriage ride on Granit Island.
Barossa Valley
Adelaide is THE wine capital of Australia. Several vineyards offer tours and wine-tastings, so you get to try the variety of South Australian wines. You also find very good restaurants where you can have a break between two glasses.
MORE THAN TWO HOURS FROM ADELAIDE
Flinders Ranges
Take a few days to go camping and explore the Flinders Ranges, 5 hours north of Adelaide. Leave the stress of the city behind you and go hiking in the countryside.
Eyre Peninsula
Do you love the thrill? In this case, cage diving with a white shark is just for you. The Eyre Peninsula offers many other activities, such as swimming with dolphins and sea lions, oyster-tasting on the beach, exploring the many national parks and lots more. Plan about 4 to 6 hours from Adelaide.
Kangaroo Island
This island is the jewel of South Australia. After a two-hour drive and another 45 minutes by ferry, you are on a beautiful pristine island. Kangaroos, seals, dolphins, whales, eagles, pelicans, turquoise waters and white sandy beaches create magical moments.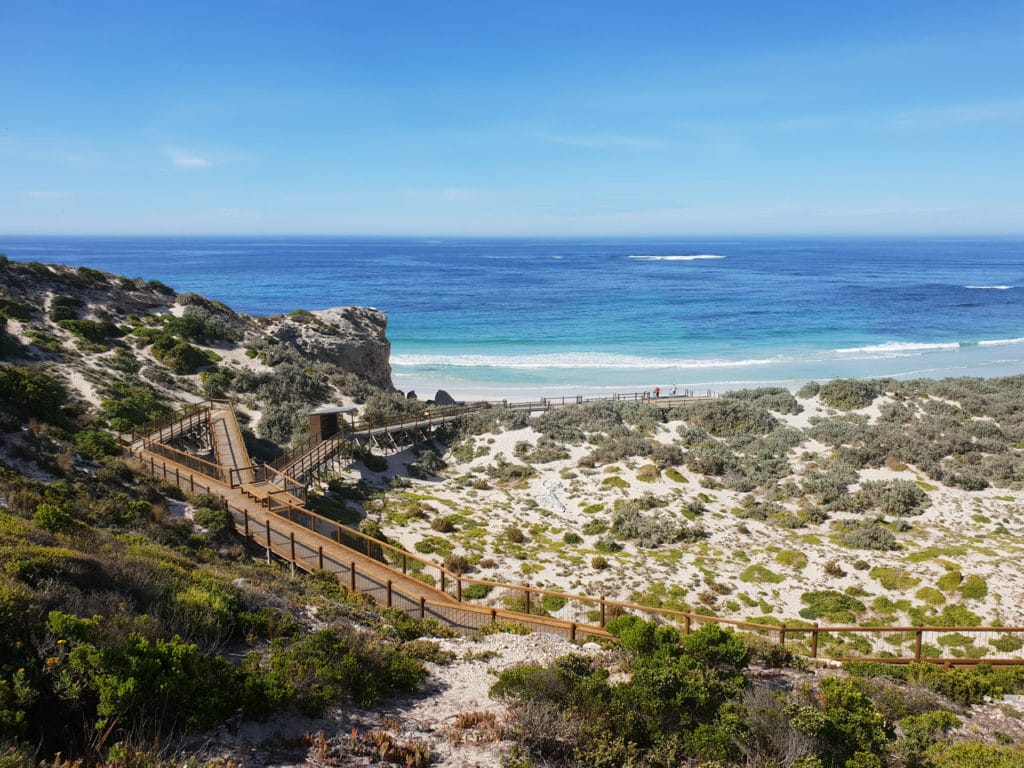 Related articles: