Located in the Tropical North of Queensland, the city of Cairns is renowned for its peaceful atmosphere and tropical climate. Gateway to the Great Barrier Reef, it will inevitably charm you with its incredible seabed. Enjoying beaches with turquoise water and white sand is one of Cairns' best activities. Many beaches and paradise islands are not to be missed in the region. Without further ado, here is our selection of the 10 best beaches near Cairns.
Where are located the best beaches ?
Palm Cove Beach
Palm Cove is a pretty, colourful and touristy little village situated along a beautiful white sandy beach: Palm Cove Beach. This small seaside resort is aptly named because it is bordered by palm and coconut trees. There are several restaurants and bars on the seafront where you can relax with a drink or a meal while enjoying the view. You can swim thanks to the protective nets of this beach.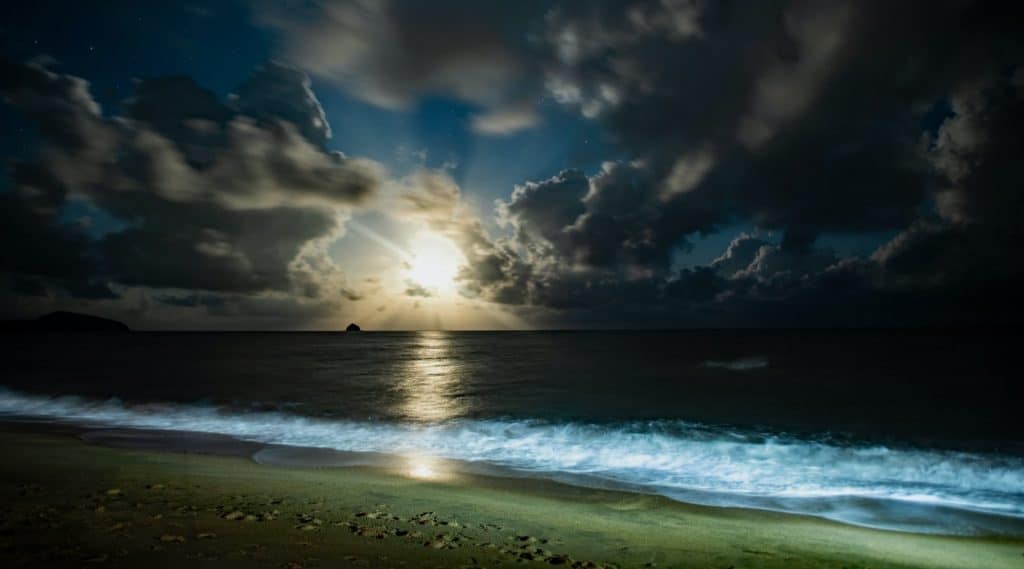 Trinity Beach
Trinity Beach is one of Cairns' most popular beaches for locals. It is as beautiful as the other northern beaches that border the coral coast of Cairns, but with a more down-to-earth and relaxed atmosphere, in a chic setting. It is a family beach with a playground and barbecue grills. Children generally love it. In addition, swimming is supervised all year round and the beach is relatively calm compared to its neighbours.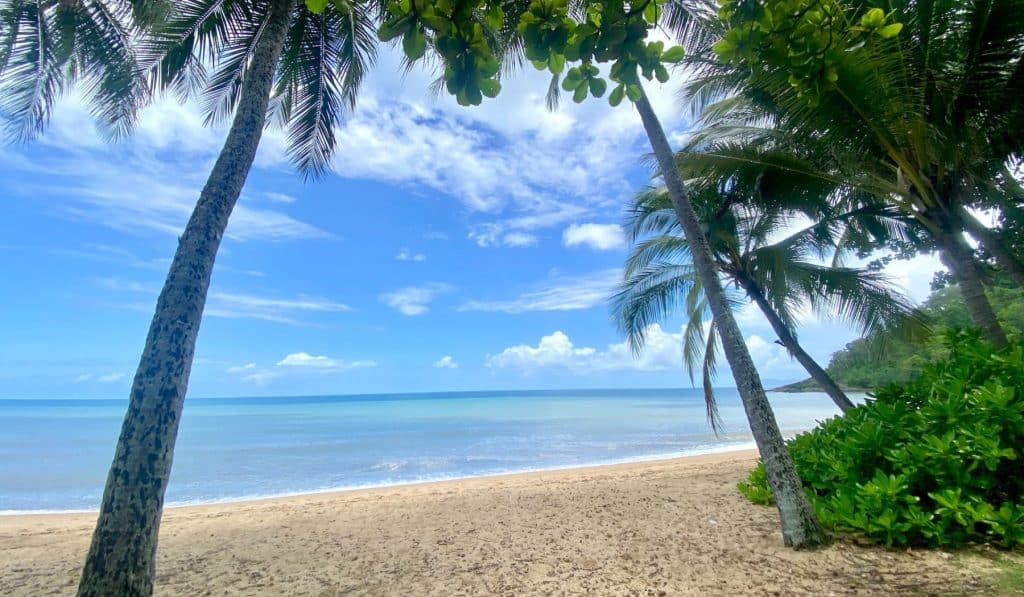 Myall Beach – Cape Tribulation
Cape Tribulation is, roughly speaking, the most northerly point in Queensland and the east coast of Australia which can be reached by car or van. The Beach is located in the 130,000 million-year-old Daintree Forest, listed as a UNESCO World Heritage Site. It is an amazing beach: the huge expanse of white sand bordered by the rainforest is very impressive, worthy of Jurassic Park decor. Unfortunately, once there, you will not be able to cool off by diving in this turquoise water. Do not even dare to dip a toe because crocodiles and deadly jellyfish are present in large numbers. Signs are placed everywhere to remind you.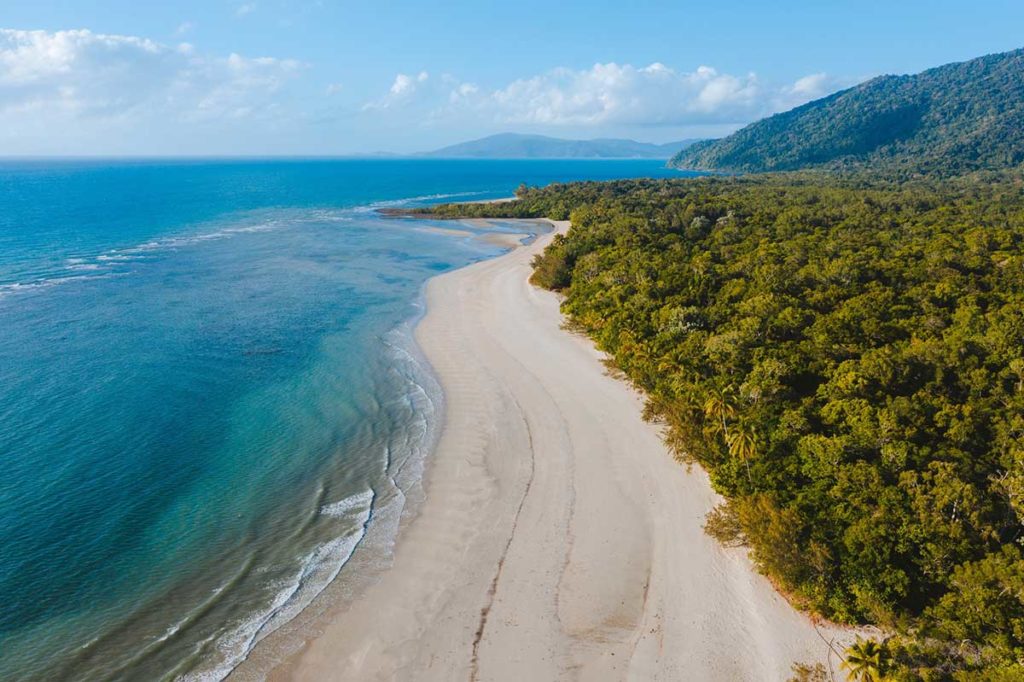 Four Mile Beach
Halfway between Port Douglas and Palm Cove, Four Mile Beach is a very pretty beach that is worth stopping at. There is a supervised swimming area and showers nearby. It is a fairly wild beach, ideal for a few hours.
Oak Beach
Oak Beach is a pretty coastal town and a community in Douglas County with only 195 residents. Its beach is very pretty and little known, which makes it so charming. The Cook Highway intersects its southern end. There is parking and direct access to the beach. Do not hesitate to stop there if you take this road.
Clifton Beach
Clifton Beach is a very peaceful 6 km long beach located 20 minutes' drive from Cairns city center. With its magnificent leaning palm trees that run along the coast, it is the ideal beach to get away from the bustle of the city. There too, the beach has a supervised swimming area. Small hotel complexes are present around the beach.
Ellis Beach
Here is another beautiful beach located between Cairns and Port Douglas: Ellis Beach. Bordered by coconut trees, a beautiful walk on it is possible. There is a beautiful tropical village around the beach and a breathtaking panorama. It's the perfect place to come and watch the sunset and enjoy the view.
Nudey Beach
Nudey Beach brings together all the pictures of paradise beach: white sand, translucent water, palm trees, corals, surrounding jungle, etc. In 2018, it was ranked first in the ranking of the most beautiful beaches in Australia, and it is not for nothing. This is the most famous beach on Fitzroy Island, an island accessible by ferry from Cairns in 40 minutes. Rest assured, despite the name it bears, it is not a nudist beach. It's a great snorkeling spot: turtles, fish, corals and harmless sharks are often there. In short, another beach not to be missed during your visit to the tropical north of Queensland!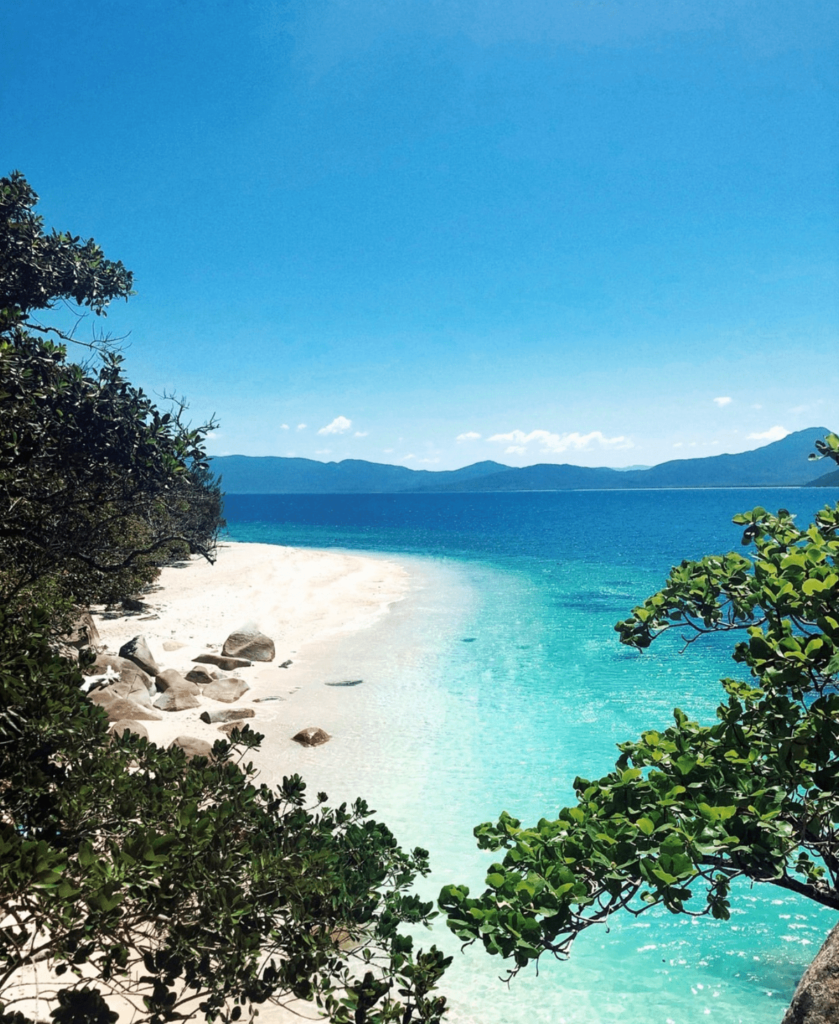 Frankland Islands
Frankland Islands is a little paradise on earth, much wilder but just as beautiful as Fitzroy Island. To date, only one company offers day trips to get there: Frankland Islands Reef Cruises. The island has no infrastructure, only a few benches. It's ideal for a day away from tourists and crowds. While exploring the surroundings, you will surely have the chance to come across turtles, harmless sharks but also clownfish which make the reputation of this island. The beach that goes around the island is just amazing and you will really feel alone in the world.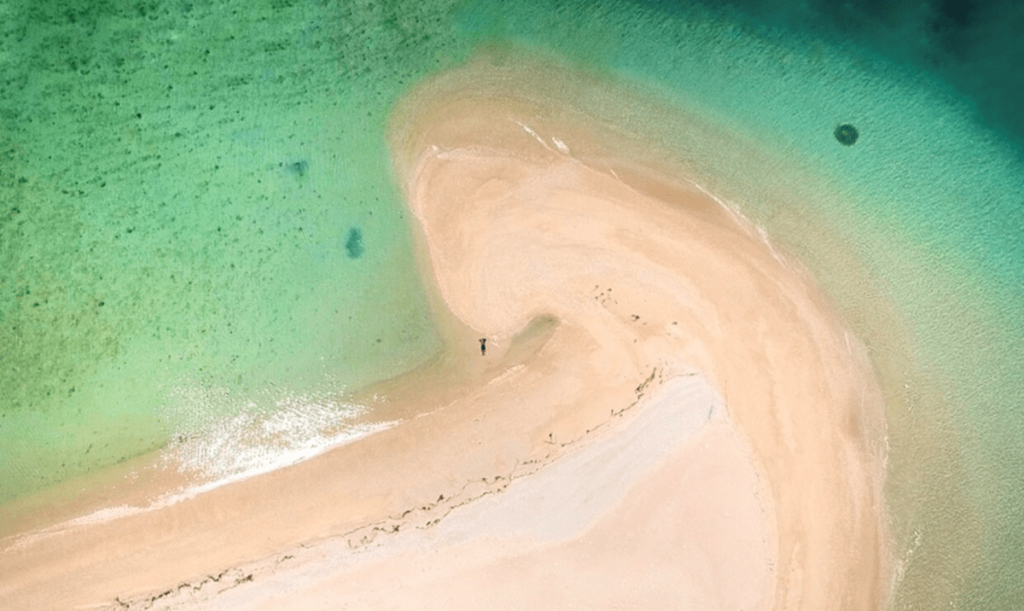 The lagoon, Cairns
How to talk about the most beautiful beaches in Cairns without talking about its famous lagoon? Lounging in this place is a must when visiting the city. Since bathing in the sea is completely prohibited, the city has set up this place to allow the population to cool off.
It is a very well-appointed space: a small beach for lounging in the sun, a pleasant view of the sea and to top it all off, completely free access. The esplanade around the lagoon is equipped with barbecues, benches, tables, showers and changing rooms with lockers. It's the perfect place to spend some time with family or friends.
Please do not hesitate to tell us in comment what is the most beautiful beach of Cairns, according to you !