Are you planning your ultimate road trip through Australia and wondering if it is even allowed to camp in Australia and if so, where it's possible? Don't worry! Australians love camping! And there are countless official and unofficial ways to spend the night in a camper or tent. Nevertheless, you should prepare yourself a little. In this article you will find some important rules and valuable tips about camping in Australia.
Camping in Australia – Is that possible everywhere?
Unfortunately, it is not allowed to leave your vehicle anywhere and spend the night there. Especially in cities or populated areas, you'll quickly get a tapping that has it all.
Where can I camp in Australia?
There are various possibilities: caravan parks, campsites, rest areas and unofficial places. Here is an overview:
Caravan Parks:
This is by far the most luxurious, but also the most expensive option. Here you can get everything you need after day long driving: showers, toilets, washing machines, a kitchen, sometimes even a TV room or a pool. Caravan parks are very common in Australia and are signposted with a blue sign.
Campsites:
Campsites are also widespread in Australia. These are very cheap and sometimes even free (depending on the equipment and location of the campsite). Here you can pitch your tent and park your camper overnight. Usually there is only one tap, sometimes toilets and very few showers.
Unofficial Places:
Finding your tent somewhere in the wild is a feeling of ultimate freedom – despite the lack of water, showers and toilets. This type of camping is usually not allowed. Exceptions are, however, if it is allowed in the whole area. If you want to take the risk and still want to wild camp in one place, you should make sure that you are looking for a quiet and abandoned place and leave the place as you have found it. Of course, that applies everywhere.
Camping in Australia: The best camping guides
For a complete overview of camping in Australia, we recommend that you order one of the following guides: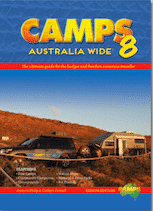 Camp Australia Wide
HEMA maps
This guide is available at most bookstores, at NRMA agencies and even at some gas stations. The guide costs about 50 AUD. You can also order it online at the following link: www.campsaustraliawide.com This guide is the most common one.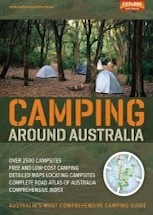 Camping around Australia
Explore Australia
You will also find this guide in bookstores. It costs about 40 AUD. Both the Camp Australia Wide Guide and this one offer plenty of maps, itineraries, and camping – everything you need for your ultimate road trip.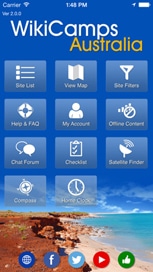 Wikicamp
App for your Smartphone
Available for IOS, Android and Windows
In this app you will find the same information as in the two books. The advantage is that the app is constantly updated, because people who use the app can add new seats and even ratings. For example, users leave comments when a campsite is closed for a short or long term. The only problem is that your smartphone needs to be constantly charged. More information can be found here: www.wikicamps.com.au
Camping in Australia – Tips: The Australian nights can be very cold. Remember to pack some blankets. Although this means more luggage but believe us: There is nothing worse than spending the night freezing in the camper. You should also make sure that no insects or other terrifying animals can get into your vehicle.
Related Articles: