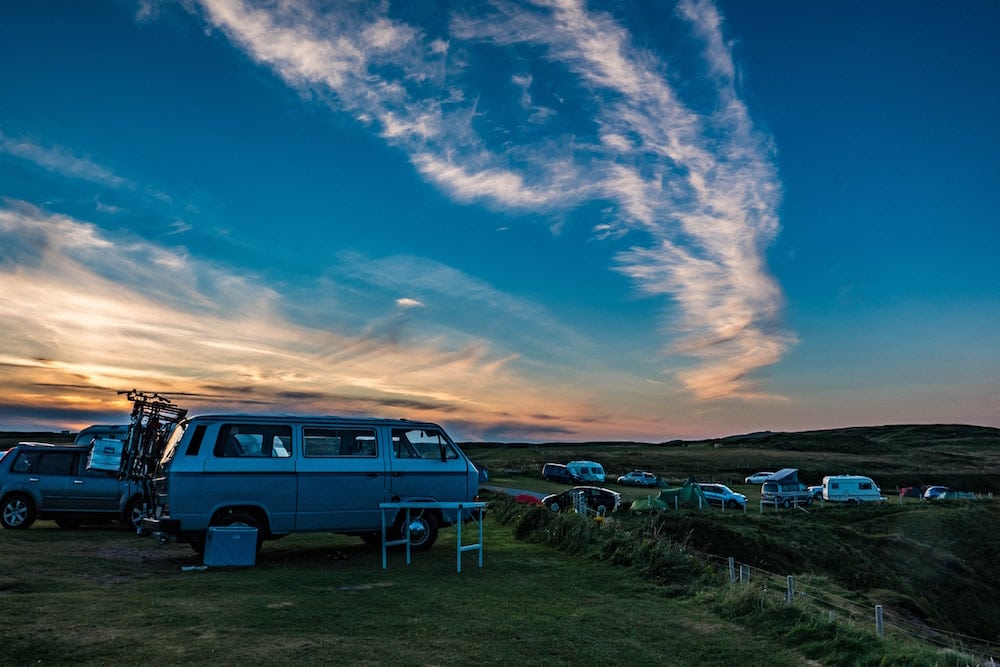 Michael and Julie were travelling through Australia for a year. They decided to buy a van and convert it into a campervan – just the way they wanted it. Find out more in their step-by-step guide on campervan fitouts!
Choose the right van
Before arriving in Australia, we gathered some information about which vans were common in Australia and made a shortlist: Toyota HiAce, Mitsubishi Delica, L300, Kia Pregio
We made a list of all the pros and cons of each van and it quickly became clear: we wanted a Kia Pregio. Especially the diesel engine and the low fuel consumption (less than 10 litres per 100 kilometres) played an important role in our decision.
On Gumtree, we looked for offers in Melbourne, the city in which we would land. Fitted-out campervans were pretty expensive. Besides, we often didn't like the interior. Standard vans, however, were a lot cheaper. That's why we decided to buy a van without any interior and fit it to our liking.
We found our dream car. Upon arrival, we arranged an inspection with the seller. Two days later the car was ours! All we had to do before hitting the road was getting the car ready. The next step was to research tips and tricks for campervan fitouts.
Campervan Conversion – A step-by-step guide
The following weeks, we spent a lot of time in stores like Bunnings, Super Cheap Auto, and Ikea, where we found everything we needed. The tinkering in the parking lot began.
Floor
First, we started with cleaning the floor and walls with soap and water (the van was not really dirty). We laid out the floor with 3mm thick plywood and linoleum flooring on top.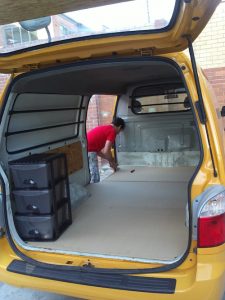 Interior
At IKEA, we bought a folding bed. As the rear wheel needed space, we had to saw off 10 cm though.
We decided to install the kitchen in the back of the car, which helps with ventilation while cooking. This way, we could protect ourselves from rain under the boot door. We separated the kitchen from the living area with a plywood board, which also served as storage. Then we installed a refrigerator from Super Cheap Auto.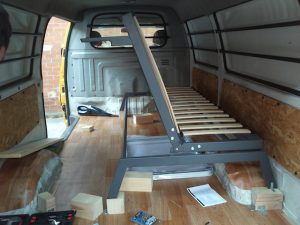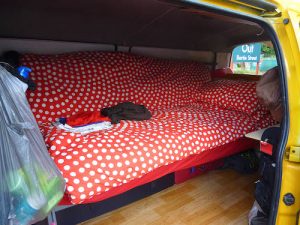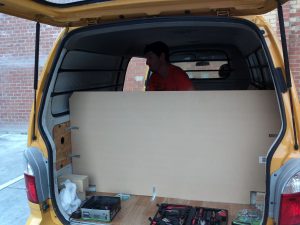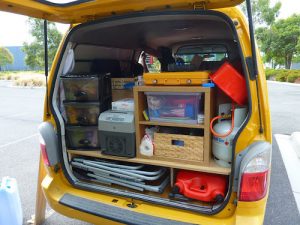 Electricity
Installing the electronics was the most complicated part of the whole project. The main thing was figuring out how to separate the two batteries. Connecting both in parallel can be dangerous.
The solar panel came much later when we were already on the road.
It's best to get expert advice to do everything the right way. That's safer.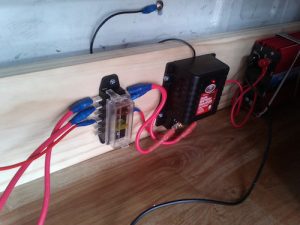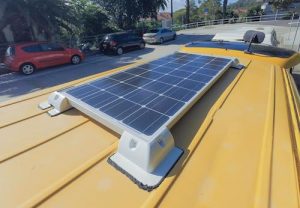 How much did it cost to fit out the van?
Altogether we spent more than 7,000 AUD. That sounds like a lot of money. However, considering that you can resell the van- and for a much higher price – it is not that much. Moreover, you can convert the campervan according to your needs and ideas. Campervan fitouts always depend on a travellers needs.
Here we have listed individually what we bought, where we bought it and how much we spent:
Van (JP Car Rentals): 4,390 AUD
Folding bed (Ikea): 279 AUD
Mattress (Ikea): 39.99 AUD
Portable stove (BCF): 49.99 AUD
Water tank (10 liters) (Coles): 6.11 AUD
Petrol can (20 liters) (Kmart): 20 AUD
Second-hand Cooler (The Good Guys): 5 AUD
Gas bottle (BCF): 44.99 AUD
Gas bottle container (BCF): 9.99 AUD
Blankets (Ikea): 79 AUD
Duvet cover (Ikea): 39.99 AUD
Sheets (Ikea): 19.99 AUD
Kitchenware (Ikea): 72.99 AUD
Plastic containers (Kmart): 15 AUD
Camping table (Kmart): 19 AUD
Camping chairs (Kmart): 58 AUD
Toolbox (Kmart): 20 AUD
Plywood boards for the floor (Bunnings): 17,16 AUD
Linoleum for the floor (Bunnings): AUD 43.50
GPS (Harvey Norman): 98 AUD
Radio (Super Cheap Car): 129 AUD
Adapter for the radio (AutoBarn): 39,98 AUD
Detergents (bunnings): 14.82 AUD
Electric Converter (Bunnings): 91.18 AUD
Battery (Super Cheap Car): 219 AUD
Coupling (Super Cheap Car): 99.95 AUD
Insulation Tape (Bunnings): 2.10 AUD
Small items for electronics (Super Cheap Auto): 85.50 AUD
Saw (Bunnings): 7.94 AUD
Drill (Bunnings): 39.95 AUD
Sunscreen (Super Cheap Car): 8.69 AUD
Lamp holder (bunnings): 48.06 AUD
Various home improvement products (Bunnings): 35.86 AUD
The Camp 7 book (Ray's Outdoors): 59.95 AUD
Storage Systems (Kmart): 22.80 AUD
BBQ equipment (Kmart): 8 AUD
Refrigerator (Super Cheap Car): 219 AUD
Camping Light (Super Cheap Car) 33.58 AUD
Rear equipment (Bunnings): 33.26 AUD
Rear storage compartment (Bunnings): 13 AUD
Meter (Super Cheap Car): 34.98 AUD
Snorkelling Gear (Ray's Outdoors) 59 AUD
Snorkelling Gear (Coral Bay Service): 28.50 AUD
Fishing Equipment (BCF): 110 AUD
Cable (Super Cheap Car): 10.98 AUD
Cigarette lighter (Auto Pro): 11.95 AUD
Angle (Bunnings): 4.10 AUD
Shelf (Miter10): 41.75 AUD
Cutlery (Woolworth): 3.95 AUD
Rear Cover (Super Cheap Car): 8.69 AUD
Solar Panel (RoadTechMarine): AUD 330.80
Putty (bunnings): 19,92 AUD
Ventilator (RoadTechMarine): 22.95 AUD
Voltmeter (Road Tech Marine): 20.95 AUD
Tent (Big W): 15 AUD
Carpet (BCF): 15.98
Miscellaneous (Super Cheap Car): 42.09
TOTAL: AUD 7.226,89
Have you ever fitted out a van? How much money did you spend on it? Have you got any advice you want to share with other backpackers? Share your campervan fitouts with us. Leave a comment below this article.
Related Articles:
– Travellers Autobarn Promo Code – Cheap Campervan Rentals
– Cheap Campervan Rentals in Australia & How To Get A Good Deal
– Motorhome and Campervan Equipment
– The Difference Between Buying and Renting a Campervan in Australia