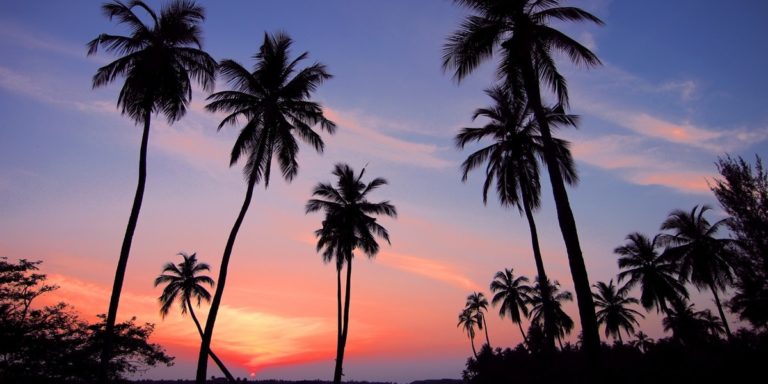 Possibly the most famous stretch of Australia, the north eastern coast between Brisbane and Cairns is a must-see corner of the Land Down Under. From Brisbane in the South of Queensland right up to Cairns in the tropical North, this mega road trip is a treat for beach lovers, sun worshippers, adrenaline seekers and adventurists. So settle in for the ride of your life as you cast your eyes over this perfect 15-day Brisbane to Cairns drive.
Prepare your trip
Duration
It takes about 2 weeks to do a road trip from Brisbane to Cairns. 15 days is the perfect length of time to really enjoy the trip.
Distances
You will cover a total of around 1680km in increments of 50 to 200km. A road trip from Brisbane to Cairns is not too intimidating because you will find cities and amenities all along the road. It's the ideal location for a first road trip.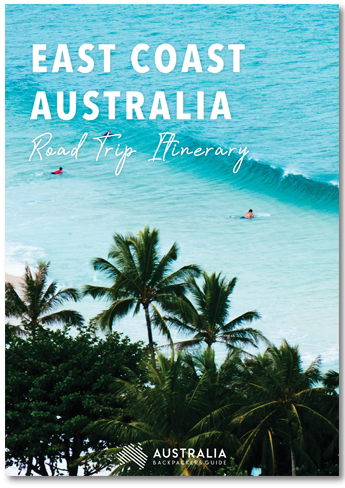 Our FREE 52-page guide brings together all the info you need for your East Coast Road Trip in Australia:
Preparations (seasons, budget)
All the best spots to visit on the coast
The best tours & activities
Spots to park and sleep in a campervan
Budget your trip
To take full advantage of your trip, you will need to plan for your expenses. Make sure you have the necessary budget and carry enough cash with you to avoid awkward situations. For your information, here is our estimate for 2 weeks van road trip (rental) for 2 people already in Australia:
Rental of a 2-seater van with insurance: $1600
Fuel: $450
By bus: with the Greyhound company, a trip will cost you around $250
By train: approximately $400
Food: $250
Campsites: $200
Excursions and activities: $1500
Restaurants and outings: $200
Total: approximately $4200 for two people or $2100 per person

How to travel the East Coast?
Between islands and stunning beaches, surf spots and wildlife, this road trip will tick all your boxes. There are different ways to get around the East Coast of Australia. Here are a few options, the choice is up to you based on your budget and expectations.
Drive your own vehicle
One of the first steps is to get to the east of the country. If you are nearby and have a vehicle, you can drive there. The roads on this part of the country are good and you don't need a 4WD to get around.
By plane
You can also fly to Brisbane. International flights from Europe connect the main European cities to the cities on the East Coast. You can also take a domestic flight if you are already in Australia (from Sydney, Perth, Melbourne, Adelaide, Canberra or even Darwin). There are several flights everyday between the main cities of the country.
The best option to book your ticket is to use a price comparing site. This will allow you to have an overall view of the prices of airline tickets on your dates of choice. It's also a way to see what companies seem to offer flights within your budget.
Once arrived in Brisbane, this is the starting point of your road trip, you can rent a vehicle or join an organised tour to discover the coast.
By bus / train
An option to visit the East Coast is by bus but you will have much less freedom in your itinerary and see less than with your own vehicle. There are several bus companies present on the East Coast, the most famous being Greyhound.
The train can be a good option for your road trip. It is a different way to travel but also a memorable experience. It will allow you to enjoy the diversity of the landscapes of the coast. However, here again, you will have less freedom in your itinerary than with your own vehicle. Plus, this will take you more time.
Rent a vehicle
If you don't have a vehicle, hire one in Brisbane. This seems to be a great option for discovering the beauties of the coast. Book it in advance to choose and find your ideal vehicle because rentals are gone quickly, especially in high season.
The main suppliers are Britz, Apollo and Travellers Autobarn (you can get a discount here: promo code Travellers Autobarn). Otherwise, you can compare the rental offers for vans and motorhomes on Motorhome Republic.
Good to know
Some companies charge additional fees for drivers under the age of 25. If you do not drop the vehicle off in the same rental city, you will pay an additional charge (one-way fee).
Choose your vehicle
A road trip on the East Coast of Australia can be done with any vehicle. First, ask yourself what type of vehicle suits your expectations best:
A motorhome with all the utilities for those looking for comfort
A van, smaller but well organized
A campervan for a little more space and equipment
A 4WD with a roof tent for the more adventurous and those who wish to visit Fraser Island in their own vehicle
Also determine your vehicle according to the number of people, your budget, your desired comfort, etc.
When should you do your Brisbane to Cairns drive?
It is always beautiful in Queensland! The summers are hot (+30C°) and winters are mild. The mid-seasons are the most pleasant to enjoy this part of the country.
The climate in Brisbane is subtropical, the summers are long, hot and humid and the winters are short but cool. You can visit Brisbane all year! If you suffer from heat or cold, visit Brisbane in spring (September, October, November) and autumn (March, April, May). The temperatures are mild and perfect for Outdoor activities.
Cairns is located in the tropical northern part of Australia. The city has a tropical climate. The dry season from May to October is a pleasant and warm period. The wet season from December to March experiences hot days with daily thunderstorms.
Brisbane to Cairns 15 Day Itinerary
Day 1: Brisbane
Your first stop on your Brisbane to Cairns drive. Get yourself acclimatized to the Queensland heat by enjoying a day in the state's capital. One of the must-do's here, is a stroll along South Bank, or you can ride on the Wheel of Brisbane, check out the Gallery of Modern Art and relax on the street beach, as you gaze at the city skyscrapers glistening above you. In the evening, venture out into Fortitude Valley to listen to some live music and sample some delicious, local craft beers.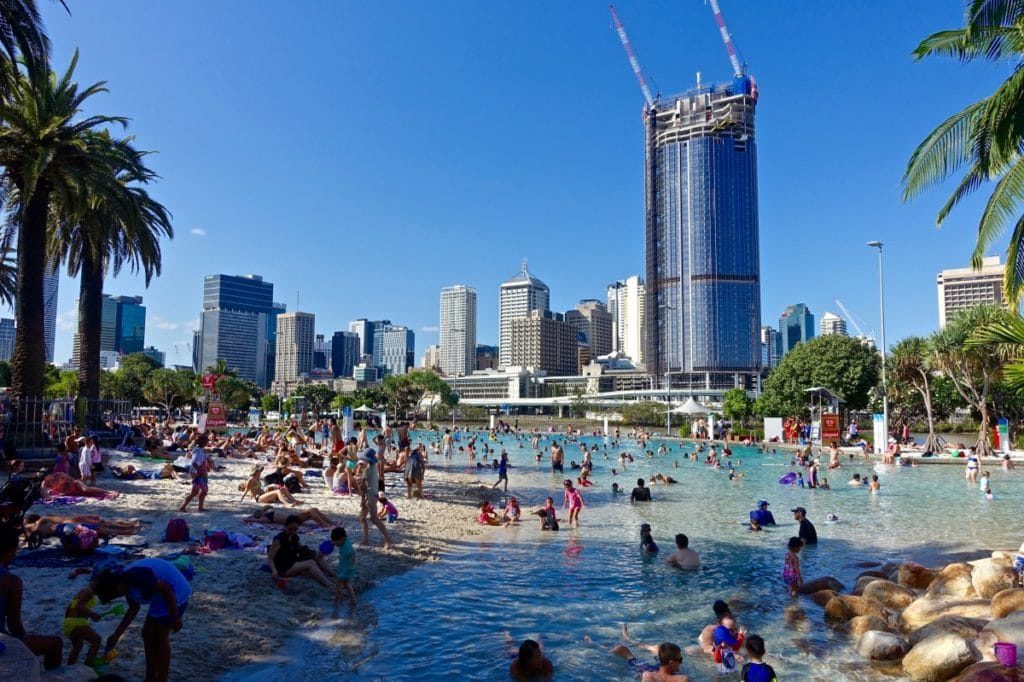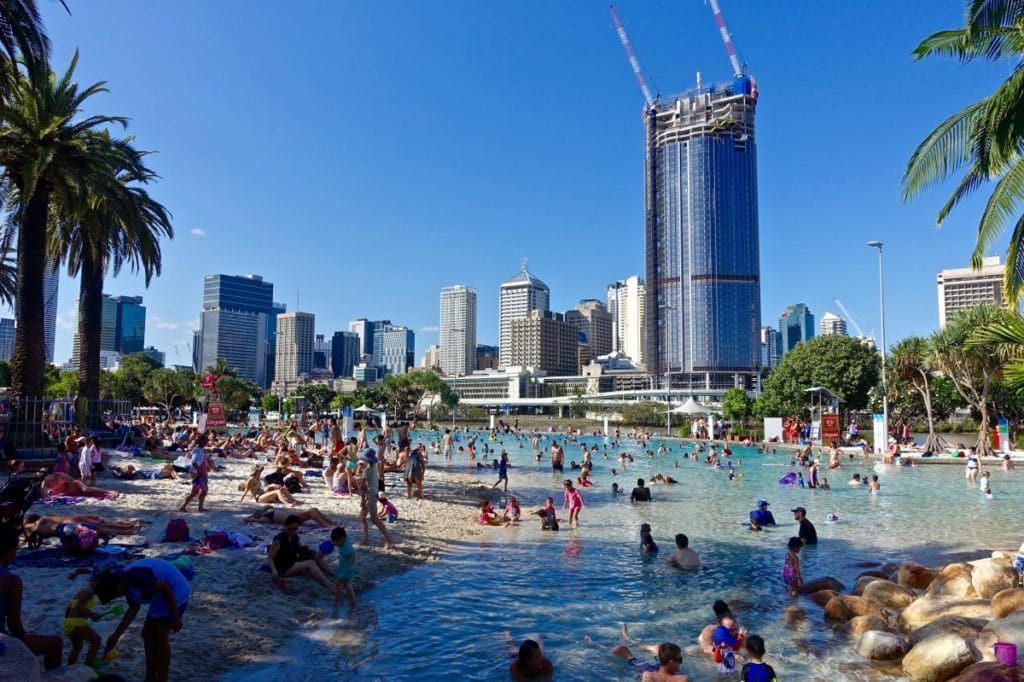 Day 2 & 3: Noosa
Start your big journey north gently today and just travel a few hours north from Brisbane up to the gorgeous town of Noosa on the Sunshine Coast. There's so much to do in this beautiful coastal resort that you'll have to pick a few favourites. Stand-up paddle boarding on the river is a great way to enjoy the morning here, followed by a relaxing afternoon sunbathing on Noosa's popular main beach. In the evening, enjoying a few drinks in the historic beer garden of Halse Lodge is a must.
Enjoying another lovely day in Noosa will give you a chance to explore some other parts of this superb town. After a morning coffee at Bean Drop, why not check out the Noosa National Park. Walk the coastal trail round to the enclave of Sunshine Beach and keep your eyes peeled for a koala or echidna. Then enjoy a drink or meal on the terrace at the Sunshine Beach Surf Club, with a view to die for, it's a hard spot to beat.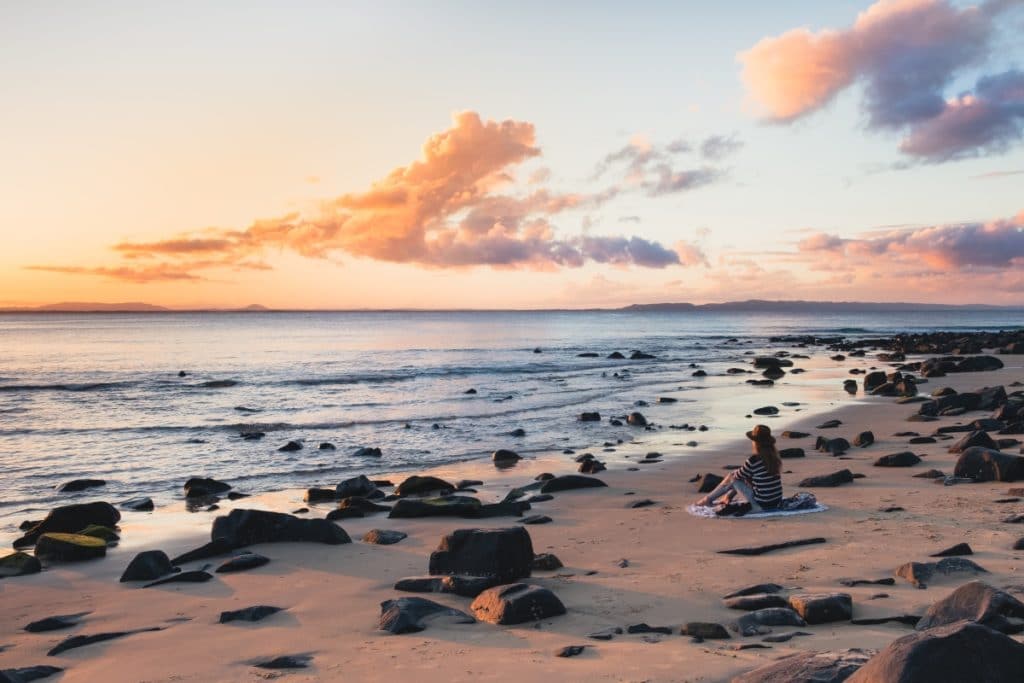 Day 4 & 5: Fraser Island
It's an early start today as you want to get the most out of your time on Fraser Island. From Noosa, head up Teewah Beach, stopping to enjoy the coloured sands and Carlos sandblow at Rainbow Beach. Then hop onto the ferry to Fraser and, once there, drive to Lake McKenzie and enjoy a cooling dip, before setting up your camp for the night.
Enjoy another jam-packed day on Fraser making sure you check out all the highlights, including Indian Head, Lake Wabbi, Lake Benaroon, Eli Creek and the Maheno Shipwreck. Spot dingoes on the beach, dolphins in the ocean and, if you're lucky, perhaps even a whale or two. At the end of the day, get the ferry from the Kingfisher Resort on Fraser across to Hervey Bay and spend the night there.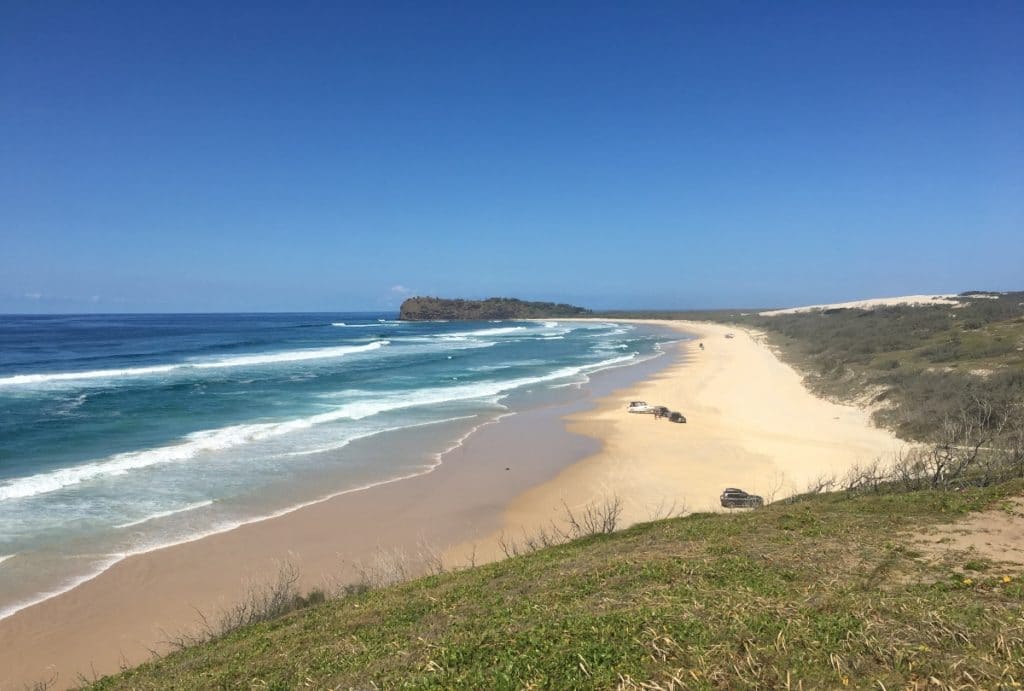 If you don't have your own vehicle, it is always possible to join a tour, for a day or more! Departures are usually from Noosa and Rainbow Beach.
Day 6 & 7: Agnes Water
From Hervey Bay, continue your road trip north until you reach the gorgeous haven of Agnes Water. This tiny town at the end of the track, is a low-key, relaxed beach paradise. Its neighbour, the town of 1770, is the first place Captain Cook set foot on Queensland soil. Enjoy the walk at the Joseph Banks Regional Park here and take in the gorgeous coastal views.
Why not spend another day in Agnes taking your last opportunity to enjoy the famous Queensland waves. North from here, the Great Barrier Reef stops the awesome sets from rolling in, so take advantage by trying your hand at surfing. Agnes Water is actually the cheapest place for you to learn to surf in Queensland.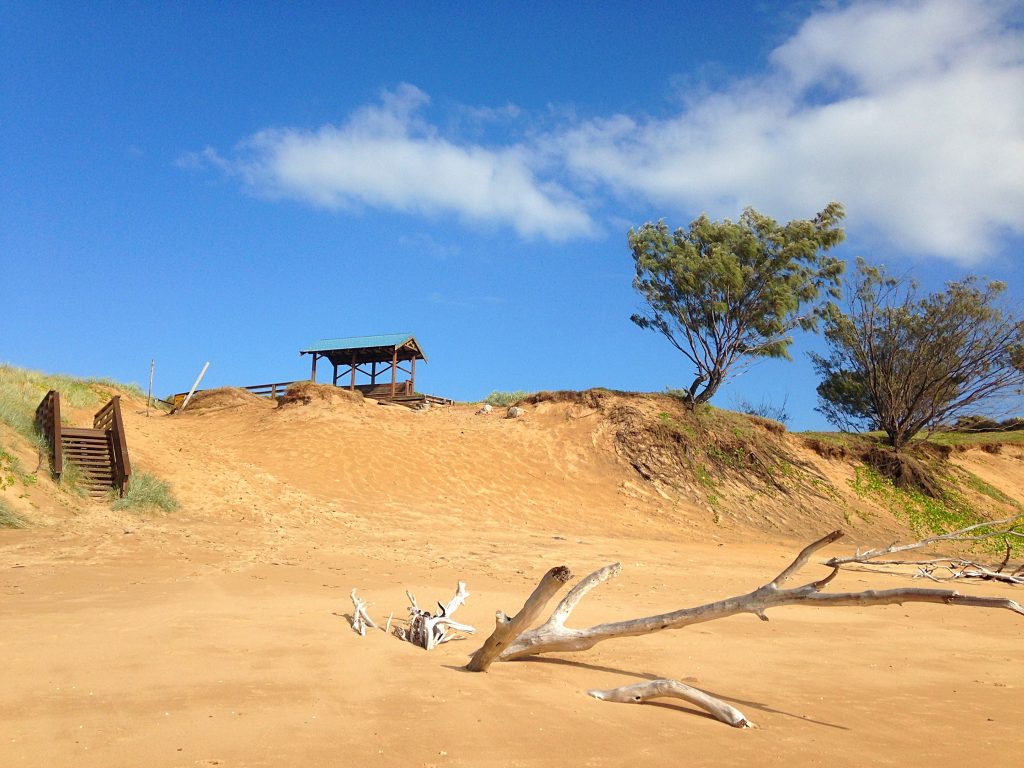 Day 8: Cape Hillsborough
Stopping at Cape Hillsborough National Park for one night is a must, especially if you have a campervan. Just 50 km north of the city of Mackay. This national park boasts some amazing beaches, but is most famous for its beach-loving kangaroos. Each morning at dawn, grey kangaroos and wallabies descend on to the sand here to feast on the mangrove seed pods washed up by the tide. Grabbing a snap of them silhouetted against the red dawn sky really is a wonderful treat.
Day 9: Airlie Beach
From Cape Hillsborough you want to head to the backpacker mecca of Airlie Beach, which is the main gateway to the Whitsundays. Airlie Beach is a very popular place to do skydiving, if you're feeling brave! Otherwise you can just enjoy a relaxed day here at the Lagoon, staring out over the idyllic views of some of Australia's most picturesque islands.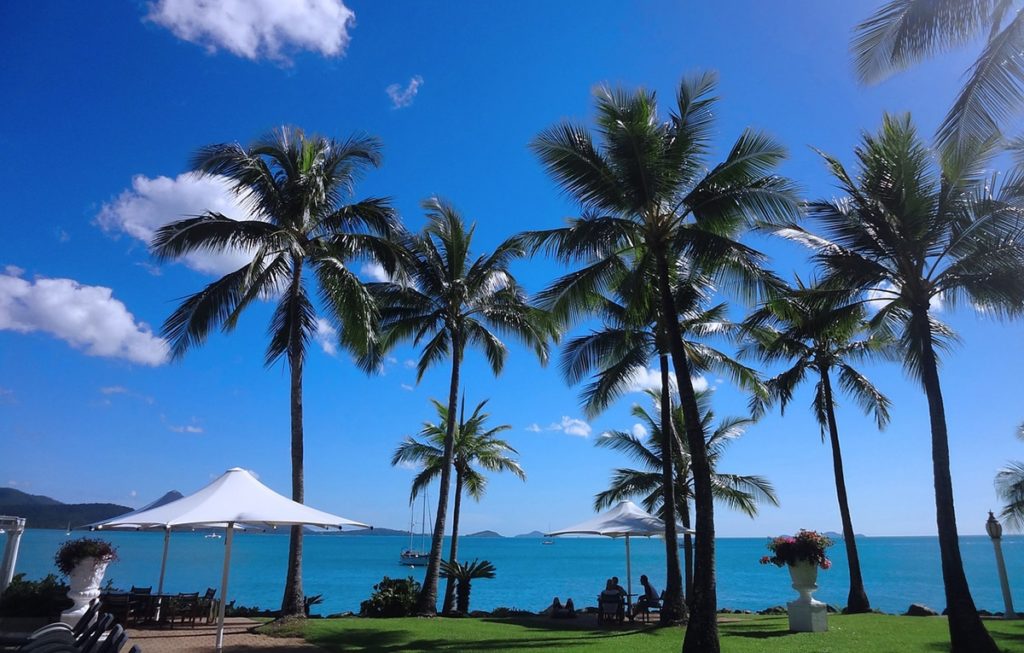 9-10: Whitsunday Sailing Trip
No trip to Australia's East coast is complete without a Whitsundays sailing trip, so jump aboard from Airlie Beach and prepare to have the time of your life. From snorkelling and diving in the tropical waters, to visiting breathtaking white sand beaches, taking a 2-day sailing trip here is bound to be an experience you'll never forget.

Don't miss Whitehaven Beach, one of the most beautiful beaches in the world. The natural landscapes are spectacular, the sand is incredibly white, the water is clear and the sea is full of corals and multicoloured fish. What more could you ask for?
If you want to get a panoramic aerial view of the islands, there is also the option to explore the Whitsundays from above on a scenic flight. It's a little pricey, but if you have room in your budget, the views are unforgettable!
Day 11 & 12: Magnetic Island
From one set of islands to another, the next hot spot north from the Whitsundays is the lovely Magnetic (or "Maggie") Island just off the coast of Townsville. Arrive here after a short 20-minute ferry ride and instantly relax under coconut palms on the quiet beaches.
For your second day on Magnetic Island, it's all about hiring a 4WD to explore the most remote parts of this fab location. Checking out the walk to the Forts and spotting some koalas and wallabies on the way is a must. After this, take the off-road track down to the gorgeous bays of Florence and Radical. Snorkel with tropical fish and turtles before heading to Horseshoe Bay for some lunch. Later in the afternoon, head over to West Point for one of the most spectacular sunsets you'll see on the whole East coast.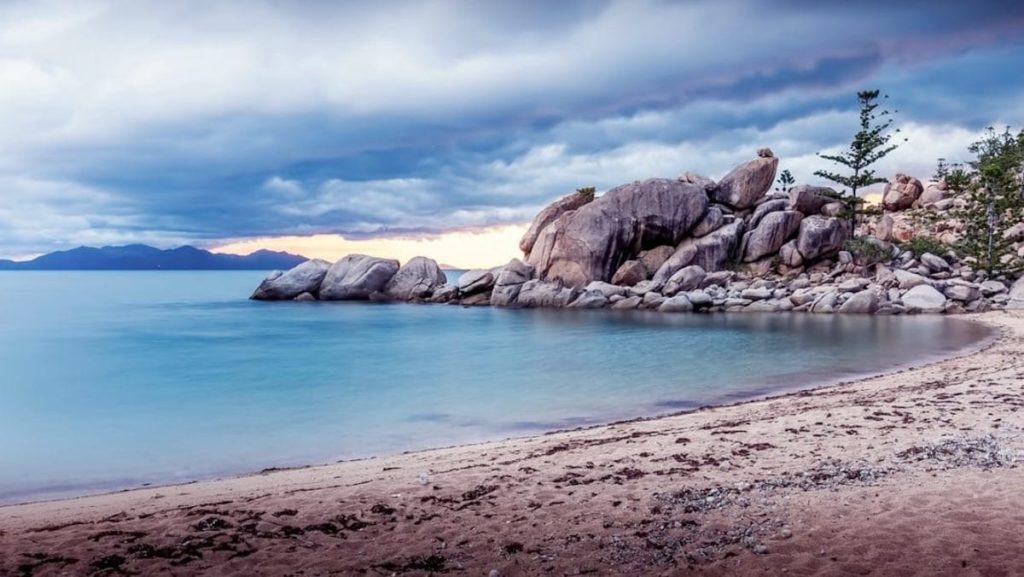 Day 13: Mission Beach
You're well into the tropics now, so why not make the most of it by visiting yet another beach!
On your way, take a detour to Wallaman Falls. Located in the Girrigun National Park, this waterfall is the highest in Australia at an amazing 268m tall. It is listed as a UNESCO World Heritage Site and well worth the trip!
Afterwards, continue your journey to Mission Beach, a seaside town nestled between coastline and jungle. Lined with palm and coconut trees, the pretty main beach is ideal for sunbathing. However, be careful if you're going for a dip, as crocodiles roam the area and jellyfish are rampant during stinger season! Swimming is usually fine between the protective nets in certain areas, but it pays to be vigilant.
If you missed your chance to go skydiving at Airlie Beach, you can take the plunge here! Mission Beach is also a great place for a hike. If you're lucky, you might spot a cassowary in the jungle!
Day 14: Cairns
After 2 weeks of travelling, you've finally reached the last stop on your itinerary! The gateway to the Great Barrier Reef, the city of Cairns is famous for its chilled out atmosphere and tropical climate.

This city of 150,000 inhabitants has a lot to offer visitors. Boasting an artificial lagoon with stunning views of the coastline, heavenly beaches and islands, lush Botanic Gardens (that are free to visit) and buzzing nightlife, you'll never be bored here.
Cairns is also the perfect base for exploring the many natural attractions and activities to be found in the surrounding area. Some of the highlights include whitewater rafting in Tully, getting close to crocs at Hartley's Crocodile Adventures, and the famous Daintree Rainforest and Cape Tribulation.

Accessible by ferry from Cairns, the Daintree Rainforest is one of the oldest forests in the world. It will allow you to explore the Australian fauna and flora like an adventurer! You will be able to see a variety of unique plant and animal species and feel connected to nature like nowhere else. There is also the option to go on a guided rainforest walk with a local Aboriginal tour guide, learning about the history, culture and traditions of their people and sampling some bush tucker.

Located north of the Daintree Rainforest, Cape Tribulation is one of Australia's most famous beach resorts. You can admire breathtaking landscapes and explore the colourful seabed. Cape Tribulation is also where navigator James Cook ran aground when he discovered Australia in 1770. The region is therefore full of historical references.
Day 15: Great Barrier Reef
You always want to make sure your last day is a good one, so why not create some amazing memories by visiting the Great Barrier Reef from Cairns. If you don't have to get on a plane in the next few days, then scuba diving here is highly recommended! Otherwise, a boat trip and a snorkel will suffice. Either way, it will be a great way to round off your time on the East Coast.
Tours to the Great Barrier Reef
Find the best tours to the Great Barrier Reef. Read this article to find out more!
Free East Coast Guide to download
Download the complete Guide for a Road Trip on the East Coast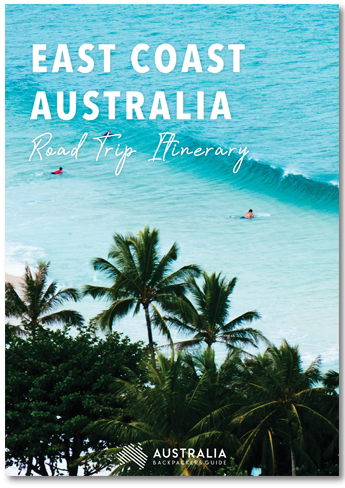 Our FREE 52-page guide brings together all the info you need for your East Coast Road Trip in Australia:
Preparations (seasons, budget)
All the best spots to visit on the coast
The best tours & activities
Spots to park and sleep in a campervan