Fraser Island is a must do for travellers. It is such an adventure, it is wild, beautiful, rich of landscapes and fauna. However, it is the kind of trip you need to prepare. First of all because there are some conditions to be adhered to on the island (permits, 4WD, etc), but also because there is not much there and it can be pretty dangerous to arrive in the wild without the necessary equipment. You could easily go from an amazing time to the worse holiday ever. You will find in this article all the necessary information to prepare your trip as well as some ideas to make up your itinerary once on the island.
Fraser Island – History
Fraser Island is the largest sand island in the world. It has a length of 123km and it is 22km wide. It is situated 300 km away from Brisbane and 15 km off the coast of Hervey Bay or Maryborough. Fraser Island was originally occupied by the Butchulla people, aboriginal meaning "The sea people". In Butchulla people's language Fraser Island was called K'gari meaning "Paradise". Aboriginal legends are numerous and beautiful about the creation of the island.
Fraser Island was discovered for the first time in 1770, by James Cook. However it is only in 1836 that Captain Fraser, his wife and his crew sailed onto a reef. Many died, among them Captain Fraser, after he got captured by "Natives" with his wife. The name Fraser Island would be coming from Eliza Fraser. After weeks spent with the "Natives" she got rescued and went back to England. She told her story to everyone and from those stories the name Fraser Island became notorious.
Considering archaeological evidence, there has been signs of aboriginal life from 5000 years back.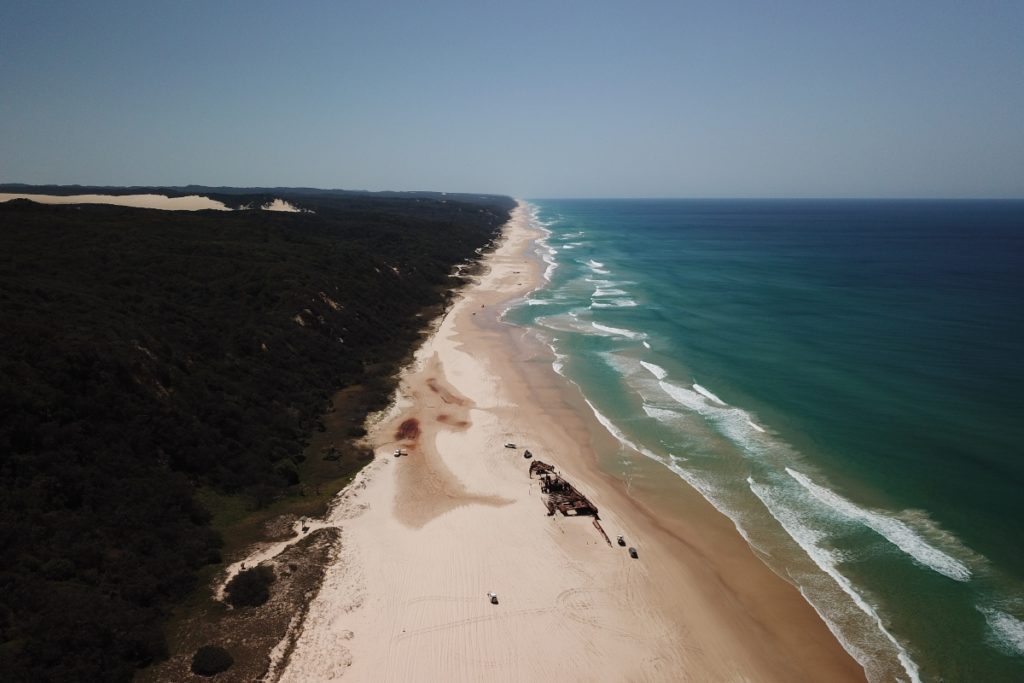 Explore Fraser Island – How long do you need?
The duration of your stay will all depend on your expectations. However seeing the most famous places on the island means a lot of driving. We would recommend at least 2 nights on the island and 3 days exploring to make the best of your stay. Take your time, enjoy each place you go to and the feeling of wildness you will experience. Saying that everybody is travelling differently and some people enjoy seeing a lot, very fast. In that case you can totally go for only 2 days (some people even do it in one day). It looses a bit of its charm and will be pretty exhausting but it is doable.
Advice: You might go to Fraser Island from Rainbow beach and arrive late in the afternoon. There isn't a real point crossing because you will arrive at night on the island. At Inskip Point, right where the ferry is departing from, there are heaps of camping spots ($6.55/night/pp). It is just stunning and you will camp right on the beach. 
Download Fraser Island Map : www.npsr.qld.gov.au/parks/fraser/pdf/fraser-island-map.pdf
Fraser Island – Travel options
With your own car
People owning a 4WD in good condition can consider going to Fraser Island on their own. You need to prepare your trip and make sure you bring all the necessary equipment in case you find yourself bogged in for example. It can be a good way to explore the place, away from tourists groups and taking the time you need at each place you go to. To make sure you drive safely, check out the wall of shame gathering pictures of all the car problems/accidents on Fraser. You will find it at the Visiter Center where you can also get all your permits and boat trips. It is pretty scary.
Tours
If you don't have a vehicle or if your vehicle isn't appropriate for Fraser Island you might want to book a tour. There are many departing from Rainbow Beach, Hervey Bay and Noosa. Prices vary depending on how long you are going to Fraser Island for, on what you are choosing to see, on the city of departure, etc. It is pretty cool if you are travelling alone and want to have a bit of party time on Fraser.
Renting a 4WD
When you don't own a vehicle or at least not a 4WD, you might want to rent one from a specialised agency. As for tours, prices vary depending on the length of your stay, on the type of 4WD you are renting, etc. Prices are around $180/pp/day.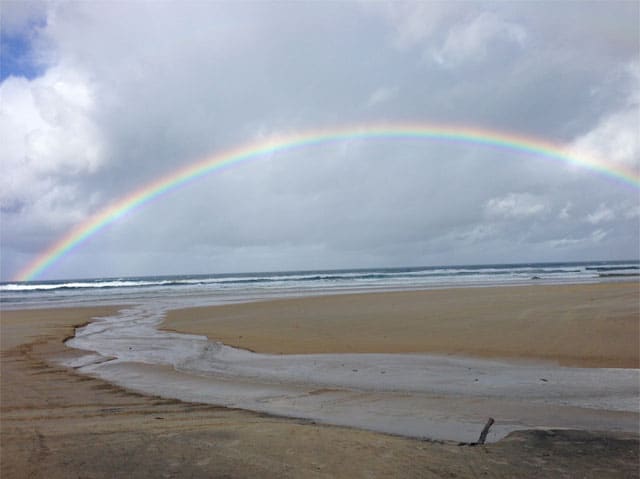 Finding a lift
A good option to explore Fraser Island could be to find a lift. There are many people looking for travel mates when they go to Frazer Island. It is indeed a bit pricy to go with your own 4WD or to rent one and it can be convenient to have a car full and share the costs. This option can be great to meet people without having to go on a tour with its "touristy' side.
Fraser Island – How to get there
You can get to the Fraser Coast:
– By road: The Fraser Coast is situated 3 hours away from Brisbane along the Bruce Highway.
– By air: You can get a flight direclty to Hervey Bay. Indeed, Virgin Australia operates direct jet services from Sydney or Brisbane to the Fraser Coast (Hervey Bay Airport).
– By bus: You can get a bus from Cairns, Brisbane or the Sunshine Coast to the Fraser Coast. They operate daily.
– By rail: Queensland Rail operates regular services from Brisbane, Rockhampton and Cairns to Maryborough West.
Once on the Fraser Coast, there are two ways to get to the island:
– From Rainbow Beach: Manta ray barges – Inskip Point to Hook Point, operating from 6am til 5.30pm, 10 minutes travel time, no bookings required
Price: $120/car return
– From Hervey Bay: Frazer Island barges – River Heads to Kingfisher Bay and Wanggoolba Creek, 30 to 50 minutes travel time, bookings required
Prices: $175/vehicle – $200 during peak season
Don't forget to put your hand break on and to be in gear while travelling on the ferry.
Before arriving on the island – Check the tide
It is difficult to plan a proper itinerary considering that your possibilities will depend on tides. It is something you really need to consider when going to Fraser Island because you need to plan your full trip around it. You don't want to go up north and stay stuck there for hours because you didn't realise the tide was coming in. There are a few difficult spots to go through on high tide. For instance, approximately half way on 75 mile beach you will drive pass Eli Creek. It is the most critical part of the beach on high tide. The creek joins the sea and it gets really deep. Be extremely careful there and don't try to cross or you might say goodbye to your 4WD. 
Fraser Island – Where to Camp
There are 45 camping area options on Fraser Island. Each camping spot offers different facilities and amenities. They are situated all around the island. You will need to check a map and choose the spot the most adapted to your itinerary on Fraser Island.
Some camping areas are surrounded by a fence to be dingo safe. It is recommended with kids for example and safer with food.
Camping is $6.55/pp/night.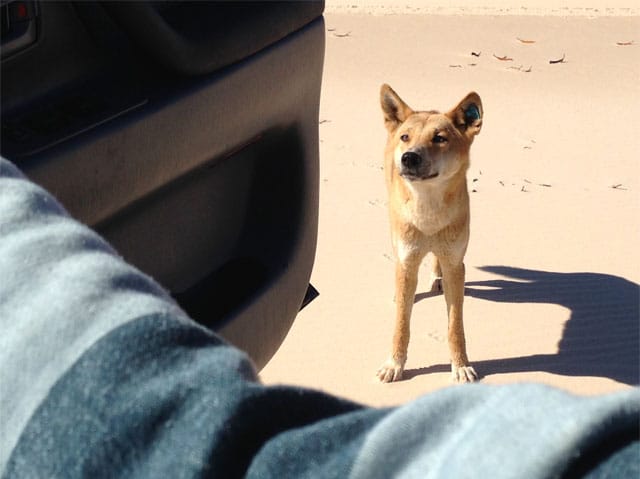 Fraser Island – The best spots
75 mile beach – 75 mile beach is situated on the East coast of Fraser Island, you can drive all the way up North and look for whales jumping from the view on the side. You will drive up to Champagne pools, pass Maheno wreck, Eli Creek, etc. It is a very nice drive and always such a pleasure to drive on the beach! A unique and adventurous experience. However avoid swimming, currents are extremely dangerous and it is full of sharks!
Maheno Wreck – The wreck used to be a hospital ship used by the New Zealand Naval Forces during World War I, it was washed onto Fraser Island coast by a cyclone in 1935.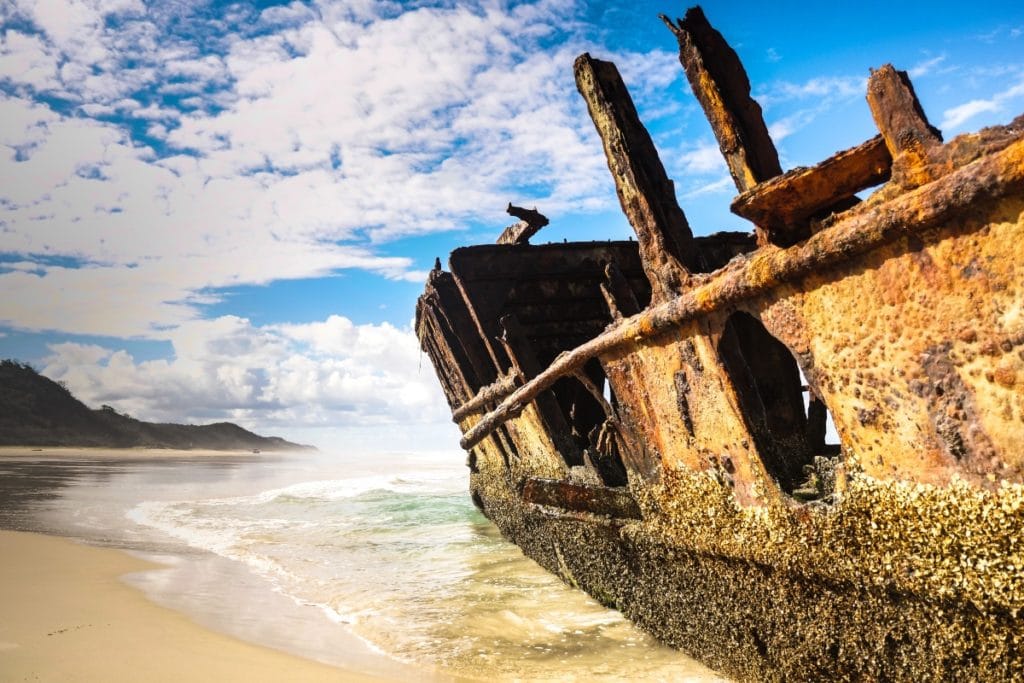 Champagne pool – Situated up North, Champagne pools is a pretty cool spot. The surf breaks and craches onto a wall of rocks arriving into a rock pool. It makes natural bubbling water, feels like a spa! The water is clear and it is a nice place to have a picnic or to spend an afternoon of leisure. There are two possible routes to go there, by foot from Indian Head or by vehicle. To go there by 4WD you will need a high clearance one as it is very soft and the sand is deep. Don't try it with a low clearance vehicle, you would not make it. You can walk there and enjoy the beautiful landscape. Allow a few hours.
Indian Head – Captain Cook gave it its name in 1770, when Fraser Island was first discovered. The name would come from the aboriginal people he saw, Native populations were all considered as Indians at the time. It is located at one end of 75 mile beach and supposedly the best point of view of the island. You can see whales (during the right season), dolphins, sharks, turtles, etc. from there. It is also the starting point for the walk up to Champagne Pools.
Lake McKenzie – Lake McKenzie is a perched lake, which means it is only fed by rainwater whereas other lakes are usually fed by streams and flow to the ocean. The water is extremely clear and the sand extra thin. It is also slightly acid which limits the number of species living in the lake. Ideally, visitors should avoid to wear sunscreen, mosquito repellent, etc because it is polluting the extremely pure water. Absolutely beautiful and unique spot, it is perfect for a picnic (Be dingo safe, stay in the fenced area). There are also toilets facilities at the entry.
Driving up to the lake McKenzie is pretty rough. It isn't far from the beach, only 25/30 kilometres. However it is going to take you easily 3 hours return. You can only drive at 20 kilometres/hour as you are driving on an sandy and rocky track.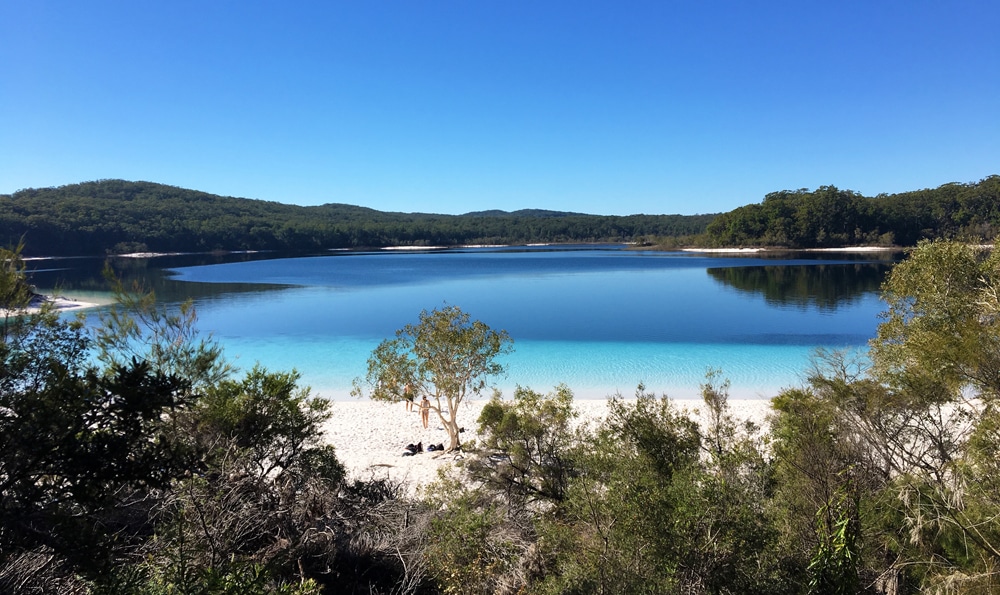 Eli Creek – Eli Creek is a freshwater creek going from in land to the beach. You can walk on its side along the board walk, jump in and float to the beach on your way back. The water is so clear and the landscape so wild and beautiful, you won't regret the stop! Be careful when you drive through at high tide, it can get pretty deep. Stop for a while and enjoy the area while the tide lowers. There are toilets facilities there. Bring a floatable ring or a boogie board for more fun!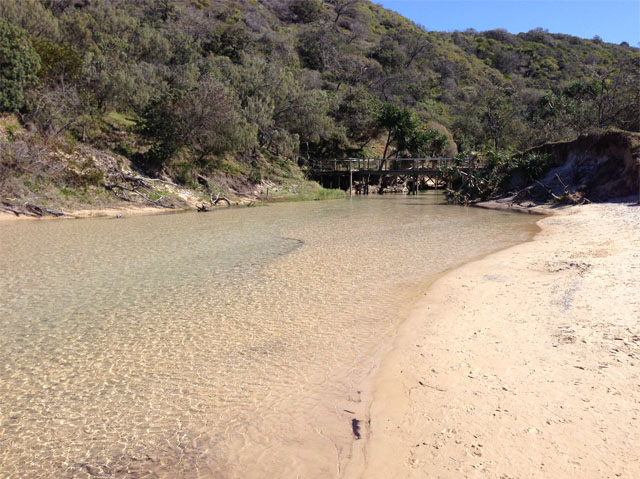 Pinnacles – The Pinnacles are composed of coloured sand from iron compounds in the silica sand. They are made of numerous colours looking like a rainbow.
Lake Birrabeen – The lake is very similar to Lake McKenzie but not as touristic.You will find there the same clear water and white sand. It is much more quiet so perfect if you prefer staying away from full buses of tourists.
Wungul sand-blow – Huge sand dune located behind the Dundubara camping ground. It is so big you will feel like being lost in the desert.
Fraser Island – Practical information
The only vehicle suitable for Fraser Island is a 4WD. You also might want a high clearance one as drivers with all-wheel drive or low clearance vehicle will find it hard to get to some places. Fraser Island, being a sand island, is an easy place to get bogged . You definitely want to be prepared to be able to get yourself out of these situations.
You will find that recovery is extremely costly on the Island and can take hours. Wet sand is also super dangerous and getting bogged in there could mean saying goodbye to your car when the tide comes in. That is why you need to remember to pack a few things such as spare tyre, tools, shovel, etc.
Try to not drive in the salty water because it is extremely bad for your car. Also when you leave the island the best is to rinse your car with fresh water to avoid rust.
Many people going to Fraser Island are driving on sand for the first time. It is pretty different and can be a bit tricky to not get bogged. First thing is to have a low tyre pressure. Then try slowly at the start and get use to it without taking any unnecessary risks. There are heaps of creeks running from in-land up to the sea. You don't always see them well but they can be deep and damage your car. Always put your breaks on, better than destroying a wheel.
It is advised to travel at low tide as it is really dangerous on high tide and chances to get bogged increase heaps.
It is advised to travel on the beach 2 hours either sides of low tide
You will need 2 kinds of permits before getting to Fraser Island:
– Vehicle permit: 51.6 AUD It needs to be displayed on your vehicle. You can get it online or at the counter
– Camping permit: 6.55 AUD/pers/night. Can be purchased up to 6 months in advance. Must be displayed and visible at your camp. Bookings can me made online, by phone and over the counter.
There are 3 petrol stations on Fraser Island and it is really expensive. You absolutely need to come to Fraser with a full tank but also with jerry cans if you can. You will be consuming a lot of fuel while driving on the island and it is always better to be prepared in case you would get lost or be too far away from the petrol station.
Fraser Island has a subtropical climate. Temperatures range in average from 22 to 28 degrees.
It is quite moderate due to the proximity to the sea. However it is often windy and can get pretty cold at night
Fraser Island fauna is pretty diversified. You will find reptiles, birds, dolphins, whales, dingos, etc. There have been some crocodiles sightings on the west coast as well as stingers. Fraser Island is also know to be circled by numerous sharks (great white, tiger shark, etc).
The island is a great spot to be whale watching and during the right season you will see them jumping everywhere, sometimes extremely close to the shore.
Remember, be dingo safe! Never feed a dingo or try to get closer. They are wild dogs and can be dangerous. Such behaviour is also illegal and you can get a big fine for it.
There aren't toilets and showers at all camping areas. Some aren't offering anything and you need to have disposable toilets in your vehicle to stay there. Some only offer toilets and some toilets and showers.
You will need to check the Fraser Island map to get all the information about toilet facilities and choose the spot the most adapted for you. Be aware that showers aren't free and you will need $2 coins to use them. They also only last for 3 minutes.
Campfires are prohibited at the exception of two places (Dundubara main and group area, Waddy Point) where fire rings are available. There is however a total fire prohibition sometimes during the year when the island becomes to dry.
Be aware that it is totally forbidden to collect wood on Fraser Island, you need to bring your own or you might be fined.
You need to check the Fraser Island map to get the rubbish collection points. There are a few on 75 Mile Beach. You won't be able to get rid of your rubbish anywhere else.
You can buy food on Fraser island but it is very expensive. You definitely want to go shopping before.
Take with you:
– a lot of water it is getting really hot inland and get to the closest shop can take hours
– $2 coins if you want to have a shower
– 50cents and 20cents coins to use the public telephone (there is no service)
– wood if you are going to use one of the fire pits (it is forbidden to pick up wood on the island)
– some jerry cans of fuel, unless you want to pay $2.20/p/l on the island. You will need more than a full tank to get to all the spots to see on Fraser
Finally, put your car back on 2WD when you aren't on soft sand or when the soil isn't to rough, you will save heaps of fuel.
Updated on 26/09/2019 – Initially published on 28/02/17