Working on a dairy farm can be a unique experience – and an ideal way to renew your WHV in Australia. After giving her advice on how to find a job on a dairy farm in Australia, here Melissa shares her experience of her 88 days work on a dairy farm. A long and (sometimes) difficult experience, it did allow her to renew her WHV and stay for a second year in Australia! Here are all her tips and reflections.
Renewing your WHV through working on a dairy farm
As you probably know, to qualify for a second WHV in Australia, you need to complete 88 days of approved work. There are many eligible jobs; you can choose from fruit picking, working in the mines, or on solar farms…. but you can also choose to work on a dairy farm!
In any case, make sure that the postcode of the place where you work is eligible as the jobs must also be in eligible, rural areas of the country!
Note that you can then renew your WHP for a third year in Australia if you work 6 months in a job in an eligible region while you are on your second year. The eligible jobs and regions are the same as for your first renewal.
For more information on eligible areas, click here.
Melissa's experience
When I arrived in Australia I had no idea what to expect. I always knew that if I wanted to, I could go and work on a farm for 88 days to qualify for my second year's visa. I was in my flat in Sydney when I started thinking about regional work. To be honest, I was desperate to get a job. The city was too expensive and my budget was stretched to the limit.
So I travelled across the country with another backpacker to the Perth area. We had not managed to get a job on a farm, but we had a source of income working at a petrol station while we searched. We soon received a job offer on a dairy farm so we left our new jobs in a hurry, though it had meant going back to Victoria. All the travelling back and forth had used up our savings, so we had no other option than to get to work.
We arrived on the dairy farm in the middle of summer, the flies were everywhere and the smell of manure was unmistakable.
The first few days working on a dairy farm
I remember my first morning when I was working on a dairy farm. The owner's wife was training me near where the cows tended to relieve themselves. I watched her clean the rails covered in crap and I thought I could never bring myself to do the same. This was confirmed when a cow relieved itself on my neck. That night I cried and said to my travel partner that I didn't think I could handle it. However, there was a catch; I couldn't afford to leave.
So I wrote a list of 88 reasons why I should stay there to help my motivation.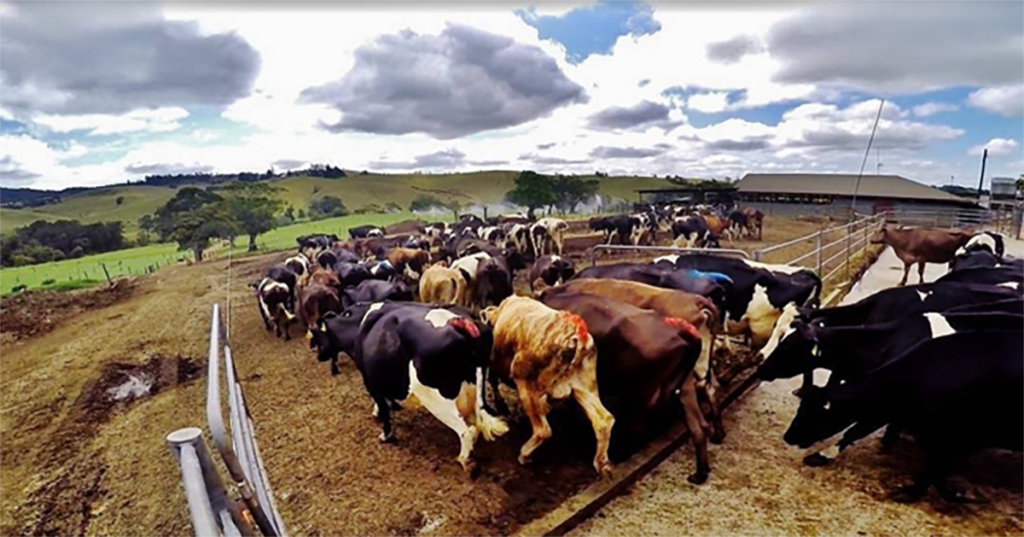 What it is like working on a dairy farm
Slowly, I learned to set up mental barriers and I learnt to (barely) avoid the 'splashes'. Then, one day, I started to laugh about it as I had come to realise it was just grass and digested grain.
I don't know exactly how it happened, but one day I started to feel a certain love for cows, despite my initial reservations. This was definitely unexpected!
Working on a dairy farm means working twice a day for a few hours. It also means milking a few hundred cows, getting tired and learning a lot of new things.
Completing 88 days on a dairy farm
When we left the farm, we hadn't completed our 88 days, but we knew that we would always be able to experience dairy farming again if needed.
*Insert the same story again here*; we ran out of money on a road trip. Life on the road is quite expensive! We once again needed to find a job to fund our adventures. So we finished our 88 days on another dairy farm. In fact, we even worked there for a total of 10 months to fund our travels through Australia and New Zealand.
Yes, we are now cow "experts" and these new skills have saved us from bankruptcy more than once!
The advantages of this kind of work
Working many hours a week (30 to 60 hours)
The cheap accommodation on the farm
The ease of saving money (living far from a city means you don't spend money every day)
Our experience on farms in Australia has helped with obtaining jobs or even working on a HelpX project
Obtaining a second-year (or third-year!)visa
Disgusted? Convinced? Would you be able to work on a dairy farm?