Located in South Australia, off the coast of Adelaide and accessible by ferry, Kangaroo Island is a must-see destination for nature lovers. At 155km long, the island offers a diverse landscape with impressive cliffs, beautiful beaches, white sand dunes and stunning rock formations. Kangaroo Island is the third largest island in Australia and is a very well preserved place with an abundance of protected wildlife including kangaroos, koalas, sea lions, pelicans… You will find all the information and practical advice for an unforgettable stay on Kangaroo Island below.
How to get to Kangaroo Island?
The island is located off the coast of Adelaide. To reach the island, you have two options; a ferry crossing or flying.
Ferry crossing
You will need to take the ferry from Cape Jervis, located at the tip of the peninsula, 90km south of Adelaide. There are 2 companies that operate between Cape Jervis and Penneshaw on Kangaroo Island:
Kangaroo Island SeaLink
Kangaroo Island Connect
With SeaLink, the crossing time is approximately 45 minutes. Remember to book your ferry in advance. The company operates 5 departures a day in both directions. For fares, expect to pay around $200 return for a vehicle and 2 people. Plan to arrive half an hour before departure to Kangaroo Island for check-in and boarding of the ferry.
Island Connect is a new option with a 30 minute crossing. There are fewer options for days and times. Again, remember to book your ferry in advance. Prices are a little higher than Sealink.
Flying
The island is also accessible by air from Adelaide. Qantas or Regional Express airlines offer daily flights. Qantaslink also offers flights from Adelaide or Melbourne as an alternative but they are less frequent.
How much time should I allow and when should I visit Kangaroo Island?
How much time should you allow?
Kangaroo Island is a wilderness, a place of beauty and escape. It is also a large island, covering 4,500 square kilometres, so we recommend that you take the time to explore the island. For example, you can choose to do all 7 regions of the island in 7 days. That said, four or five days may be enough to discover the island's main sites and highlights. Finally, for those in a hurry, 3 days will give you a good taste of the island. We recommend no less than 3 days to appreciate the beauty of the island.
Best time to visit the island
With four distinct seasons, you will have a very different experience depending on which season you choose.
Spring (September-November) is when the flowers bloom and the wildlife becomes very active again. This is the best time to enjoy outdoor activities such as hiking, bird watching, kayaking, fishing…
In summer (December-February), you will easily find a beach to your liking. From the south to the east, the coast is lined with quiet bays. You will be spoilt for choice. Surf, swim, snorkel and discover coral and small reef fish.
In autumn (March-May) it is warm enough to enjoy the day outside but the nights are cool. In winter you will find waterfalls, lush pastures, but it is cold during the day so you will not be able to enjoy the island's beaches.
You can always find something to do on Kangaroo Island, no matter what season you visit. However, we recommend that you visit during the summer months or mid-season.
How to visit Kangaroo Island?
Once you arrive on the island, you will realise just how wild and natural it is. There is no public transport on the island, so a car is essential when visiting Kangaroo Island. Most of the roads are paved, but some of the more remote areas require a 4WD.
If you don't have a car, you can rent a car on the island. You can find Budget and Hertz at the ferry terminal. You can also rent a car, 4WD or van from Adelaide. In this case, check with the rental company that the vehicle is allowed on the island.
Finally, you can also join an organised tour which depart from Adelaide. Sometimes they include the discovery of the island but also the Great Ocean Road.
Best places to see
In total, there are 7 regions to discover on beautiful Kangaroo Island. It will take you about 2 hours to cross the island from East to West. Here are the regions and their points of interest: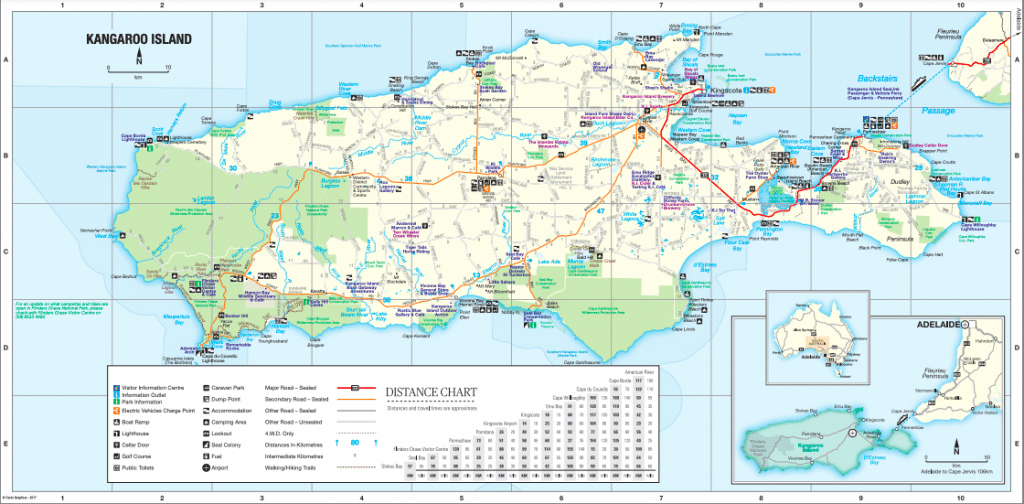 Penneshaw and Dudley Peninsula
Located on the eastern side of the island, this peninsula is a wine lover's delight. Indeed, this part of Kangaroo Island is renowned for its wineries, which you can visit to sample the local wines. You can also visit the Penneshaw Penguin Centre, where you can watch penguins in their natural environment on night tours and learn more about these little creatures. ($18/person – evening tours, times vary by season).
American River
Just 30 minutes from Penneshaw is the small seaside town of American River. It's one of the best fishing spots on the island and a great place to relax while you sample local seafood. The calm waters of Pelican Lagoon are ideal for kayaking, and you may also see Tammar wallabies when you walk one of the area's trails.
Kingscote & District
Kingscote, located on picturesque Nepean Bay, is the island's main town with a population of around 1,500. The main attraction is the pelican feeding at Kingscote Wharf ($5/person – 5pm daily). You can take the coastal walk from Kingscote to Brownlow to swim in the natural pool that fills up with the tides. You can also explore the area around Reeves Point where you can learn more about the history of South Australia's first European settlement.
We also recommend a trip to Kangaroo Island Brewery, a microbrewery where you can taste a beer brewed right in front of you!
The North Coast
From Kingscote on the North Coast Road, you'll find peaceful (and beautiful!) beaches along the coast, including Emu Bay and Strokes Bay, opposite Waves & Wildlife Cottages.
The tarmac takes you to Emu Bay before embarking on a network of unpaved roads on the north coast offering spectacular cliff-top scenery. From here you can explore pebble beaches and secluded coves. You can drive to Emu Bay beach from where it is often possible to see dolphins.
This region has some very special gems to visit. For example, George Turner's 40,000-light castle is beautiful by day and by night. Visit the Old Wisanger School to experience local life in the 1890s. The North East Coast offers many holiday accommodation options to suit all tastes and budgets.
West End
One of South Australia's best national parks, Flinders Chase stretches across the western side of the island. Here you can see the Remarkable Rocks (Kirkpatrick Point), huge granite boulders with amazing arches and shapes carved by time.
Nearby, Admirals Arch is a 20 metre high natural arch where a colony of New Zealand sea lions has settled. The Cape du Couedic and Cape Bordas Lighthouses bear witness to the courage of the first lighthouse keepers in the 1860's. (Park entrance $11/person – open 9am-5pm). You can also take one of the many hikes in the national park, some of which lead to secret beaches, including Snake Lagoon.
This area of the island is also where you can see the cute koalas. The best known place to see them is the Hanson Bay Wildlife Sanctuary. This sanctuary covers 2,500 hectares between Flinders Chase National Park and Kelly Hill Park. You can take a guided tour by day or night to see the koalas in their natural habitat!
Unfortunately the West End was badly affected by the wild fires in 2020 and the land still bears the marks of the devastating fires. However, nature has recovered quickly and the area remains beautiful!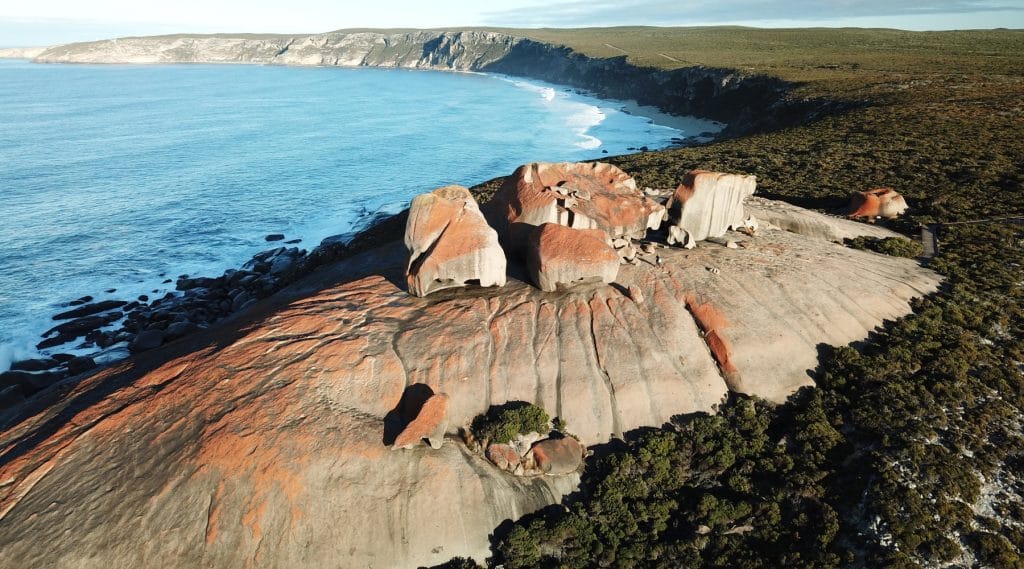 Parndana & Heartland
This is a region of farmland. Passing along the Playford Highway, you come to the small town of Parndana. Here you will find a pub, petrol station, post office and supermarket.
Established after the Second World War to support the Soldier Settler Scheme, the arrival of 174 families in the 1950s to Parndana almost doubled the population of the island. The Parndana Soldier Settlement Museum provides an insight into the challenges of transforming a landscape from wilderness to agricultural. The town is the agricultural centre of Kangaroo Island.
Just outside the town, you can discover the Kangaroo Island Wildlife Park. A wildlife park where you can feed the kangaroos, carry a koala and learn about the native animals in a family setting ($28/person).
The South Coast
The South Coast Road is the most popular part of the island and for good reason! There is a lot to see! Here is a short list to help you.
Vivonne Bay
Stroll along one of Australia's most beautiful beaches. You'll see sea lions up close and personal, or the sand dunes of the Little Sahara. This area is one of the highlights of Kangaroo Island for us. With white sand dunes as far as the eye can see, you can try your hand at sandboarding (or sledging for the less adventurous)! (Equipment hire from the General Store or Kangaroo Island Outdoor Action in Vivonne Bay – $37 for 2 hours hire).
Raptor Domain
For wildlife lovers and the curious, get up close and personal with the magnificent raptors of the Raptor Domain. This is not a zoo, this park takes in injured or orphaned birds of prey and rehabilitates them. The animals will be presented to you in mini-shows ("In-flight show") where the guides will fly the birds of prey and talk about their characteristics to educate audiences.
You will also find reptiles (snakes, lizards…) and Australian invertebrates (spiders, scorpions…) with their own shows!
Cape Gantheaume Conservation Park
A paradise for naturalists and birdwatchers, Cape Gantheaume is home to the largest lake on the island, as well as the flooded areas of Murray Lagoon. These habitats are home to many species of birds, including ducks, swans and herons. Here you can hike around the lake on the Coastal Trek and join the Kangaroo Island Marine Park to see sea lions on the beaches. You can also camp and fish at Estrées Bay. This area of the island is particularly great for a wilderness getaway!
Kelly Hill Conservation Park
When was the last time you went into a cave? Kelly Hill Caves, in the southwest of the island, offer guided tours into their depths. You'll see impressive stalactites, stalagmites and crystallized columns. For the more adventurous among you, you can take part in a descent with headlamps.
Unfortunately, this park was affected by the fires in 2020. You will need to check the website to see if it has reopened before visiting.
Seal Bay Conservation Park
Here you can walk along the beach where a colony of sea lions rest in the sun after fishing. (Tours at 9am and 4pm – Guided tour $35/person – BoardWalk access $16/person)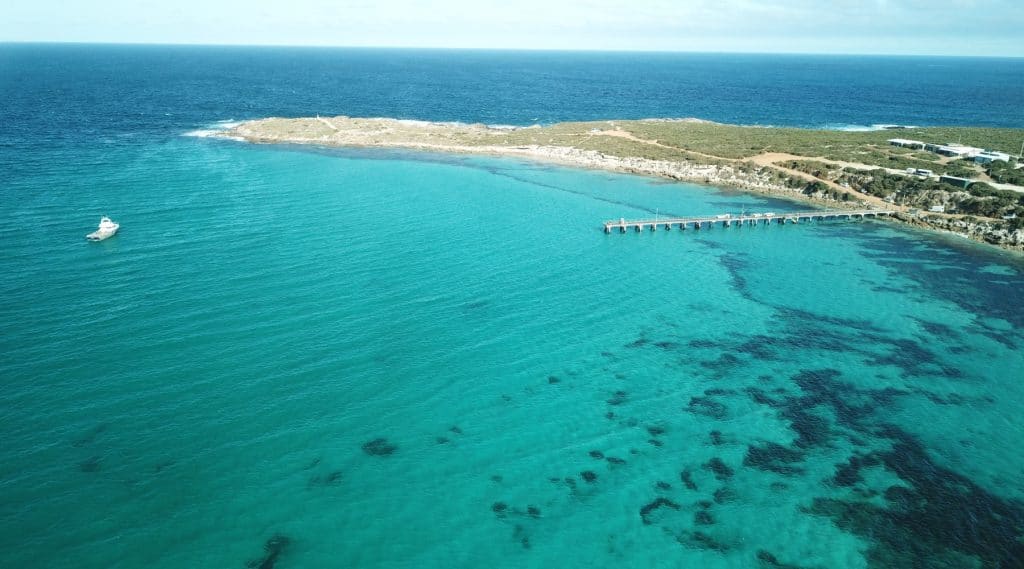 Things to do on Kangaroo island
There is no shortage of activities on Kangaroo Island. As well as exploring the island's different regions, vineyards and conservation parks, you can snorkel, cruise, quad bike and even sandboard. As you can see, there is plenty of choice and something for everyone.
Where to stay on Kangaroo Island?
There is no shortage of accommodation on Kangaroo Island. If you are looking for an Airbnb or a hotel, the northern part of the island is full of them! As for camping, there are about 20 grounds, including 7 public ones located all over the island. However, you will not find any "free-camps" on the island.
Among them, there is a ground in Vivonne Bay. Vivonne Bay Camp Ground is located next to the beach. It is a small camp ground with few pitches but with toilets, bbq and showers (for a fee). Prices start at $15 for places without electricity.
You can also opt for one of the unusual accommodations on Kangaroo Island, such as the former lighthouse keeper's houses at Cape du Couedic. There are three different houses to choose from.
History of Kangaroo Island
Kangaroo Island (or "KI" as the locals call it) was first discovered by the Frenchman Nicolas Baudin in the late 18th century (which explains the many French sounding names!). Kangaroo Island is a true unspoilt paradise where you can admire incredible landscapes, rock formations and abundant wildlife. Apart from kangaroos, koalas and marine animals, you can also discover Ligurian bees. Kangaroo Island is also the home of Pure Ligurian Honey, a honey produced only on the island by these special bees.
It all began in 1884, when Ligurian bees were sent to two farmers on the island. The following year they received queens of the same species and several colonies were established. Soon, Kangaroo Island was proclaimed a sanctuary for Ligurian Bees. Even today, no other bee species resides on the island, making these descendants the only pure Ligurian bees in the world! You can enjoy a free honey ice cream at Clifford's Honey Farm (on Elsegood Road, south of Kingscote).
You are now fully informed and ready to explore Kangaroo Island! If you liked the article, please share it. And if you know of any other amazing places on the island, let us know in the comments.