Located in Australia's 'Top End', Darwin is the capital of the Northern Territory. With a population of around 150,000, the city has a large Aboriginal community. Asian culture is also very present here, due to its proximity to the continent. Moreover, Darwin has a good geographical location if you want to fly to Bali, the Philippines or Guinea for example. It is also a city marked by the Second World War which was almost wiped out twice as it was bombed 64 times by the Japanese. And for those who have not seen saltwater crocodiles, this is the place to see them.
How do I get to Darwin?
From overseas
Darwin has an international airport which is located 13 kilometres north of Darwin city centre. If you have chosen Darwin as your arrival city for your trip to Australia, you will need to fly from France. This is a long journey, with more than 24 hours of flight time and usually 2 stopovers.
If you have not yet booked your ticket to Darwin, check out price comparison sites such as Skyscanner or Kayak. Avoid buying tickets during school holidays when prices are higher.
From Australia
By Plane
If you are travelling from another city in Australia, flying is still the preferred mode of transport. The rail network in Australia is not very well developed, so train travel is not a good option. Buses are generally cheaper but again the journey is long… If you don't leave it to the last minute, it is possible to find cheaper flights. For domestic flights in Australia, the low-cost airlines Virgin and JetStar offer affordable fares. Flying is generally more expensive but much quicker than buses or trains.
On a road trip
If you're on a road trip, you can also plan to reach Darwin from Alice Springs by van or car if you're coming from the south.
For those arriving from the West, read our dedicated article: Road Trip from Perth to Darwin on the West Coast
When to visit Darwin and how long to stay?
The best time to visit Darwin is during the dry season from May to September. It's hot or very hot but dry! No clouds on the horizon and no rain. We advise you to be in town during July and August as there are many festivals and events taking place. The most interesting ones are the Darwin Cup Day on August 5th, a very popular horse race which brings a lot of people and therefore a lot of work (ideal to work for a few days at a very interesting hourly rate for backpackers), the Darwin Royal Show at the end of July and the hot August nights which present you all the month of August with performances of dance, songs, aboriginal art, etc. Sometimes free, sometimes not, depending on the performances.
We do not recommend the wet season from October to April, it is stiflingly hot. You will be amazed by the humidity and rain every day!
Two days are enough to visit the city and enjoy without rushing. After that, plan several days to visit the surrounding area.
What to do in Darwin?
Darwin remains a lively city and there is plenty to keep you busy for a few days. Here are some of the things you can do when you visit the capital.
Beaches and waterholes
Although it is dangerous to swim all year round (crocodiles and deadly jellyfish are present from October to May), Darwin has beautiful beaches. The lagoon at Wharf Precinct is protected by a jellyfish net, so swimmers can enjoy the peace and quiet.
East Point is the ideal place for a beautiful 3km walk along the coast. You can see the city of Darwin across the ocean. The landscape is stunning, the sand is white, the water crystal clear in the early morning. On weekends, there are a few food trucks offering pancakes, fish and chips for a good time.
On the other side of the road is Lake Alexander in the middle of a park with a green lawn. If you get there in the early morning you can see wallabies! You can swim in the protected lake and kayak in it. There are free toilets and showers.
Not far from East Point, there is another beautiful spot called Vesteys Beach, ideal for relaxing and having a picnic by the sea with a breathtaking view of the ocean and its beautiful sailboats.
Then come and discover Mindil Beach, best known for its night markets every Thursday and Sunday night.
Be aware and read carefully!
Mindil beach is full of invisible and bloodthirsty sandflies that can ruin your nights with their itchy bites! We advise you not to hang around here in the early morning and evening, especially if not fully clothed. They are resistant to insect repellents and the only way to relieve the itch is with tea tree and Kakadu essential oils.

Finally, come and discover the Nightcliff area where you can walk on the jetty and fish. The waterfront is also very pleasant. On weekends there are two food trucks offering excellent burgers at low prices.
In view of Darwin's dangerous waters, the city offers two large free public swimming pools (Leanyer Water Park and Palmerston Water Park) ideal for cooling off in Darwin's unbearably hot weather. Located about 15-20 minutes from the city centre and accessible by buses. There are also free slides and a real cool bubble, which is popular at weekends.
The parks all have free toilets, showers and barbecues.
The markets
Darwin could be called the city of a thousand markets, given the number of markets held here each week. The best known is the Mindil Beach Market Thursday and Sunday evenings from 5pm. This is a great time to sample and taste Asian, Greek, Australian and Italian food. You will also find a number of stalls selling organic jewellery, clothing, cosmetics and accessories, almost all handmade. This is also where all the Australians and backpackers come to watch the sunset and its orange shades. It is located on Mindil beach and is a great place to spend an evening.
Visit the Parap Market on Saturday mornings for a good acai bowl and Vietnamese and Japanese specialities. You can also find good chocolate breads which are a real treat for the taste buds after several months without tasting them. You will also find beautiful handmade jewellery and other trinkets for all tastes.
If you are looking for fresh, local fruit and vegetables, visit Rapid Creek every Sunday morning.
Finally, the Nighcliff market offers gems, essential oils, organic and vegan products every Sunday morning.
Culture in Darwin
From a cultural point of view, the city has many museums about the Second World War as Darwin was a strategic military location during the war. During the Second World War, the city was bombed 64 times in two years! The Darwin Military Museum is an important place for the city and serves as a collective memory. You will be able to discover photos and objects of the period.
The Parliament House and the Northern Territory Library are also worth a visit.
The Museum and Art Gallery of the Northern Territory is not to be missed, located in Fannie Bay. It is one of the largest museums in the country, with many Aboriginal works, a large part of which is about the first settlers who came to Australia. You can also see Sweetheart, a 5-metre crocodile that used to attack fishermen's boats in the 1970s.
From April to mid-October, the city of Darwin installs an open-air cinema just a few metres from the ocean. The perfect opportunity to discover or rediscover classic films under the stars.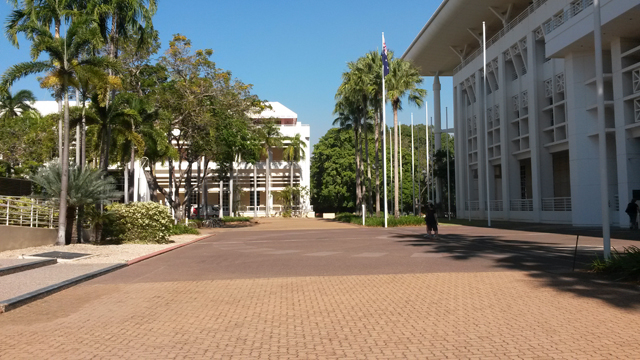 The Waterfront
Located in front of Darwin Harbour, there are several restaurants and bars. In the middle you will find the Recreation Lagoon which is a seawater pool protected by nets to stop jellyfish and the like. There is also a beach volleyball court which is free and the setting is lovely, surrounded by a beautiful green lawn and a lot of restaurants. This is also where some cultural events take place on weekends in August. In addition, from July to August there are a few Saturdays when there is a free open-air film or cartoon show on the lawn.
If you are in the mood for a good ice cream, don't hesitate to go to Trampoline Gelato! Try the pear with caramel chips! Tip: ask for a sundae for 9.50$ and you'll get a pot with 4 different flavours – much cheaper than ordering by the scoop!
Mitchell Street
This is the main street in the city centre. There are many trendy bars and restaurants. It's definitely the place to be to party!
If you still haven't seen any crocodiles, there is the Crocosaurus Cove which is an amusement park in the centre of town. Here you can
see crocodiles of all sizes and – if you so wish – partake in the crazy experience of experience of being immersed in a huge cage in the middle of huge saltwater crocodiles! Scary as hell in our opinion!
A few meters away from Mitchell Street is The Mall, a pedestrian street with a few shops to do your shopping. To get there you will cross a multicoloured pedestrian passage, a small nod to the Beatles. A favourite is Embella, a bohemian style jewellery and clothing shop with a lot of charm worthy of the boutiques of Saint Tropez. The jewellery is handmade and beautiful.
George Brown Darwin Botanic Gardens
Finally, for a pleasant walk head to the city's Botanical Garden. It's a peaceful and ideal place to come for a free refreshing walk. Here you can admire a variety of rare plant species from Asia and the South Pacific over 42 hectares. There is also a greenhouse of some of the world's finest orchids.
Accommodation in Darwin
Darwin is a city that attracts many tourists. As such, there is a wide range of hotels to suit all budgets.
🏨 Our selection of hotels in Darwin
Here is a selection to suit, no matter your budget:
For those on a higher budget, there's the Hilton, overlooking the bay, or the Ramada Suites, a true resort in the city. Enjoy its lagoon pool, casino and breathtaking view villas.
For the mid-range budget, the Vibe Hotel Darwin Waterfront is a good option with great facilities and a perfect location.
This is a city with a number of backpacker hostels, perfect for the budget traveller, with dorm rooms (mixed or gendered) or single rooms. You'll find something for everyone, with a swimming pool and large terrace, with rates starting from 30$ a night. The Youth Shark, close to the centre, is very nice and breakfast is included!
There are also caravan parks and campsites. The closest to the city is Discovery Parks Darwin with villas and tent sites. 15 minutes south of the city is the Free Spirit Resort, in the middle of the forest and perfect for families with its 3 swimming pools.
Unfortunately there are no free camps in Darwin or even within a 30km radius. It is said that there is a truck stop in Berrimah and another one at the BP Truck Stop Wishart where you can sleep in a van or 4WD without being disturbed by the rangers, nothing is certain by the way but it is up to you to take the risk or not!
Visiting the Darwin region
Kakadu National Park
Located 250km from Darwin, Kakadu National Park is Australia's largest national park and also a UNESCO World Heritage Site. There is an entrance fee of $40 per person. This park is incredibly rich in the beauty of its flora, fauna and Aboriginal art. To access the whole park you need a 4WD vehicle as some roads are not accessible to vans or cars.
Main points of interest when visiting the park: Twins Falls, Jim Jim Falls, Nourlangie Rock, Ubirr.
Litchfield National Park
Located 130km south of Darwin, you can visit it in one day. If you want to stay longer, there are several camping sites and nights under the stars are very pleasant.
Litchfield National Park is completely free. You will find waterfalls, natural pools where you can swim safely (observe the warning signs), and hiking. You can also see kangaroos, snakes, spiders, bats and crocodiles in the wild.
The main points of interest are: Magnetic Termite Mound, Florence, Wangi and Tolmer Falls.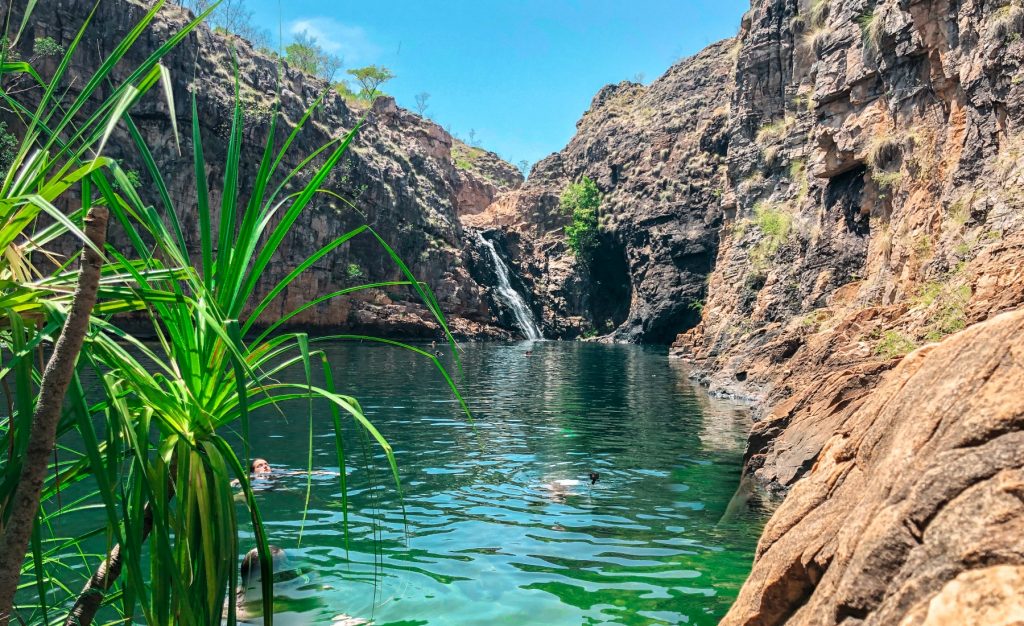 Berry Spring
These are natural hot springs located 60km from Darwin (free). There are three pools and its very family friendly. It has toilets, barbecues and free showers. Great for a day out and a picnic with friends.
Adelaide River
If you want to see crocodiles in their natural environment, head to the Adelaide River. The Adelaide River, a 180-kilometre long river that is particularly prone to flooding, winds its way 100 kilometres from Darwin. It's home to more than 1,600 crocodiles. Supervised cruises allow you to observe them in complete safety.
You can also join a tour from Darwin to discover the Litchfield National Park and the Jumping Crocodiles ($185/person all inclusive)!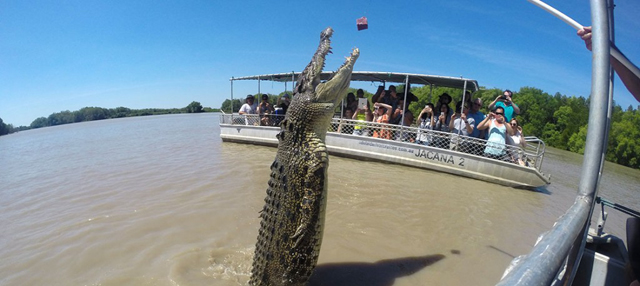 Useful information about Darwin
Mitchell Street is the place to party. Darwin is a party town, there are people on the streets every night from Thursday onwards. If you like to dance salsa bachata, go to the Discovery bar every Thursday night, the atmosphere is great and entrance is free. We also recommend Friday and Saturday nights at the Widsome Bar (free entry) which offers commercial music and the Discovery nightclub which is more techno free entry before midnight and drink for 5 dollars. .
Having tried and tested them, we recommend Alfonsino which is an Italian restaurant located in Mitchell Street – the pizzas are really good. Finally, our favourite: Saffrron located not far from the city centre in the Parap district. If you like Indian food, this is the one for you.
The city is served by Darwin bus. 14 routes serve the city daily. The price of a ticket is 3$ which is valid for 3 hours. There are also day tickets for $8. The city centre itself is small and can be visited on foot. The bus is only necessary if you want to go further from the centre (Palmerston, Casuarina…). There are also bike rentals.
The main events in Darwin take place during the dry season from May to October:
Thailand Grand Festival (April)
Italian Festival Darwin (May)
BassinTheGrass (May)
Darwin Royal Show (July)
Darwin Cup (August)
Hot August Nights (August)
Darwin Festival (August)
Casuarina Shopping Center is one of the largest shopping centres in the world, with clothing stores galore. You will also find hairdressers, beauty parlours and cosmetic shops, Coles, Kmart, Big W, Woolworth.
At ground level there are many restaurants in the foodcourt. There is also a cinema.
Alternatively, there are souvenir shops and art shops in the city centre. You can buy all the gifts you want, you can even buy a crocodile skin belt (Di Croco shop in the Mall!) or aboriginal art and thus contribute to the support and development of local crafts.
Prenez votre carte d'identité pour sortir, elle vous sera demandée dans n'importe quel bar le soir.
Aux alentours de Darwin, vous pouvez profiter de piscines gratuites pour vous rafraîchir ou prendre une douche, par exemple à Leanyer Recreation Park.
Il existe de nombreuses astuces pour faire facilement des économies à Darwin.