Sydney is the capital of New South Wales state. Cosmopolitan and lively, the city is full of restaurants, bars, pubs, and clubs for a night out with plenty of ways to enjoy the city. So if you've just arrived and are looking for a good nightlife spot in Sydney, you won't be disappointed! The city is full of great places to grab a drink and party so it can be tough to know where to start. Here's a glimpse of what's in store for you!
Sydney Neighbourhoods
Depending on the type of night you are looking for, you may not go to the same areas. Here are the main areas to go to and what they are like:
The CBD (Central Business District) and Darling Harbour
These two areas are the very heart of the city and attract a young and quite 'classy' demographic. Particularly popular for after-work parties, you'll meet many locals who come to have a drink with colleagues or friends to relax after their working day. The Darling Harbour area is very pleasant with its many bars lining the quayside, with frequent firework displays on weekends.
The Rocks
Just a stone's throw from the CBD, the picturesque area of The Rocks is a favourite. The small cobbled streets and warm atmosphere make it a great place to come for a drink. During the day, it's almost like being in the heart of a small village with plenty of shops, cafes, bars and bakeries. The relaxed atmosphere is perfect for tourists and families. But it's in the evening that the area really comes alive, as the pastry shops and cafes give way to the many bars and clubs.
Oxford Street and Newtown
Both of these areas are particularly popular area for the LGBTIQA+ community. They are alternative neighbourhoods with a tendency to become more and more "boho" and have a large number of nice little bars and nightclubs. Newtown is an eclectic neighbourhood with a bohemian spirit, and the place wakes up at night. There is no shortage of bars and pubs along the famous King Street. Oxford Street was once the heart of Sydney's nightlife. There is a high concentration of nightclubs in these areas if that is what you are looking for.
Surry Hills
Surry Hills is to Sydney what Notting Hill is to London. A trendy neighbourhood, you're bound to find a bar or restaurant to suit your taste. We love it for its vibrant and relaxed atmosphere. Surry Hills is the epitome of Sydney's best, a village neighbourhood that has taken advantage of its hipster DNA to become THE cool/trendy/sleek neighbourhood. From wine bars to cocktails to pubs, you're bound to find something for your night.
Kingscross
Also known as The Cross, this area is the place to be for party people. It is home to many of the city's bars and nightclubs. A temple of entertainment, it attracts tourists, backpackers and locals alike and is always busy at nightfall, so don't hesitate to check it out.
Bars and nightclubs in Sydney
The best bars
Here are some of the bars we recommend in Sydney. Of course this list is not exhaustive, there are so many places to go in Sydney, but this will give you an idea of the possibilities!
Bar 83 (Great view of Sydney Harbour)
Enter via the 4th floor of Westfield Sydney, 108 Market Street
Take a step up to the top of the Sydney Eye tower for a 360° view. Go through the Westfield shopping centre to the top floor. This bar has a rather chic atmosphere… and the prices to match. Go there for a special occasion or just to enjoy a drink at sunset. The view of Sydney Harbour is stunning!
The Opera Bar (for a view of the Opera House)
Sydney Opera House, Macquarie St, Sydney
This is a must if you are visiting Sydney! This bar is located at the foot of the Sydney Opera House and offers a great view of the Opera House and the Harbour Bridge. The place serves as a bar and restaurant and its outdoor terrace offers the best seats to contemplate the view. It's a popular spot for tourists so make sure you get there early to get a good seat on the terrace in the evening. To top it all off, the bar often hosts live music outside for a great atmosphere.
The Glenmore Hotel (for a view of the city)
96 Cumberland St, The Rocks
Nestled in the heart of The Rocks, this rooftop bar offers a breathtaking view of the city and its illuminated buildings. The terrace is quite small and fills up quickly, so try to get there a little early. It is a relaxed bar, perfect for a drink outside. We particularly appreciate the wide choices of beers on offer.
Scary Canary (to start the evening)
469 Kent St, Sydney
Located next door to Nomads hostel, this is a popular spot for backpackers and students and is a dance bar that combines cheap drinks with regular theme nights. The nightclub gets busy every Tuesday for "Silent Disco" nights or "Wet Wednesdays" on Wednesdays with $6 drinks until midnight. Open all week (except Sunday night) with different themes every night, it's a great place if you want to party during the week.
SASH – Greenwood Hotel (for Sundays …)
36 Blue St, North Sydney
If you like techno music, S.A.S.H is the place for you! A little off the beaten track in North Sydney, this bar is particularly well known amongst backpackers for its "S.A.S.H by day" events. These events take place every Sunday, with a more chill and deep house version "by day" from 2pm to 10pm and a more ambient version "by night" from 10pm to 4am. It's a must to discover the Sydney nightlife and meet foreigners.
Maybe Sammy (award-winning cocktail bar)
115 Harrington Street, The Rocks, Sydney
Located between The Rocks and the CBD, Maybe Sammy has won a number of awards for the quality of its cocktails. Notably, since 2019, it has been listed in the World's 50 Best Bars every year, no less! The prices are higher than in a classic bar, but the menu offers innovative cocktails as well as the classics. During Happy Hour, the bar offers "minis" for only $6. If you feel like some nibbles such as burrata, hummus, a charcuterie or cheese board, Maybe Sammy has got you covered.
The best nightclubs
Here is our small selection of some of our favourite clubs in the city:
Ivy Precinct (commercial music, RnB, house)
330 George St, Sydney
If there's one place to go to get your groove on in Sydney, it's the Ivy! Aussies, backpackers and all the celebrities who pass through gather here so the place obviously lives up to its reputation. Located in the centre of the CBD and half open air, the Ivy is composed of two rooms with different musical styles. To get the most out of the atmosphere, come on a Thursday night for 'Ivy Thursdays'.
On Sunday afternoons, from 1pm to 9pm, head up to the Ivy's rooftop pool for 'Ivy Pool Club Sundays'. Sip a cocktail while floating on an inflatable buoy – not bad way to chill out on a Sunday afternoon!
Home the venue (commercial music, RnB, electro)
101/1-5 Wheat Rd, Darling Harbour
Located in Darling Harbour, this is Australia's largest nightclub with a capacity of 2000 people! During the day you can access the Home Bar and its terrace overlooking Darling Harbour. At night, you can choose between 4 large rooms on 3 floors offering different atmospheres/genres. The venue hosts world-famous DJs, the latest being the famous Karl Cox! It is also a popular venue for backpackers to attend S.A.S.H by night events.
Argyle (commercial music, Rnb)
18 Argyle St, The Rocks
Similar to the above, Argyle is both a bar and restaurant during the day and a nightclub at night. It has 3 dance rooms and a large outdoor terrace which is particularly nice for getting some fresh air and taking a break from your wild night out. If you like salsa evenings, Thursdays are the day to go! On weekends the music is quite commercial and will get everyone on the same page.
The Establishment
Ground Floor/252 George St, Sydney
Still in the heart of the city, The Establishment offers the same kind of salsa night as Argyle, but on Tuesday nights (free entry)! However, from 00:30 onwards, we switch to a reggaeton night. The place is quite classy with a big bar in the middle and a small courtyard.
Cargo Bar (Fridays and Saturdays)
52-60 The Promenade, King Street Wharf, Darling Harbour, Sydney
Located on the Darling Harbour waterfront, every Friday and Saturday from 10pm this bar transforms into a nightclub until 3am. The main floor plays commercial music and EDM, while the second floor plays hip hop and R&B. We like the fact that the dancefloor is open to the outside with a beautiful view of Darling Harbour. Entry is free on Friday night and 20$ on Saturday.
Burdekin Hotel (electro music)
2 Oxford St, Darlinghurst
Another place for electro music lovers! Located in the Oxford Street area, the club is actually an old 4-storey building. It is known for its Friday night House and Techno "We Love" nights. The Burdekin Saturdays (pop, house, dance) are also famous. Book your place online to get free access before midnight.
The community's opinion
Our selection is based on our various personal experiences but also on those of travellers who have spent evenings in Sydney. On a Facebook group, we launched a poll on "Where to go out in Sydney". Here are the results: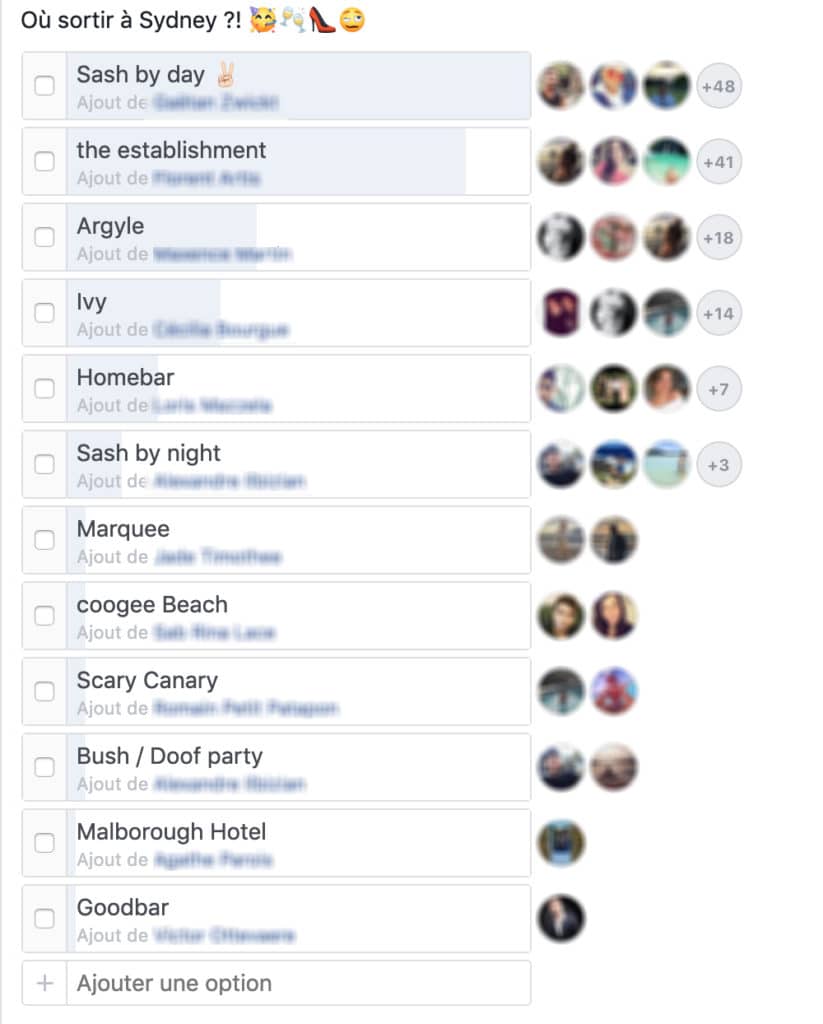 Practical info for going out in Sydney
When to go out?
Apart from drinking in moderation, remember that in Australia, and especially in Sydney, nightlife both starts and ends early! Often it starts as soon as you get off work with the after work drinks. Indeed, clubs generally close at 3am or 4am for a limited few, so don't go leave to go out too late to enjoy your evening. You can go dancing as early as 11pm and the dancefloors will already be full.
In any case, it is in your interest not to hang around because the vast majority of nightclubs do not accept anyone after 1am. You should also anticipate the waiting in queues for many popular places.
Identity checks
One last piece of advice: always carry an identity document with you (passport, driving licence, identity card). You will have to show it everywhere, even in bars, to prove that you are of age, and also on the door to gain entry.
Dress code
Generally speaking, when Australians go out, they dress up. However, it is rarely compulsory to be "well dressed" to enter a club (except for some of the more formal clubs). Avoid coming in flip-flops though! Check the dress code if you are unsure.
Security
Australia is very law-abiding. This is a good thing in terms of security, especially for the nightlife. Indeed, bars and nightclubs are very well supervised and this leaves little room for excesses. However, on the other hand, it is quite easy to be refused entry or to be thrown out of an establishment. So be careful with your behaviour and your blood alcohol level to maximise your chances of having a good night out.
Now all you have to do is enjoy your evening!