Marine landed in Darwin a few months ago. Here is her advice and tips for finding a job, partying, and discover all that Darwin has to offer. Are you planning a sightseeing holiday in Darwin or are you planning to stay there for a while? Here is an article that should interest you!
What to do in Darwin?
For those interested in culture, the city has many museums on the Second World War, because Darwin was a strategic military base during this period. You can also visit the Parliament House and the Northern Territory Library. There you can also enjoy free wifi and access to computers. They are both worth a visit.
If you are into shopping, you can take a bus to the Casuarina shopping center.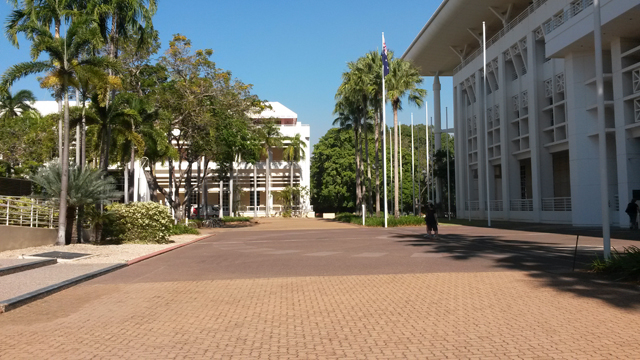 You can also troll on the Esplanade and its Bicentennial Park, the Botanical Gardens, the Waterfront and of course the remarkable market on Mindil Beach (Thursdays and Sundays).
You can also see crocodiles in the famous 'Crocodile Cove' and swim with them in a submerged cage!
The center of town is filled with souvenir shops. You can even buy crocodile skin belts and aboriginal art!
If you are planning to visit the surroundings, you can book trips to Litchfield and Kakadu National Parks – although we advise you to rent a 4 x 4 and go on your own.
Darwin as arrival city in Australia
If you choose Darwin as a starting point you should know that it is very easy to set up your bank account, get your TFN, etc., as the city center is very small. Staying there for a few days will allow you to immerse yourself in NT culture and do some partying. You should know that the city is quite expensive and you will probably want to find work as quickly as possible. I would advise you to search for a job as soon as possible.
Finding a job in Darwin
When you arrive in town and plan on working make sure you arrive just before the 'dry' season to avoid competition with other backpackers. Those with a good command of English and hospitality experience will do better than others. In any case, make sure you are motivated and do not hesitate to leave Darwin to look around as there is a lot of work on the farms in the neighbourhood. Know that there are quite a few HelpX and Wwoofing available in the area too. You can also go to one of the job agencies that specialize in temporary employment for backpackers. You should not have a lot of trouble finding them in Darwin.
Accomodation in Darwin
The Hostels are expensive and fill up quickly when its high season…its the perfect time for some couch surfing! If you are living out of your van, do not sleep on Mindil Beach, the Esplanade or on the Waterfront side. If you do, beware of fines! The trick is simple: park in the suburbs to sleep and go to the Waterfront the next morning to use the free shower and public lavatories. You can also sleep safely at Truck City, where you will have access to a shower and toilet.
Free toilet / shower tip: Around Darwin, you can enjoy free swimming pools to cool off or take a shower, for example at Leanyer recreation park.
As for hostels, check out Melaleuca on Mitchell Street: the prices are not the lowest (about $ 32 a night), but it is located in the center of Darwin. It also has a bar and a pool. If you are on a tighter budget, go to the Gecko. It is a bit more eccentric and a night should cost you around $ 27 a night.
Going out in Darwin
If you looking to go out partying Darwin has exactly what you are looking for. The city has a reputation as a paradise for ravers. During the high season, there is a 'doof party' every week on Mindil Beach and there are many 'bush parties' – also knows as 'raves'. Darwin also has many restaurants and bars which you can find mainly around the Waterfront and Michell Street.
Good bars:
On Sundays, visit the Darwin Hotel for its "beer garden".
Tuesday night at Nirvana host a Jam session: if you are a musician, come play music with others! If you are not a musician, come anyway.
Written by: Marine Garcia – Updated on 08/11/19 – Initially published 13/08/18