If you want to live in Australia for up to 3 years under your Working Holiday Visa, it is essential to prepare your budget. A lot of expenses are expected before arriving in Australia (plane ticket, visa cost etc), and then you will have to provide a minimum amount of savings to support yourself. Here are some pointers to help you understand the cost of living in Australia which will help you to budget, work and travel in Australia.
First, know that the Australian government recommends starting with at least $5,000 AUD per person. While this amount may seem high, remember that life in Australia is quite expensive, and if you plan to buy a campervan or a car for example, much of your budget will be devoted to it. For those who plan to go to a hostel or find a house share, have at least $ 1000 / month (accommodation + food). It is important to arrive with a comfortable budget, which will allow you to support yourself if it takes some time to find a job.
Budget before coming to Australia
Here is an estimate of expenditure for preparing a Working Holiday Visa (WHV).
1 – Working Holiday Visa Cost: 485 AUD (as at 2019)
2 – Travel insurance WHV: €400 / year
3 – Flights: Between € 950 and € 1,200 with return from Europe (depending on season) and a minimum of 600 € each way
4 – Funds recommended by the Australian Government: 5000 AUD, or about € 3,500 (be aware that when you apply for the Working Holiday Visa, the Australian government may verify that you these funds into your bank account … (extremely rare)
TOTAL: € 5,200 (about € 1,700 + € 3,500 savings)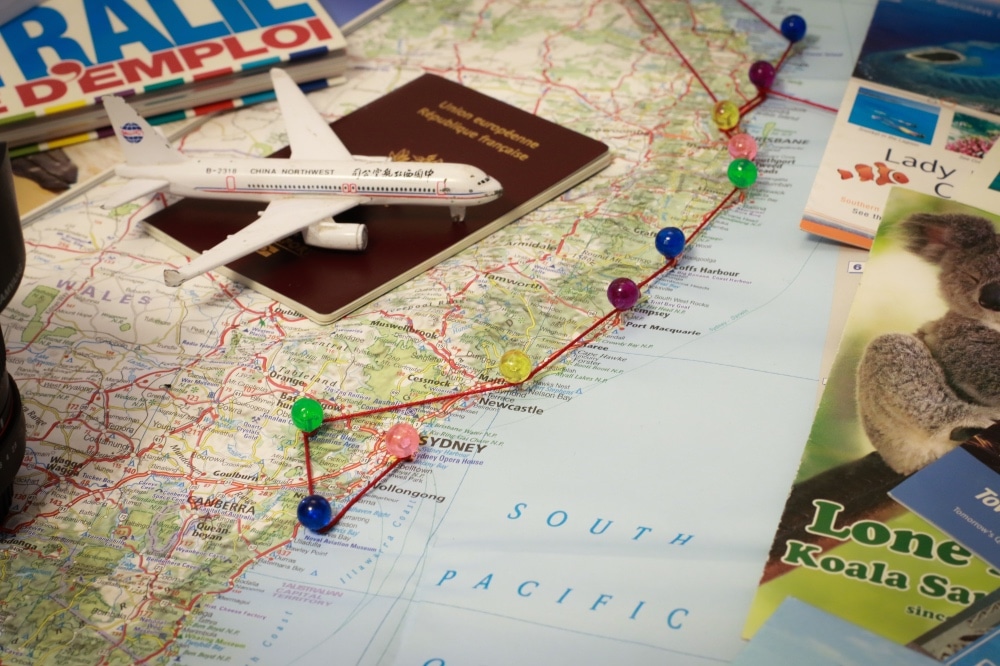 Average budget for a road trip in Australia
You want to go on a road trip, and if you have the ability, arrive with the maximum of funds in the territory! Indeed, many backpackers think finding a job quickly on reaching Sydney (or elsewhere) and wish to save to afford a vehicle. The reality is not so simple! When one lives in the city, it is much more difficult to put money aside …
Your road trip budget will depend on several factors such as the number of kilometres you travel a month and the places you are visiting. Remember, gasoline will be more expensive in remote areas.
More Info: Road Trip in Australia – Budget
Budget Road Trip for 2 persons:
We took a base of $ 125 / week for food
For gasoline, we counted about 100km p/ day with a consumption of 10L p/100km (average consumption of a van), with an average price of gas at $ 1.5 p/ L. The prices vary depending on the location and the international price for petrol.
The campsite budget was counting 1 night every 4 days in a caravan park priced at $ 30 a night.
TOTAL: approx. $ 1500 p/ month (without including an extra 3000km for any additional browsing!)
Campervan hire Australia
If you go on a Road Trip and decide to rent a Campervan or a Motorhome, we recommend to book through a specialised agent. 'MotorHome Republic' for example, can offer some good discounts with the different suppliers in Australia & New-Zealand. That is the best way to get a good deal and to get your campervan cheaper vs booking directly on the supplier's website. To compare prices, simply fill your criteria on the search engine below.
If you want more info about Campervan Rental in Australia go to : Campervan rental – compare deals
Get an insurance
If you want to rent a van it is important that you get an insurance to cover any damages in case of accident. The insurances offered by the rental companies are quite expensive. We recommend you to get an insurance from a specialised private company like Rentalcover. An insurance for your rental car costs between 9.30 AUD and 29.70 AUD per day. Almost half of the price that rental companies charge.
Cost of living in Australia
The cost of living in Australia varies depending on where one is. In general, life in the big cities will necessarily be more expensive than in smaller Australian cities. This can be explained by two main factors, the cost of housing is higher, and expenses that are more common! However, the food and gasoline cost less. Know that in Australia, everything is paid weekly (or every 2 weeks max.), Wages, accommodation … In big cities housing is quite expensive in Sydney. The price for a Backpacker hostel in Sydney ranges from $ 25 in dormitories. Remember that it can be advantageous to book a full week to get discounts (10% or even 1 night free!). Renting a room in the center of Sydney is about $ 200 per week. The price is not always more expensive than in the suburbs, but this depends on the popularity of the neighbourhood.
Average price per person / week in a big city:
Housing: roughly about $ 250/ week
Food: varies depending on your appetite, about $ 50 / week per person
Transport: all depends on where you live. Maps are available with different rates depending on the area and time you wish to travel. Travelling to the CBD and the surrounding areas can cost roughly around $6 for a return ticket. If you're travelling frequently on a daily basis by different modes of transport, it would be cheaper to pay for a weekly pass around $48. Or transport top up card (Eg Opal Card in Sydney).
TOTAL: $ 350 p/ week (with no extra!)
Reserve a youth hostel
HotelWorld is one of the most popular sites for booking hostels in Australia. With their search engine, you can compare the rates of hostels and make your booking online!