48 hours in Sydney can be challenging when you don't know the place and what to do. Even if the city isn't that big, there are heaps of things to discover. After 4 years spent at Sydney, here are all our recommendations on what to do and where to go if you are only there for 2 days.
48 hours in Sydney – Day 1
1- Cross the CBD until reaching The Rocks and go for a walk on the Harbour Bridge to enjoy the view
2- Take the ferry to Watsons bay and eat a nice Fish and Chips
3- Go to the Sydney Opera House at Circular Quay
4- Walk around the Botanic Garden
5- Enjoy the sunset from the Sydney Tower (CBD)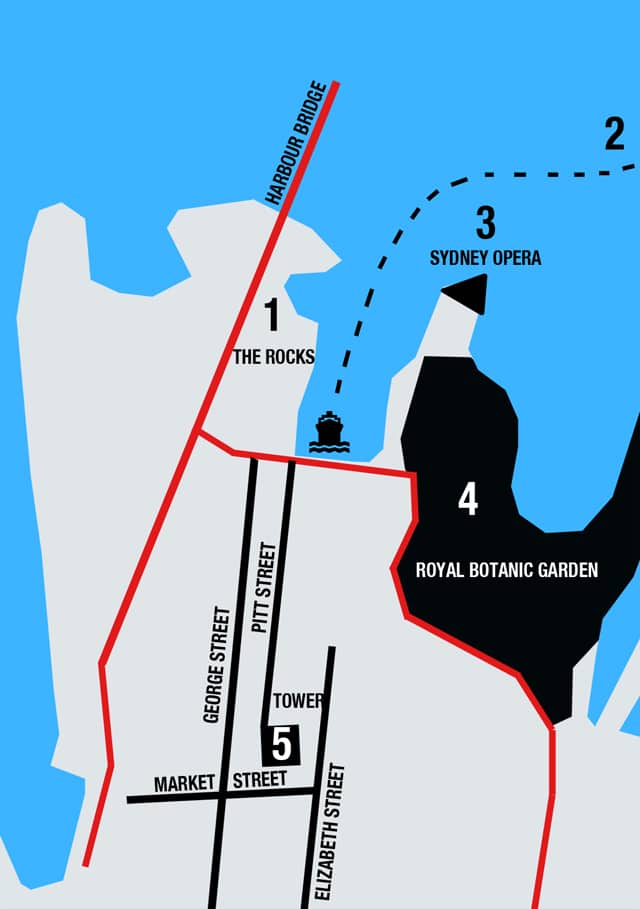 Sydney CBD
The CBD area spreads mainly around Georges Street. It goes from Circular Quay to Central Station. You need approximately 20min to walk through the CBD.
To discover Sydney for free with a guide, don't hesitate to join one of the FREE TOURS (every day at 10.30am and 2.30pm, starting point is at Town Hall next to the Ancre sculpture). Local guides with green tee shirts walk you around the city and tell you about history and anecdotes at the most famous places to visit (Harbour Bridge, The Rocks, Hyde Park,…).
There are also the Hop On Hop Off buses, offering 2 tours with 35 stops for $22.50. You can choose between Sydney and the Bondi tour. From those 2 levels buses you can see the city from above and stop whenever you want to (starting point at Central Station for Bondi Tour and Alfred Street for Sydney Tour).
The Rocks
The Rocks is the oldest suburb of Sydney with buildings from 1788. Initially, sailors and dockers were occupying this area. Around 1800, gangs took over. Many reconstruction projects were started and then stopped by the world wars. The area has later been renovated and is now very touristic, reputed for its market, traditional pubs and gift shops.
You can also visit the Museum of Contemporary Art (140 Georges Street – Free – 9am to 5pm).
Every Saturdays and Sundays (10am to 5pm), the Rocks Market (at the end of Georges Street) is also a must do. With more than 200 stands, you will find there young designers products, jewellery, accessories and a very nice atmosphere to start your weekend.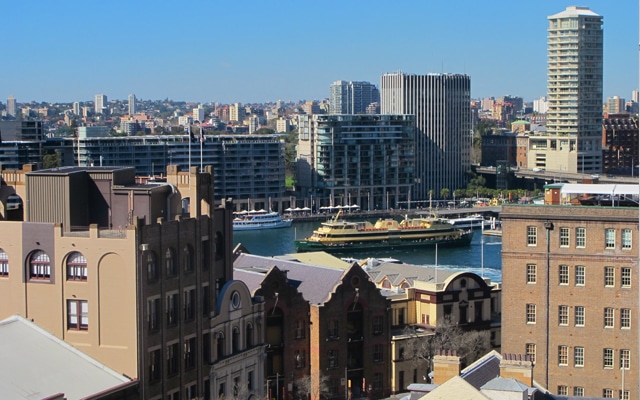 Sydney Harbour Bridge
This famous bridge was built in 9 years and opened in 1932. It links the CBD to North Sydney. A Bridge Climb is an unforgettable experience taking you all the way up to the top of the bridge (134m) with a stunning view on the city and the harbour (around $270 for 2h15). Don't forget that the view from the bridge itself is also amazing and free! Or you can choose to pay $13 to go to the Pylon Lookout located on the southern side of the bridge.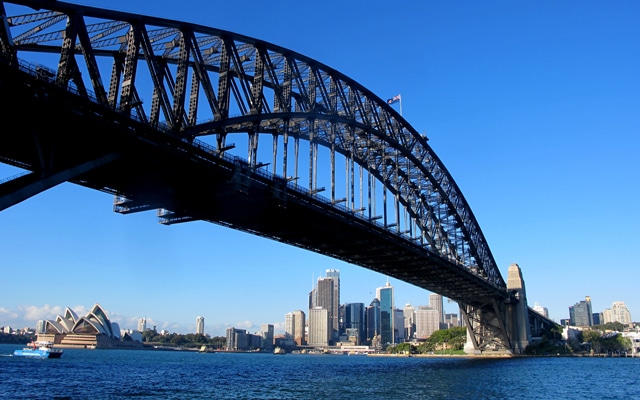 Watsons Bay
Accessible by ferry from Circular Quay (around 40min), Watsons Bay is a very nice area much appreciated by locals. Situated East of Sydney, you will arrive by ferry in a small bay with a famous fish and chips restaurant. You can then cross the main street and go to lookout to enjoy views on the ocean and beautiful cliffs. There is also a short but nice coastal walk to do.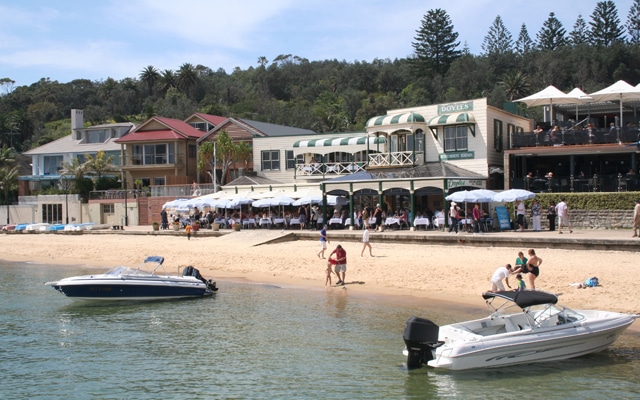 Sydney Opera House
Registered as world heritage since 2007, it is probably the most iconic of Sydney's monuments. The project of building the opera was born in 1940 when the Director of the Music Academy of NSW asked for a site to produce important theatrical and musical productions. An Architect competition was launched and in 1955, the project of a Danish architect, Jorn Utzon was picked. Construction started in 1959 and ended in 1973. There were many disagreements, additional budget and the architect even left the project in 1966. In 1973 it was inaugurated by Queen Elisabeth II. Since that date many modifications have been made to the construction which has finally had a cost of more than 100 million dollars.
Today, you can visit the Opera via a 1h tour ($37) or to go to a show. Prices vary depending on the show and on your seat but count on at least $100/seat. However a nice walk around the opera is also a enjoyable and free way to discover it and take some pics.
Royal Botanic Garden
From Sydney Opera House you can access the Royal Botanic Garden and enjoy a nice walk in the park. It is a perfect place to chill while looking at the CBD buildings, the Opera and the Harbour Bridge. Just next to the park, Andrew Charlton Pool is a nice public swimming pool with a good brasserie ($6/pp).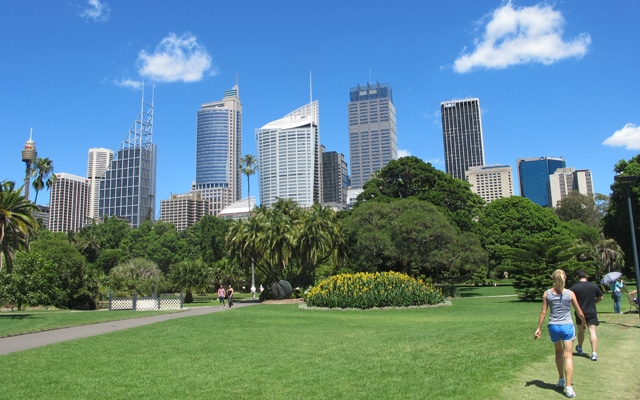 Sydney Tower
Right in the city centre, Sydney Tower (accessible from Westfield shopping centre) offers a 360° view over the city and surroundings. Pretty amazing when the weather is nice as you can even see the Blue Mountains (price on line: $18.55/pp, at the counter: $26.50).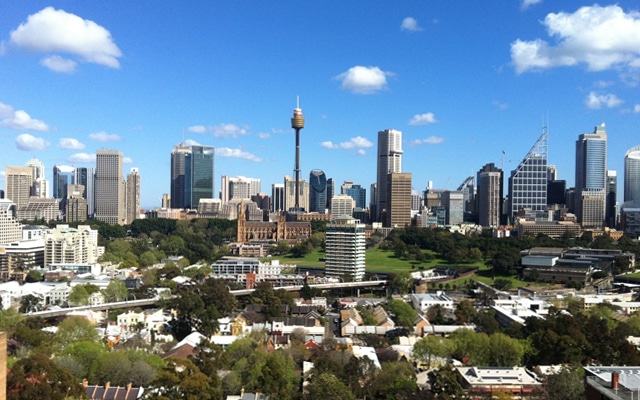 48 hours in Sydney – Day 2
1. Discover the Fish Market (or Paddy's Market depending on your taste)
2. Go to Darling Harbour for a nice walk
3. Take the bus to Bondi Beach
4. Enjoy the coastal walk to Coogee Beach
5. End the day in Kings Cross bars
Fish Market
Opened every day from 9am to 5pm, the fish market is a perfect spot to get some fresh products and discover a unique atmosphere. It is a good opportunity to try local fish.
Paddy's Market
Situated in the Asian market of Haymarket, Paddy's Market is the biggest market in Sydney. With more than 1000 stands, it is the perfect place to find all kind of souvenirs (cheaper than the city centre shops)!
Darling Harbour
Described as one of the most beautiful harbour by Arthur Phillip in 1788, Darling Harbour has kept all its beauty.
Sydney Aquarium (Online prices: $28/pp, $40 there – open from 9am to 8pm)
With more than 12000 marine animals (650 different species!), the aquarium is a small reproduction of the Great Barrier Reef. It is one of the most incredible aquariums in the world. Besides, the visit is really nice, perfect for a rainy day!
Chinese garden of friendship ($6 open every day) is an authentic Asian garden, calm and relaxing, it has a very innovating architecture. You can also enjoy a nice tea at the teahouse (open from 9.30am to 5pm).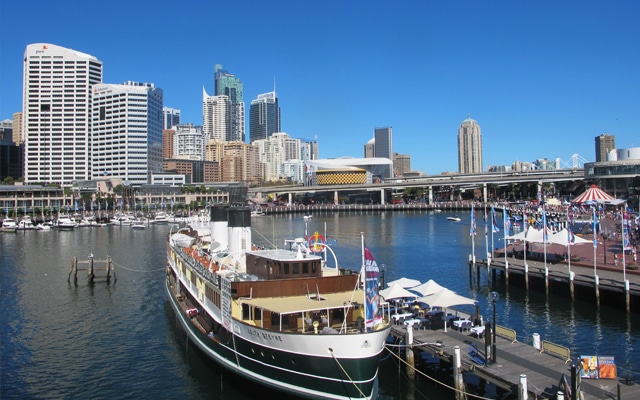 Bondi Beach
The most popular of Sydney beaches, Bondi Beach is definitely special.
A few kilometres east of the city, it is the meeting point for young travellers & surfers. It is a perfect spot to enjoy the beach, sunbathing or try to surf with one of the numerous schools offering deals ($80 in average for a 2hours class).
For those wanting to discover the area, there are many coastal walks linking Bondi to Coogee (6km with some very nice views – see picture above). You will go from Tamarama to Bronte, less busy and more typical (more locals).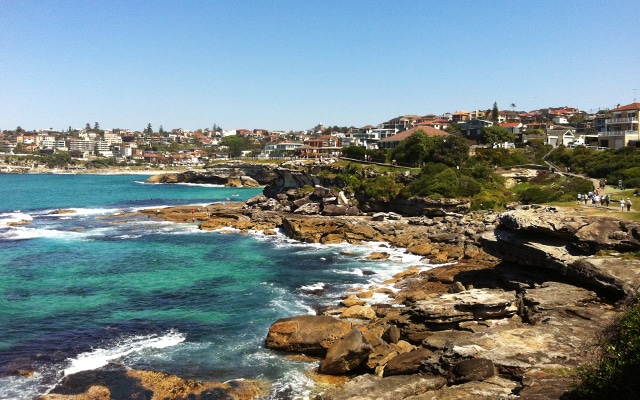 Kings Cross
Kings Cross is the area for bars and nightclubs! You can find hype bars, nightclubs, fast foods and sex shops! At night, the area livens up and gathers all kind of people ready to party. A bit further, Potts Point is considered as the little NY of Sydney. You will find heaps of nice restaurants and cafes there.
Practical information
Picture: journal.jitt.travel