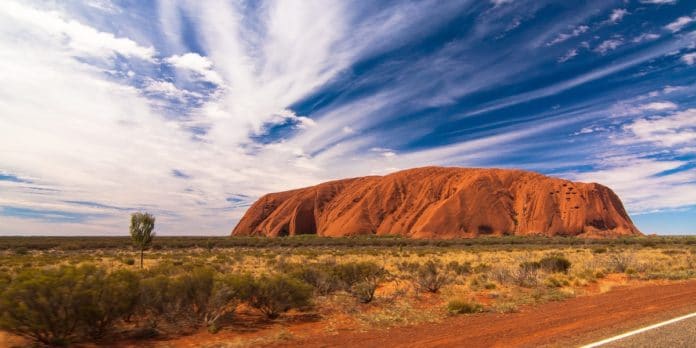 Located in the Northern Territory, the heart of the Red Center of Australia, Uluru, also known as Ayers Rock, is a fascinating site that attracts a lot of travelers. This iconic rock is rich in history, secrets and legends. Read on to find out why climbing the sacred rock is so controversial…
.
Uluru-Kata Tjuta National Park
The Uluru-Kata Tjuta National Park is co-managed by the Australian government and the Aborigines who are the original owners of the land. Historically the aboriginal people Anangu, Pitjantjatjara and Yankunytjatjara consider it as sacred land. In the park you can admire the cave paintings reflecting the richness of the aboriginal culture. Once arrived in the park you will have the choice between walks around the rock and/or climbing it.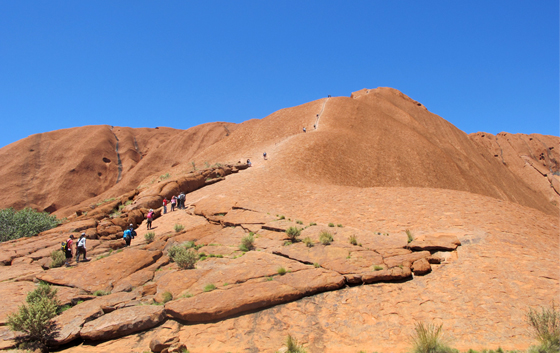 .
Uluru: climb it or not?!
From 200,000 visitors who come to Uluru each year around 40,000 chose to climb the rock. So why ask the question …?
According to the Aboriginal myth the path that leads to the summit passes through a traditional "dreamtime" track, used by the early ancestors when they arrived at Uluru. The rock has a great spiritual significance for the Anangu. A sign at the foot of the rock says "We don't climb" and invites you to do the same in respect for their beliefs.
Moreover, the 1.6 km walk to the summit can be dangerous. 37 person died while climbing the rock since 1956.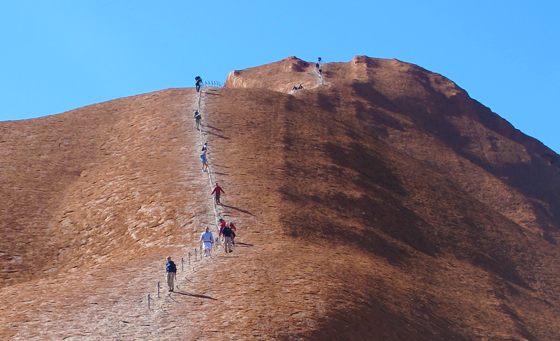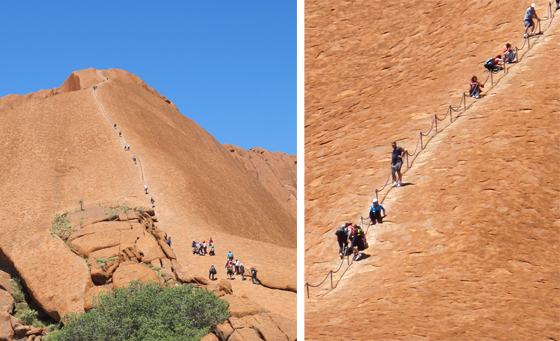 Closure of Uluru Climb from October 2019
Since a few years now this "attraction" has been the subject of heated debates and negotiations. On 1st November 2017, the board members of Uluru-Kata Tjuta National Park voted to officially ban Uluru climb out of respect for the Anangu indigenous community. From 26 October 2019, it will therefore be forbidden to climb the rock.