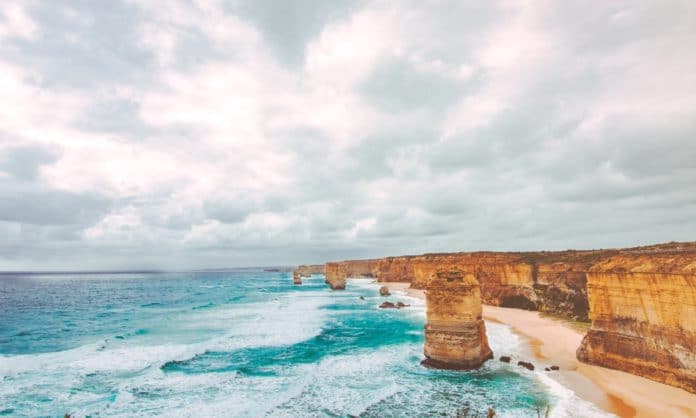 One of the world's most famous road trips, the Great Ocean Road is one of Australia's most popular tourist attractions. Winding along the country's southern Victorian coastline, this awesome length of road is dotted with stunning national parks, incredible ocean views and some gorgeous seaside towns. If you have enough time you should spend at least 1 week to drive the whole length. There really is so much to see and do here. To give you a taste and to inspire your journey, here are the 10 Great Ocean Road must sees that you shouldn't miss:
1 – Memorial Arch – Great Ocean Road
Located right at the start of the Great Ocean Road, as you head from Melbourne. This archway pays tribute to the construction of this famous drive. The Great Ocean Road Memorial Arch is dedicated to the returning World War I servicemen of Australia that built the road in 1932. This is the third memorial arch built, but it's a fascinating piece of history nonetheless.
2 – Bells Beach – Great Ocean Road
This world famous surf beach is definitely worth a stop along the Great Ocean Road, even if you aren't the best at riding the waves! Come at Easter and enjoy the Rip Curl Pro Event. Or just watch the locals braving their luck in the cold water.
The nearest town to Bells Beach is Torquay. It is also a gorgeous little spot to enjoy a picnic or to wander the Surf World Museum. If you're feeling a little more active, then the Surf Coast Walk – a gorgeous stroll along the coastline – also starts from here.
3 – Koalas – Great Ocean Road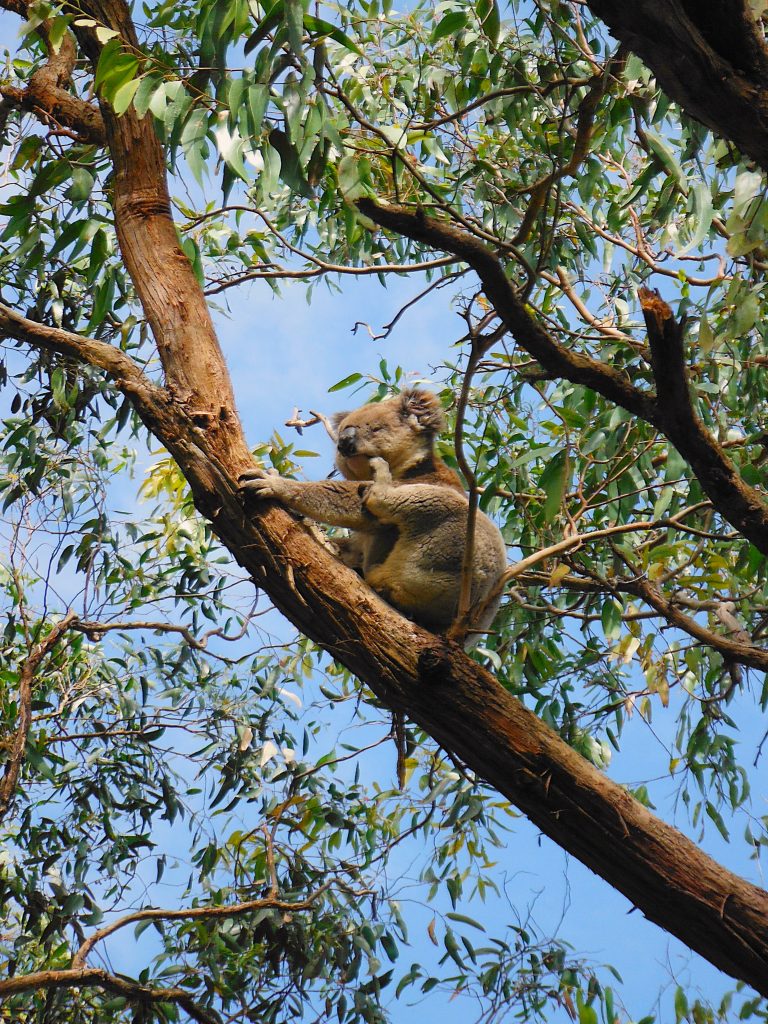 Less of a place and more of a sight, the numerous koalas that have made the Great Ocean Road their home are nevertheless one of the best attractions in this famous part of the world. In fact, the road that leads to the Cape Otway Lightstation is where I've seen the biggest collection of koalas in my life, so I certainly recommend heading here if you're yet to tick spotting one of these grey, fluffy creatures off your bucket list.
And they're easy to spot too, just pull up your vehicle next to the rest of the tourists and follow the gaze of their pointing fingers and snapping lens. Yes, sometimes popular tourist spots can have their advantages!
4 – Light Station – Great Ocean Road
The Great Ocean Road's only lighthouse, also known as the Cape Otway Light Station, lays claim to being Australia's most important lighthouse. Certainly it guards one of the country's most treacherous coastlines and was built after hundreds of lives were lost from numerous shipwrecks. As such, it is Australia's oldest surviving lighthouse and invites visitors to enjoy the breathtaking views from its observation deck. There is also an excellent interpretive Centre and indigenous Cultural Centre, which also make a visit here highly worthwhile.
5 – Lorne – Great Ocean Road
The little town of Lorne is a lovely place to stop for a few hours or even spend the night. There is plenty of nearby waterfalls to walk to. You can enjoy an active and outdoorsy exploration of the area on foot.
If you're feeling more sedate however, why not just enjoy the wonderful cafes and sea views of this quaint place. There is an excellent tourist office on hand to answer all your Great Ocean Road questions. And there is also an awesome music festival – Falls Festival. -It takes place here each summer and is well worth checking out.
6 – London Bridge – Great Ocean Road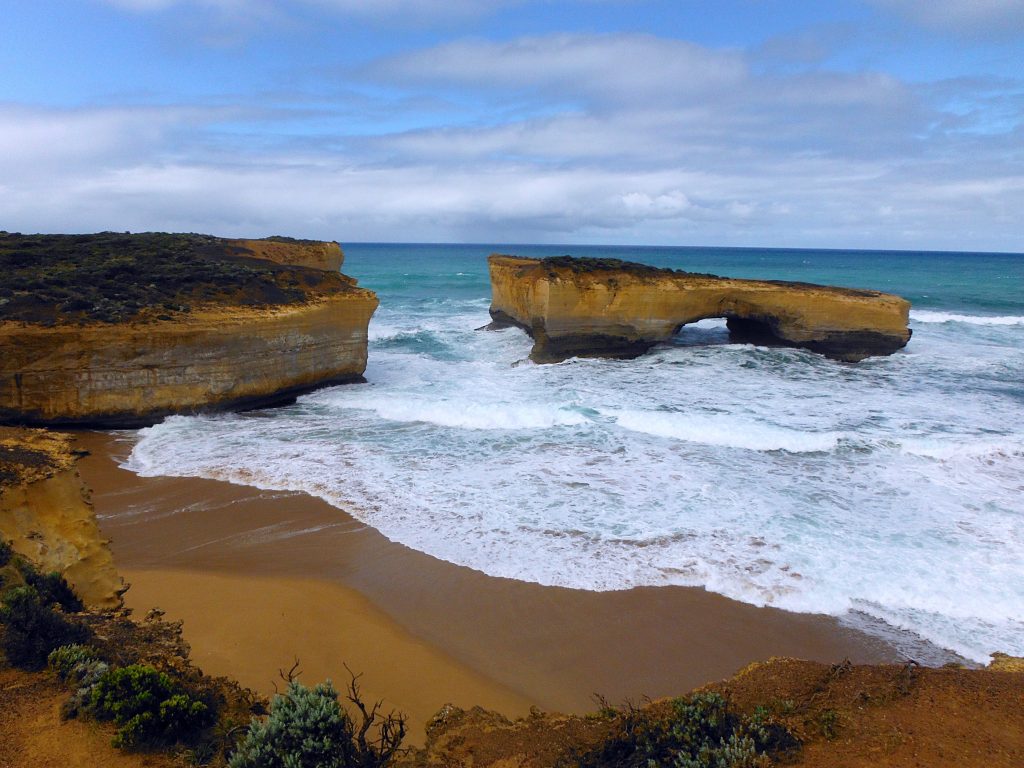 This was my favourite part of the Great Ocean Road, perhaps because the sun actually came out when I was here! Yes, the clouds finally parted when I reached London Bridge and I was treated to a glimpse of the stunning colours this landscape can display.
The most famous arch on the Great Ocean Road, London Bridge is a really impressive structure to witness. With the waves crashing continually against it, the wilds of the ocean and the weather here make it a fascinating spectacle.
7 – Anglesea – Great Ocean Road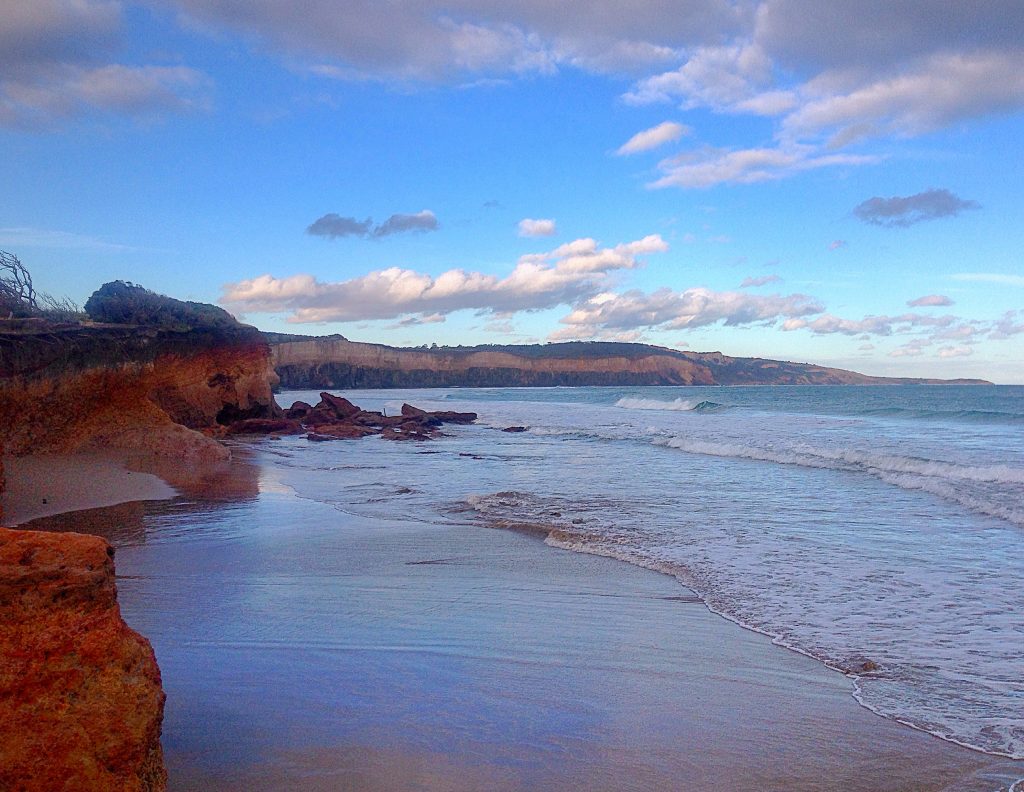 The town of Anglesea has a wonderful caravan park. Perfect for easing you into the small and local feel of the towns in this area, Anglesea is well worth a visit.
8 – Loch Ard Gorge – Great Ocean Road
This beach along the Great Ocean Road has been made famous by the ship that ran aground on nearby Muttonbird Island. The incredible survival story of the 2 teenage passengers is wonderfully told in the landscape around and standing down on the beach can really put the whole thing into perspective. It must have been terrifying.
It's great to get out of your vehicle from time to time on the Great Ocean Road! Feeling the sand between your toes at Loch Ard Gorge, or even braving a paddle here, is a good excuse to do just that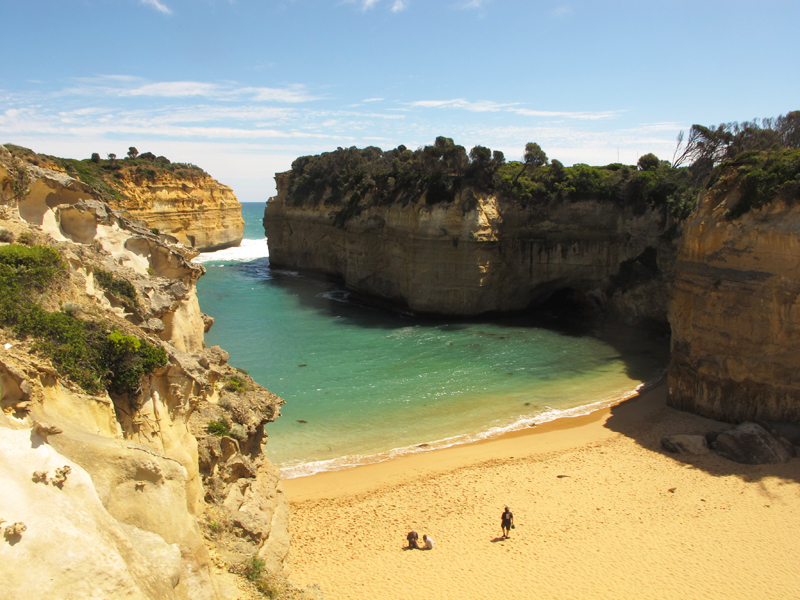 9 – Cape Otway National Park – Great Ocean Road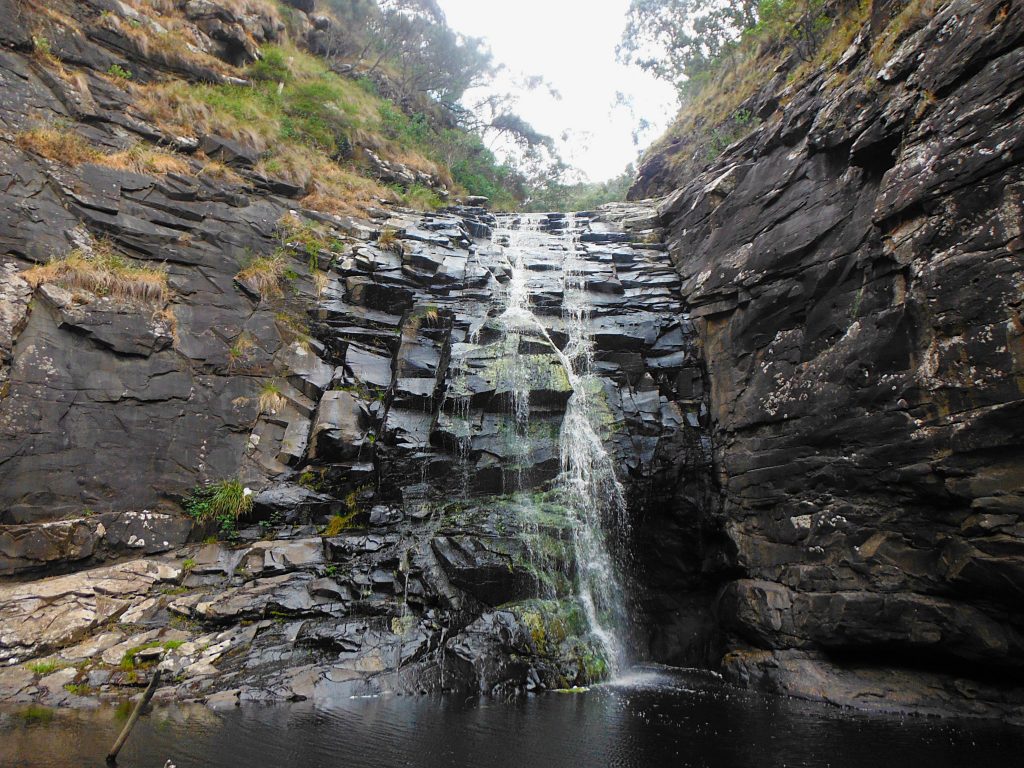 Meeting the Great Ocean Road on the side away from the ocean is Cape Otway National Park. A beautiful wilderness of tall forest, ferny gullies and flowing waterfalls. There's also some great, budget-friendly camping spots located within the park, as well as some super hiking opportunities. Including the 243 km Great Ocean Walk!
10 – The 12 Apostles – Great Ocean Road
The mother of them all. The 12 Apostles are the most famous attraction on the Great Ocean Road and an iconic Australian image. Hundreds of people flock daily to see these natural structures, which are actually geological formations known as stacks. Despite only numbering about 8 now, these giants of the ocean are still worth checking out.
There's a great walkaway and lookout that will give you beautiful views of the Apostles. Be sure to visit the fantastic visitor centre with tons of info. If you want to splurge however, then it's really all about taking a scenic flight over the 12 Apostles at sunset for a super spectacular view.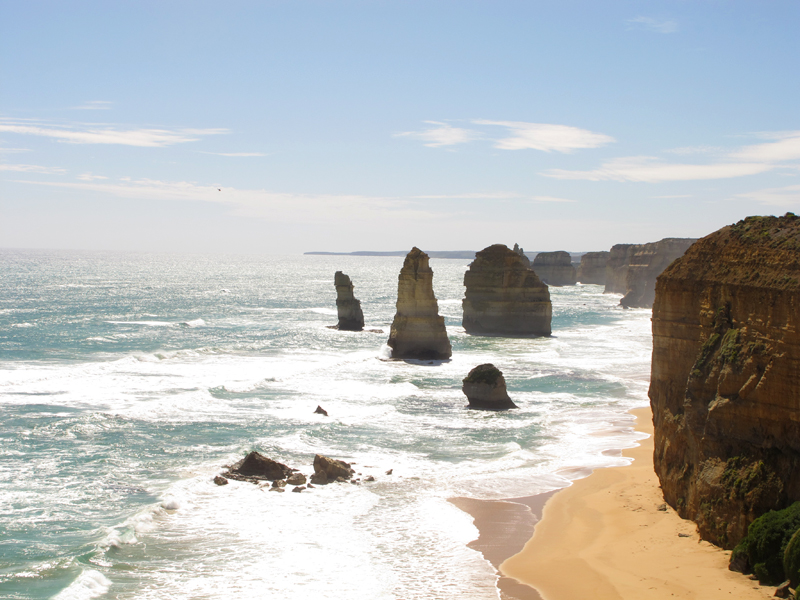 So those are 10 amazing places to visit along the Great Ocean Road. Have you driven this famous road trip? What were your favourite spots?