When you're a backpacker arriving in Sydney, it can be quite tricky to find the accommodation of your dreams. As you may know, the rents here are very expensive, thus it is not rare to make certain mistakes during the "apartment hunt", especially if you don't know the city all too well! So, after having lived here for five years in seven different apartments, here is some advice we can give you.
How to find accommodation in Sydney
Hostels
Before arriving in Sydney or Australia in general, we would recommend to book a few nights in a backpacker hostel. Hotels in Sydney are pretty expensive (expect $100 per night or more), so backpacker hostels will allow you to save some money to start with (a dormitory will cost you about $25 per night). Three or four nights will allow you enough time to get used to the city and check administrative must-dos off your list. If you end up needing more time, you can easily extend your stay at the hostel. Nevertheless, you might want to note that the prices go up during high season, in this case November until February. And that you might have to book a couple of month ahead if you plan on staying around Christmas or New Year's Eve.
The easiest way to find an appropriate hostel is to use a website/app called "HostelWorld", which compares hostels and other types of accommodation in Australia and the entire rest of the world.
Flat share in Sydney
If you are interested in flatsharing, start your search on the platform "Gumtree". This website is extremely popular in Australia, as it provides a network for individuals to post their ads (cars, shared apartments, jobs, etc). Another option is to join the numerous Facebook groups that were created for this cause, including "Australian Backpackers" and "Sydney Flatmates/House share/Roomshare/Accomodation". It will give you the opportunity to contact people who might be looking for a flat mate. Make sure to check international Facebook groups in case you want to stay in a rather multicultural environment/apartment.
Private apartment
For those who want more intimacy or privacy and plan on renting a studio flat or an apartment, be aware that it is pretty difficult to find one through an agency if you're here on a Working Holiday Visa. The competition is very big and the agencies are rather reluctant towards helping backpackers. Generally speaking, the minimum lease starts at six months, so if you have a relatively well payed job and plan on staying in Sydney for a couple of months, it is not impossible to get a studio apartment! To find ads and offers, visit the pages Real Estate and Domain.
Best suburbs to live in Sydney
The most difficult aspect of moving to a new city is figuring out where to settle down. As you are most likely not familiar with the more and the less pleasant areas, making the wrong decision is quite common. You would not be the first person to pay more than necessary or live in a part of the city that is not convenient for you. A false evaluation might ruin your first days in Sydney, so here is an introduction to Sydney's districts.
Sydney's CBD (Central Business District)
The CBD is often the number one choice for backpackers to start their stay. It's a good place to stay in the beginning, as public transports are expensive. Plus the location is handy if you plan on looking for a job. However, rents tend to be a lot higher than in other areas of the city. In the south of the CBD, for example, a large number of the skyscrapers are inhabited by an Asian community and there are a lot of spare rooms. But BEWARE, a lot of those offers entail shared rooms, an occupied living room and balconies converted into rooms in order to rent out as much of the apartment as possible. It is probably unnecessary to warn you of the risks and inconveniences that come with that kind of living…
In exchange, you can often find a number of extra services in these buildings, ranging from pools to saunas, jacuzzis, and gyms! A lot of backpackers live in those arrangements, on George St and Pitt St for example. So, if you want to live in the city, just be careful with ads in the south.
Newtown & Glebe
These districts can be a nice alternative. Very accessible from the CBD (not even ten minutes by bus), they have a bohemian and artistic flair to them, are very lively and filled with boutiques, small coffee shops, bars and restaurants.
Surry Hills
Very close to the city center (Central Station), this very popular area is rich in small cafés and restaurants.
Potts Point & Kings Cross
Located five minutes by train or a twenty-minute walk from the city center, Kings Cross is THE liveliest district of Sydney. On the one hand it's where you will experience a lot of hot nights, but on the other hand you will also witness the less fortunate drag themselves around. A lot of backpackers settle here nevertheless, as the rents aren't very high and there's a lot of entertainment, while still having the proximity to the CBD.
Potts Point is right next to Kings Cross and considered to be Sydney's "Little New York". In comparison to Kings Cross, Potts Point is fancier/more chic and more pleasant to live in.
Ultimo
Only two steps away from the CBD, Ultimo is the student district of the city. UTS, the big university, attracts big numbers of foreign exchange students, who want to live as close to the university as possible 😉
Pyrmont
A rather calm and pleasant district to live in, not far from the city center.
Bondi Beach
Bondi Beach is THE most iconic place in Sydney, where surfers feel like they're in paradise. It's a piece of California located in Sydney, where people skate, tank tops are worn to show off abs, surfing is reserved for daytime and the entire district parties as soon as the sun sets! You can also find a job in one of the many cafés/restaurants or in a boutique, as well as a shared flat with international backpackers. The only problem is that the rents are comparatively high, especially when considering the distance to the city center; the bus ride will take you around 40 minutes (you can also take the bus to Bondi Junction and take a train from there).
Manly
Just like Bondi Beach, this is where the surfers are at. The vibes are generally calmer and more quiet, so very pleasant to live. Manly's advantage is the ferry, which can take you to the city center within half an hour, passing sites like the Sydney Harbour Bridge and the Sydney Opera House.
Sydney's Outer Suburbs

Besides these few districts, there is always the option of moving to the suburbs. You'll be able to find good contracts for your accommodation. If you are willing to move a bit out of the city for tranquility or simply to save money, this can really make a difference. Also, if you want to quit living in skyscrapers, you will be able to switch to one of the famous share houses, which might be more in your price range.
You have options all around Sydney, be it the North (North Sydney, Lane Cove, Ryde), the East (Strathfield, Auburn, Fairefield) or the South (Marrickville, Rockdale, Randwick, Hurtsville).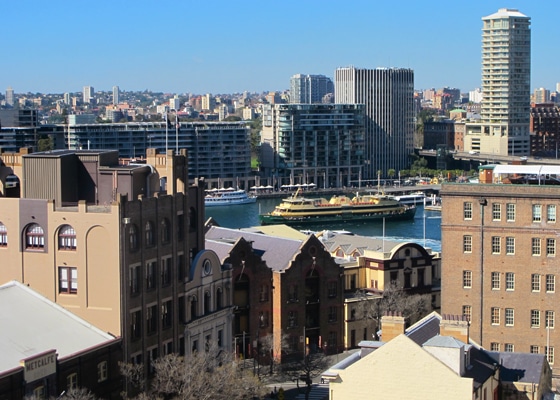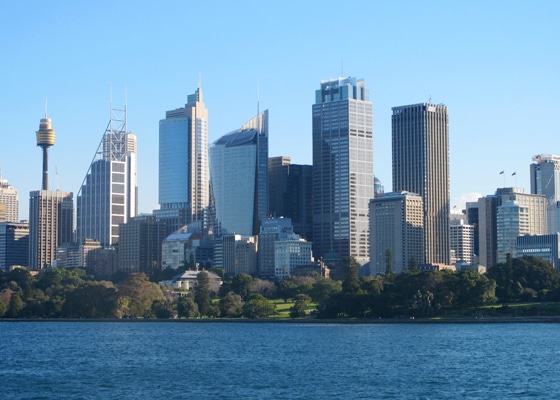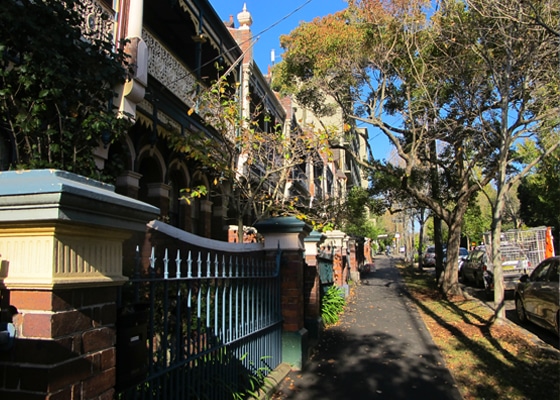 Accomodations prices in Sydney
The prices vary, depending on the type of accommodation, how many people the room fits and the district. Here you can see a couple of examples to help you get an idea.
CBD
– Backpacker Hostel, 8 or 10 bed dorm: $200 per week
– Backpacker Hostel, private room for two people: $900 per week
– 8-person apartment, 4 bed room: $140 per week
– 4-person apartment, private room: $280 per week; room for two people: $380 per week ($190 per person)
Inner Suburbs
– 4-person apartment, private room: $250 per week
– 4-person apartment, room for two people: $330 per week ($165 per person)
Outer Suburbs
– House with garden, 4 persons, private room: $210 per week
Alternative solutions
Au pair : You live and eat with an Australian family in exchange for taking care of the children and helping with housekeeping chores (part time). You can also work full time and get a small income (around $150/ week).
Host family : Paid agencies hook you up with a family that will accommodate you.
Couchsurfing : Allows you to stay at a certain place for a couple of days for free.
Airbnb : Private apartments or rooms are rented out by private people – and sometimes the prices are barely more expensive than in a hostel!