Keen to travel to Australia with a Working Holiday Visa? Here are the steps to follow to prepare you for your departure. Backpacking through Australia is an incredible experience!
Applying for a Working Holiday Visa – WHV
The Working Holiday Visa Program allows young people under 31 years of age to work and travel in Australia for up to one year (or 2 years under conditions). If you are coming from the UK, Ireland or Canada, you will need to apply for a Working Holiday Visa Subclass 417.
Applications for Working Holiday Visa must be lodged on the immigration website: www.homeaffairs.gov.au
Please note that US visitors are required to apply for a Work and Holiday Visa (subclass 462) – similar conditions applied. To apply: www.homeaffairs.gov.au
*Warning: some sites may offer you to apply online for a higher fee – these are scams! So be cautious and only apply though the official website.
Booking your flight
Several companies such as Qantas, Emirates, Air France, Singapore Airlines, or British Airways serve Australia.
Some companies offer stops on the way for the same price … this could be the opportunity to make a first stop in the sun!
Prices of airline tickets vary greatly with the seasons and the time you are making your booking.
The high period is from December to March, the lowest season from April to October. Allow at least $1500 for a return from London – Sydney but prices can increase during school holidays. Also note that often it is more beneficial to take a return ticket when buying your depart. Finally, the earlier you book your flight and the cheapest it will be!
The journey is about 24 hours with a stopover.
Travel insurance
The Australian Government has agreements with New Zealand, the United Kingdom, Ireland, Sweden, the Netherlands, Finland, Italy, Belgium, Malta, Slovenia and Norway. This mean that residents of these countries can benefit from Medicare with some essential medical treatments while visiting Australia.
However, we suggest that you take out a private health insurance to travel to Australia. Backpacking through Australia is only safe if you know you don't have to worry about health costs.
More about Health Insurance: Travel Insurance Australia
Arrival Package?
There are many companies that provide services to facilitate your arrival in Australia. Some packages may be overpriced, especially the ones charging for services that are free (open a bank account, get a TFN etc ..). Generally all these steps are fairly simple to do yourself, and everything is well explained in the Australia – Backpackers Guide.
An arrival package can be useful if you want to enjoy a number of services such as having an accommodation upon arrival, lighten some administrative procedures, one day tours or free parties to meet people…
Transfer money to Australia
To transfer your savings on your Australian account, we recommend that you go through a company specializing in international transfers. Simply because it will be much cheaper than international transfers fees through banks, that are often pretty high and conversion rates are not competitive at all!
So if you transfer 2000£ for example with you bank you will probably lose 100 AUD vs a company specialized in overseas transfers.
We recommend to use one of the popular platform for overseas transfer, such as CurrencyFair or TransferWise. It is highly secured and they offer highly competitive rates. 
More info: How to transfer money to Australia
Where to arrive in Australia?!
There are several large cities in Australia and all of them have pros and cons …
The main cities are Sydney, Canberra, Melbourne, Adelaide, Brisbane and Perth in the South and Darwin and Cairns in the North.
Sydney appears to be the most "logical" to start your WHV. It is the most touristic city in Australia.
Melbourne is the second largest city. It is highly similar to Europe with its small streets and its Victorian charm.
Brisbane is often popular with backpackers due to its weather (300 sunny days on average during the year!) and is close to the Gold Coast.
Perth, which is isolated on the west coast, is a growing city and is perfect for those wishing to explore the wild quickly.
Adelaide or the city of churches is more attractive that it seems!
Cairns in the far north of Australia, is a small paradise, perfect to access the Great Barrier Reef.
Your city of arrival will depend on several criteria: your arrival time, if you want to buy a vehicle, if you want to find a job quickly, if you want to tour Australia etc …
Seasons in Australia
Australia is located in the Southern hemisphere, which means that the seasons are the opposite of those in the north. When it's summer in Europe, it is winter in Australia and vice versa. The country is divided by the Tropic of Capricorn, to its the north, the climate is warmer, while in the south it is more temperate.
Climatic zones
Temperate zone includes the south of the country (climate similar to European countries)
Subtropical zone (the middle of the country with pleasant temperatures all year round)
Tropical area with the wet season from November to January, cyclones in October-November and the dry season from April to November with tropical temperatures
Desert area, land inside the country with very hot days and very cold nights.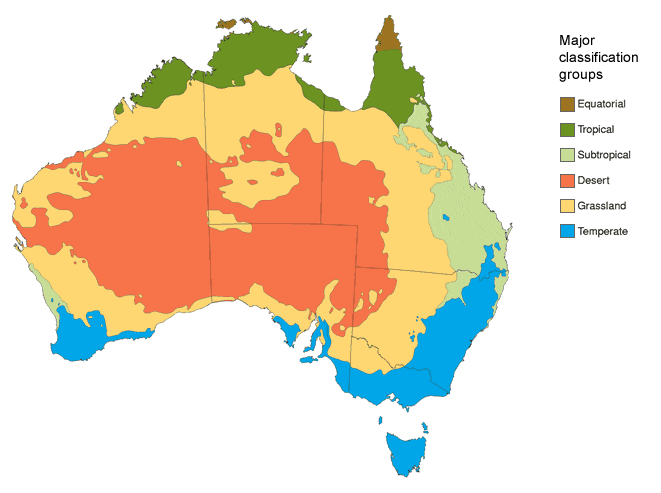 The best time to visit Australia depends on its region. In the Northern half, the months from March to August are recommended and for the Southern half it is the opposite! In short, for those who wish to travel for a year around Australia, the aim is to be in the Northern part in winter, and in South for summer!
Book a Hostel
Before arriving in Australia, it is recommended to book a hostel (Backpacker Hostel). These hostels offer good prices for rooms. Booking at least one week will give you time to arrange the administrative requirements (TFN, Bank account etc) and eventually find a job. Often it is cheaper when you book for more than a week.
In Australia, there are thousands of hostels with different services and quality levels!
To choose a good one and compare the different rates, it is best to use a comparator such as HostelWorld.
Pack your bag
First question to arise here is whether to go for a backpack or a suitcase, then comes the question of what to take and how to not forget anything. For this, you can refer to our checklist in the Backpackers Guide. Most travellers won't bring their suitcase while backpacking through Australia.
With an amazing rate of sunshine and temperatures that can exceed 40° C, it is essential to bring sunscreen and sunglasses. For clothing, shorts and T-Shirts will also be essential, but beware, it is not always easy to avoid winter in Australia and you will need to bring some warm clothes for your travel.
For those who intend to work in farms, you will need to buy some used clothes in second hand shops such as Salvation Army etc once arrived.
Remember that airlines only allow a limited baggage weight, generally 20 kg but this can go up to 30kg with some companies. Your hand luggage may reach 7 kg. So try to travel light!
Tip: Choose to travel with a backpack which is easy to carry and store! Plus, if you plan any trips / stops it will be an advantage to move freely.
The departure checklist
1. Passport (valid for longer than the length of your stay)
2. Copy of your granted Working Holiday Visa
3. Printing of your plane ticket
4. Details of your travel insurance
5. Driver's licence
6. Photocopy of your ID
Find out more in the Backpackers Guide:
PREPARE YOUR TRIP
Employment
Accommodation
Change of address
Termination your contracts (phone, utilities etc)
ADMIN STUFF
Passport
Visa
Driver's license
HEALTH
Vaccinations
Medication to bring with you
Insurance
BUDGET
PACK YOUR BAG
WHERE TO LAND?
Your arrival date
Buying a vehicle?
Need to work quickly?
Travel around?
CHOOSE YOUR TRAVEL MODE
Without Vehicle
Road trip
TRAVEL CLOCK WISE OR WHAT?